May 8, 2012
Macadamia Shortbread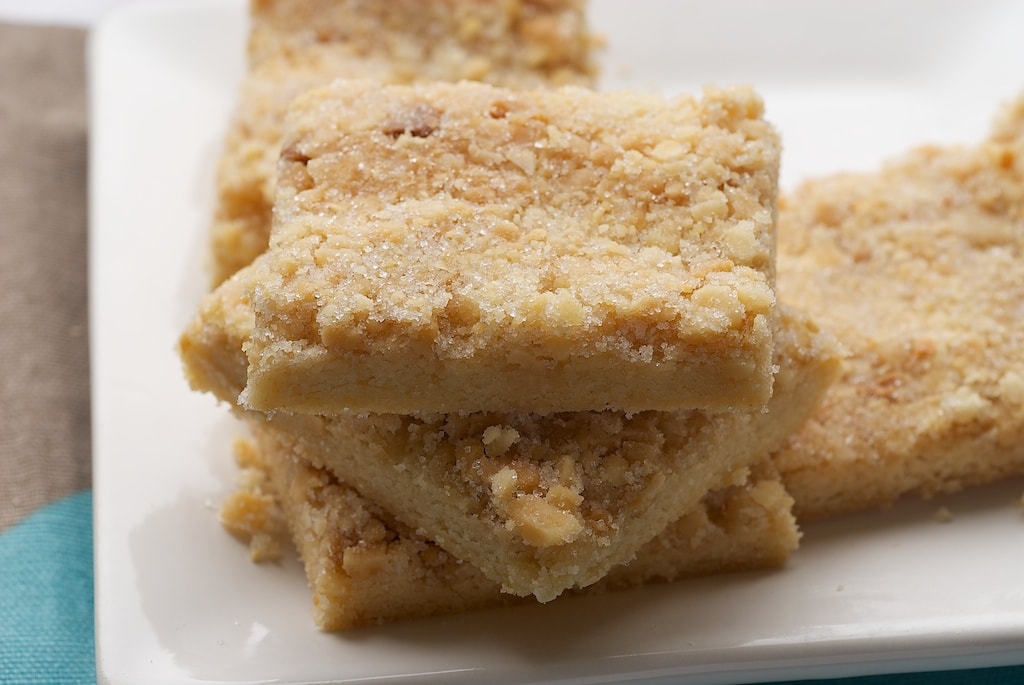 The brilliance of shortbread is its simplicity. Mix together some butter, flour, sugar, and you've got a lovely, tasty cookie. I like that kind of thinking, as you can see in recipes like this one. Or how about this one?
This particular recipe for shortbread comes from a fabulous baking book, The Modern Baker. Macadamia nuts seem to be too often relegated to ho-hum cookies with white chocolate. Not my favorite. But, here in these shortbread, those same macadamias get the chance to be the star.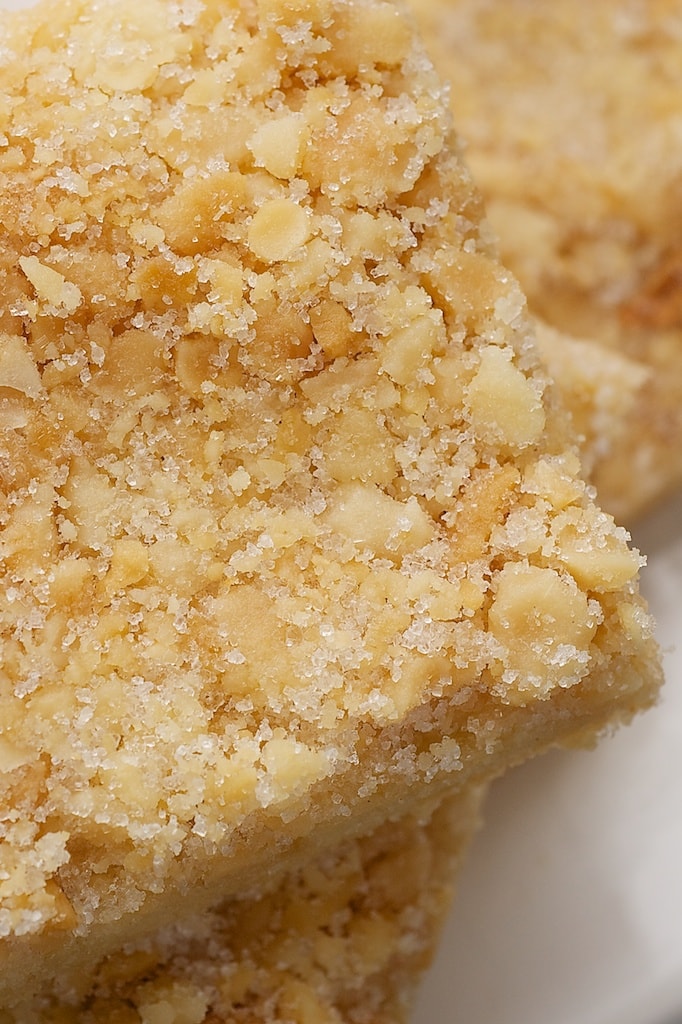 The fact that these can be mixed up in short order using your food processor is even more of a plus for me. You can very quickly have these mixed and baking in just a few minutes. Honestly, it took me longer to chop all the nuts than to put it all together.
In the looks department, I love the mixture of macadamias and sugar on top of the shortbread. It gives them a little sparkle as well as a little flavor boost. The original recipe uses unsalted macadamias. Always a fan of sweet and salty, I opted to use lightly salted nuts and was very pleased with the outcome.
Be sure to follow the directions well for how to handle the cookies once they come out of the oven. They are far easier to cut when they're warm. Then, after they cool, you'll have crispy, delicate, delicious, pretty-close-to-perfect shortbread!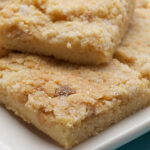 Ingredients
1/2 cup + 1/3 cup granulated sugar, divided
1 & 1/2 ounces unsalted or lightly salted macadamia nuts, chopped
2 & 1/4 cups all-purpose flour
1/2 teaspoon baking powder
12 tablespoons cold unsalted butter, cut into tablespoon-size pieces
3/4 cup unsalted or lightly salted macadamia nuts, finely chopped
Instructions
Preheat oven to 325°. Line a 9″x 13″x 2″ baking pan with foil, leaving a couple of inches hanging over each short side. Butter foil.
Combine 1/2 cup sugar and 1 & 1/2 ounces macadamias in food processor. Pulse until finely ground. Add flour and baking powder. Pulse until mixed. Add butter and pulse until mixture is combined and powdery.
Press dough firmly into bottom of prepared pan. Sprinkle the top of the dough with water. Sprinkle finely chopped macadamias and 1/3 cup sugar on top of dough. Press firmly into dough.
Bake for 30-35 minutes, or until cookies are golden and firm.
While cookies are still warm, use the overhanging foil to remove the cookies from the pan onto a cutting board. Cut into squares, using a sharp knife.
Let cookies cool completely. They should become crisp as they cool. If they aren't crisp after cooling, place them back in the pan and bake for 10-15 minutes at 300°.
Notes
https://bakeorbreak.com/2012/05/macadamia-shortbread/
Copyright 2016 Bake or Break