January 3, 2017
Quick No-Knead Focaccia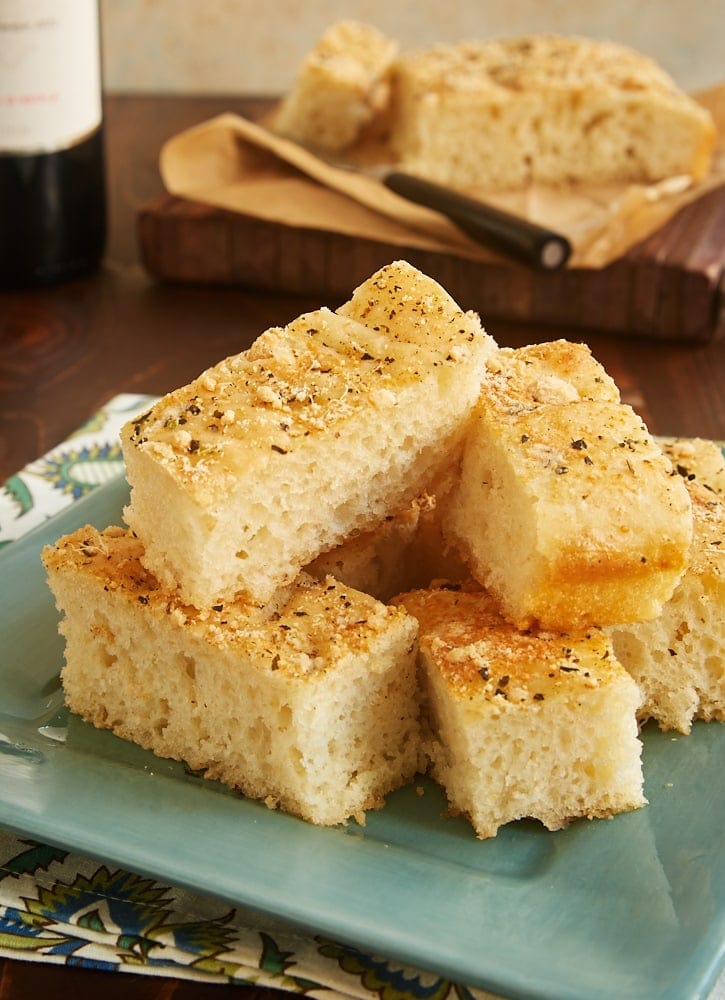 I'm not one to make resolutions in the new year, but I do like to think about what I'd like to work on for BoB. Invariably, I tell myself that I will bake more yeast breads. While I certainly bake with yeast more often than in the past, I'd still love to do more.
I'm so happy to be kicking off the new year with this amazingly quick and easy focaccia. I'm really not kidding about the quick and easy part. We're talking 1 minute of mixing and 1 hour of rising. And no kneading! Seriously, this bread is so simple to make that I can think of no reason not to go whip up another pan of it right now.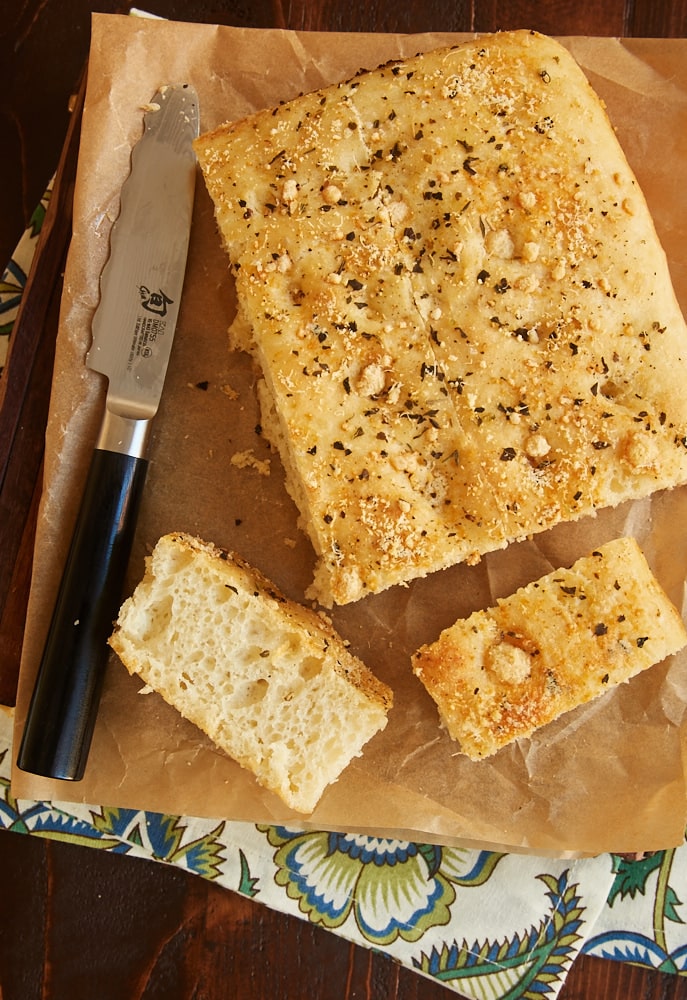 I happened upon King Arthur Flour's no-fuss focaccia recipe and sincerely hoped that it was as easy and wonderful as it sounded. From the several times I've made it, I can tell you that it most definitely is. It takes longer to gather the ingredients than to mix those ingredients. It's all so quick and hands-off that you could certainly make it on a weeknight. Freshly baked bread on a weeknight sounds pretty fantastic, right?
The key to this focaccia is instant yeast. And there is an awful lot of it in this recipe. With no kneading and a single one-hour rise time, you want that yeast to do as much as possible as fast as possible. The result is a delicious focaccia that is a bit crispy on the outside and wonderfully soft on the inside.
Mixing the dough is as straightforward as it gets. Just mix the ingredients for a minute and then transfer to the pan to let it rise. Once it has risen, I usually dip my fingers in olive oil and spread out the dough a bit to the corners. You'll probably think that there's too much olive oil in the pan. But I find that isn't the case in the end. That olive oil not only helps keep the bread from sticking to the pan, but it also helps create a slightly crispy bottom to the bread. And that's not even mentioning the flavor it adds.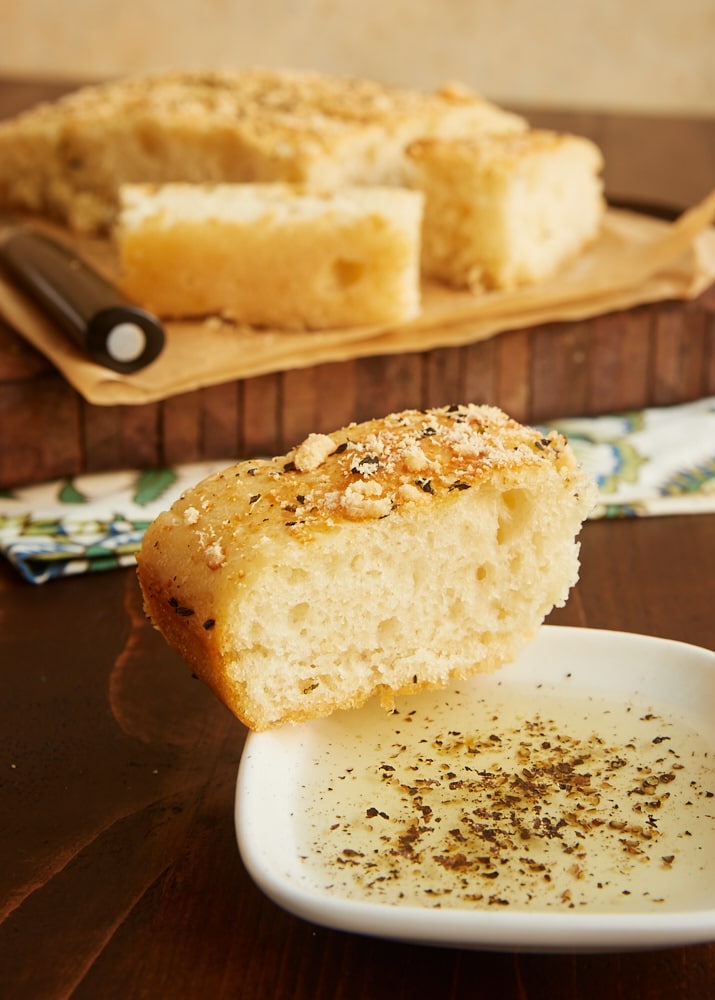 As for the toppings, you can change them up however you like. We almost always sprinkle some grated Parmesan on top. Sometimes we go all out with garlic, basil, oregano, freshly ground pepper, and a sprinkling of salt. Other times we keep it simple with just a little garlic or salt and pepper. So many other toppings would work well, too. Olives, feta, onions, spice blends, and so much more!
You can cut this bread into small pieces or long strips like breadsticks. If you like, serve it alongside olive oil or marinara sauce for dipping. We sometimes cut it into squares and split the pieces for making sandwiches. With that kind of versatility and its ease of preparation, this is destined to become my most frequently made yeast bread.
Find more savory recipes in the Recipe Index.
This post contains affiliate links. If you make a purchase through one of the links, I'll receive a
small commission at no additional cost to you.
Quick No-Knead Focaccia
Yield: 12 to 16 servings
Prep Time: 10 minutes
Cook Time: 30 minutes
Quick No-Knead Focaccia is the quickest, easiest yeast bread you could want. Customize the flavor with your favorite toppings.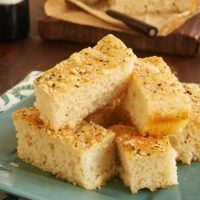 Ingredients:
For the pan:
cooking spray
2 tablespoons olive oil
For the bread:
3 & 1/2 cups all-purpose flour
1 tablespoon instant yeast
1 & 1/2 cups warm water (95 to 115°F)
3 tablespoons olive oil
1 & 1/4 teaspoons salt
For the topping:
about 1 tablespoon olive oil
1/4 cup grated cheese, such as Parmesan or Cheddar
your favorite herbs and/or seasonings such as garlic, basil, rosemary, salt, pepper etc.
other toppings, such as olives, onions, cherry tomatoes, etc.
Directions:
To prepare the pan:
Lightly grease a 9″x 13″ baking pan. Drizzle the olive oil in the bottom.
Set aside.
To make the bread:
Combine all the ingredients in the bowl of an electric stand mixer.* Beat at high speed for 1 minute. The dough will be sticky.
Transfer the batter to the prepared pan. Cover and let rise for 1 hour.
To make the topping and finish the bread:
Preheat oven to 375°F.
If necessary, use your fingers to spread the dough into the corners of the pan. Then, use your finger to poke the dough gently all over. A little olive oil on your fingers will keep the dough from sticking to you.
Drizzle the top with olive oil. Sprinkle with your desired toppings.
Bake 25 to 30 minutes, or until the bread is golden brown.
Cool in the pan for 5 minutes before serving.
Notes:
*A sturdy, high-powered hand mixer would likely work, but a stand mixer works beautifully.