March 17, 2016
Chocolate Meringue Cake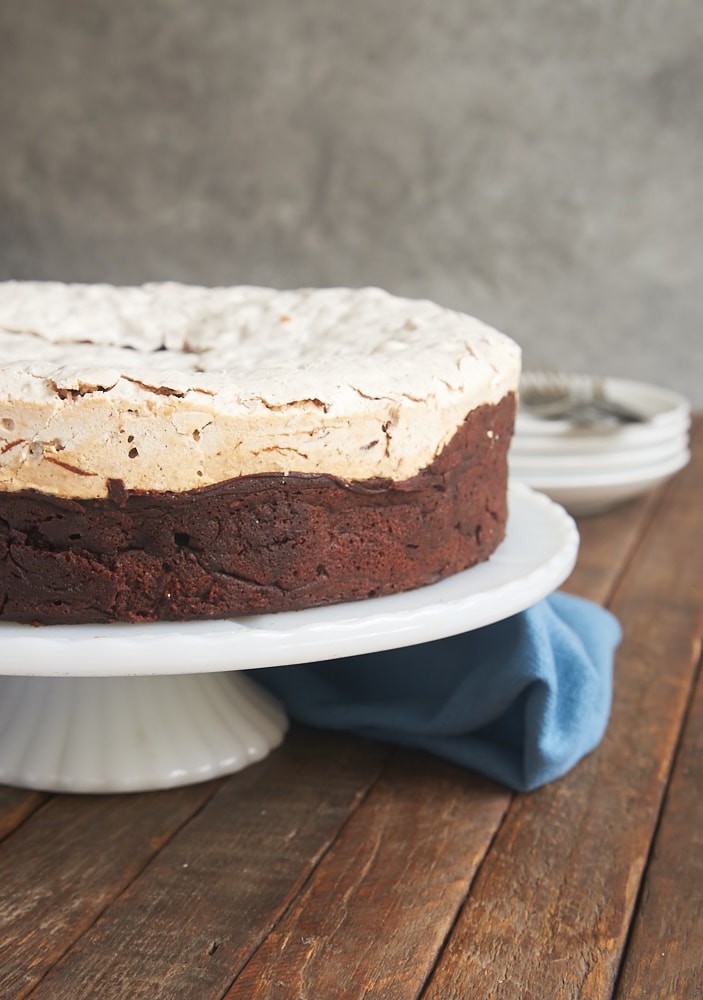 The things that intimidate us in the kitchen can be a bit silly, can't they? After all these years of baking, my list has gotten shorter, but there are still a few things that make me shy away from certain recipes.
I first found this recipe a few years ago and bookmarked it to try. Since then, I looked at it every few months and tried to talk myself into making it. The thought of making that big, tall meringue always made me delay making it. Now I sincerely wish I'd made this cake as soon as possible!

Of course, there's no need to fear meringue. It's not difficult at all if you can manage a mixer for several minutes. I tend to use my hand mixer far more than my stand mixer, but I'd encourage you to use your stand mixer for making the meringue because of the mixing time involved.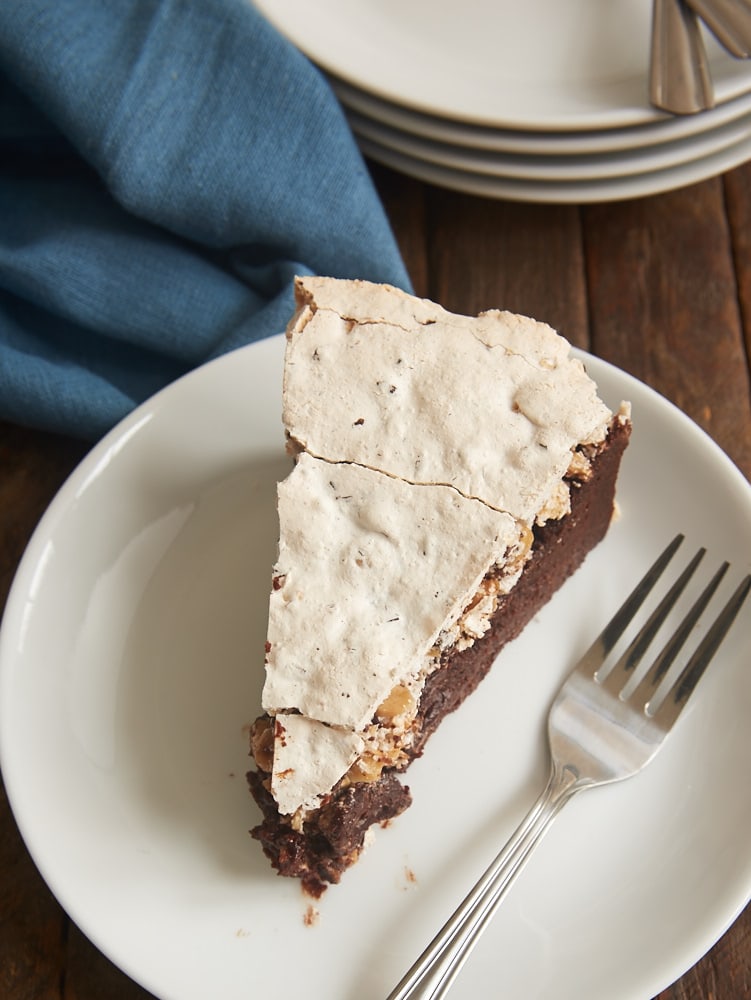 In fact, this is a fairly simple cake to make. Getting your ingredients prepped and ready might take longer than the actual mixing portion. Once you have everything ready to get started, it goes pretty quickly.
This flourless cake is all about the chocolate. It's dense yet soft and so very chocolate-y. If I can give you a word of warning, it's that this is one rich cake. You're going to want to cut small slices. But that makes it go a little further and feed a larger group of people.
The meringue on top is a great alternative to frosting or a glaze. And I love that the meringue is filled with chocolate and hazelnuts! The little bits of chocolate throughout the meringue give it a lovely look and even bigger chocolate flavor. And the unexpected crunch from the hazelnuts is just perfect.
This is not what most would consider a traditionally pretty cake, but I think it's just lovely. I wholeheartedly approve of desserts that don't have to be perfect. The top is going to crack and sink. The slices may not stay perfectly formed as you serve it. But that's exactly as it should be. Once you take a bite, the amazing flavor is all you'll need.
Visit the Recipe Index for more chocolate recipes!
Chocolate Meringue Cake
Yield: 10 to 12 servings
Prep Time: 30 minutes
Cook Time: 1 hour
Chocolate Meringue Cake is sure to impress. It's so very rich, nutty, and wonderfully delicious!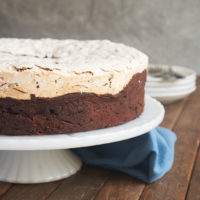 Ingredients:
For the cake:
10 tablespoons unsalted butter, softened
3/4 cup firmly packed light-brown sugar
6 large whole eggs, separated
12 ounces bittersweet chocolate, melted and cooled
1 tablespoon vanilla extract
1 tablespoon coffee-flavored liqueur, optional*
pinch of salt
For the meringue:
1 cup hazelnuts, toasted, de-skinned, and roughly chopped**
4 ounces bittersweet chocolate, roughly chopped
1 tablespoon cornstarch
4 large egg whites
1/4 teaspoon cream of tartar
1 cup superfine sugar***
Directions:
To make the cake:
Preheat oven to 350°F. Grease a 9-inch springform pan (at least 3 inches tall). Line with parchment, and grease the parchment.
Using an electric mixer on medium speed, beat the butter and brown sugar until light and fluffy. Add the 6 egg yolks, one at a time, beating well after each addition.
Add the melted chocolate, vanilla, and liqueur. Mix until combined.
In a separate mixing bowl, combine the 6 egg whites and the salt. Using an electric mixer with a whisk attachment, beat on high speed until soft peaks form (about 2 minutes).
Stir about a third of the egg whites into the chocolate mixture. Then gently fold in the remaining egg whites, mixing just until combined.
Transfer the batter to the prepared pan, and spread evenly. Place the pan on a lined, rimmed baking sheet to catch any spills. Bake 25 to 30 minutes, or until the center is not quite set.
To make the meringue:
Combine the hazelnuts, chopped chocolate, and cornstarch. Set aside.
Using an electric mixer with a whisk attachment, beat the 4 egg whites and cream of tartar on high speed until the mixture is frothy. While continuing to beat the mixture, slowly add the sugar. Continue beating until stiff peaks form (about 8 minutes).
Gently fold in the hazelnut mixture.
Spread the meringue mixture evenly on top of the partially baked cake.
Bake 25 to 30 minutes, or until the meringue is lightly browned and crisp.
Cool the cake on a wire rack for 10 minutes. Then run a knife around the edge of the pan and release the sides of the pan. Cool the cake for at least 30 minutes before serving.
Notes:
*The original recipe uses rum. A hazelnut liqueur would also be a great choice.
**I like to take a shortcut and use blanched hazelnuts. If you use hazelnuts with skins, rub them with a kitchen towel after they've been toasted to remove the skins before chopping them.
***Superfine sugar will work best for the meringue because it will incorporate into the mixture more easily and create a better texture. If you don't have access to superfine sugar, then you can approximate it by processing a cup plus about 2 teaspoons of granulated sugar in a food processor for about 30 seconds.
This post contains affiliate links.