May 11, 2015
Nutella Oatmeal Skillet Cookies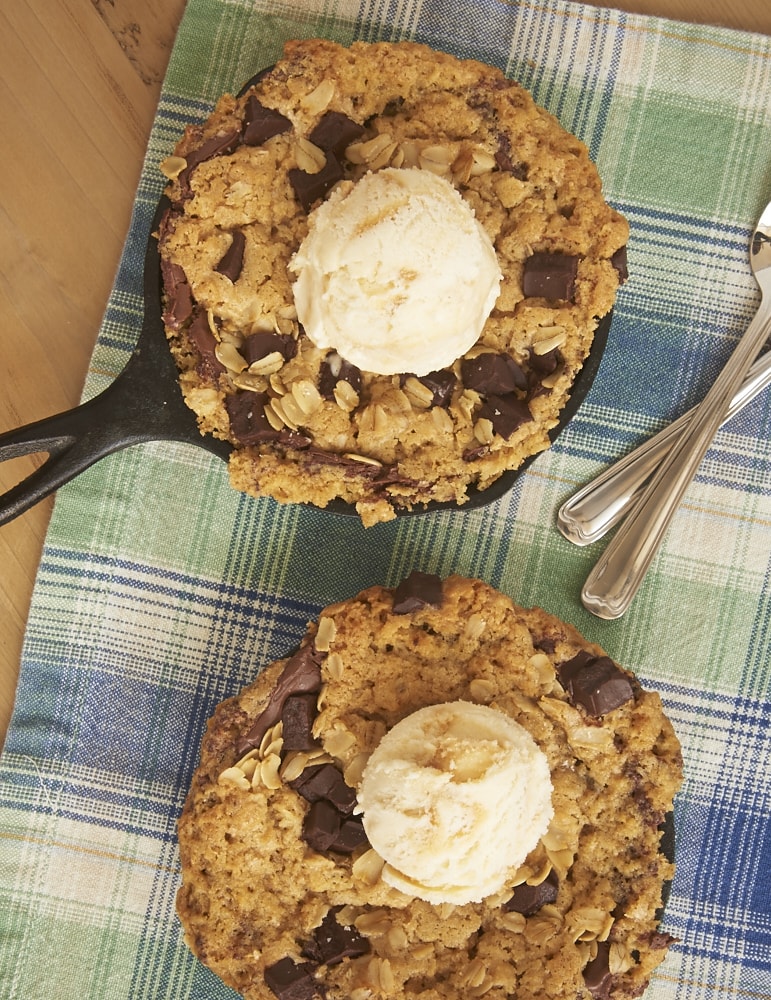 A while back, I got an email from a BoB reader asking for an oatmeal skillet cookie recipe. Oddly enough, I had been thinking about that very thing and even had it on my to-bake-soon list. That list is mighty long, though, and it took me a while to get around to baking them.
On a weekend when Quinn and I found ourselves with some free time and with no dessert at home, I decided it was high time to make these skillet cookies happen!
I opted to make these in my mini skillets. I will take most any excuse to put them to use. Anything mini is automatically even better, right?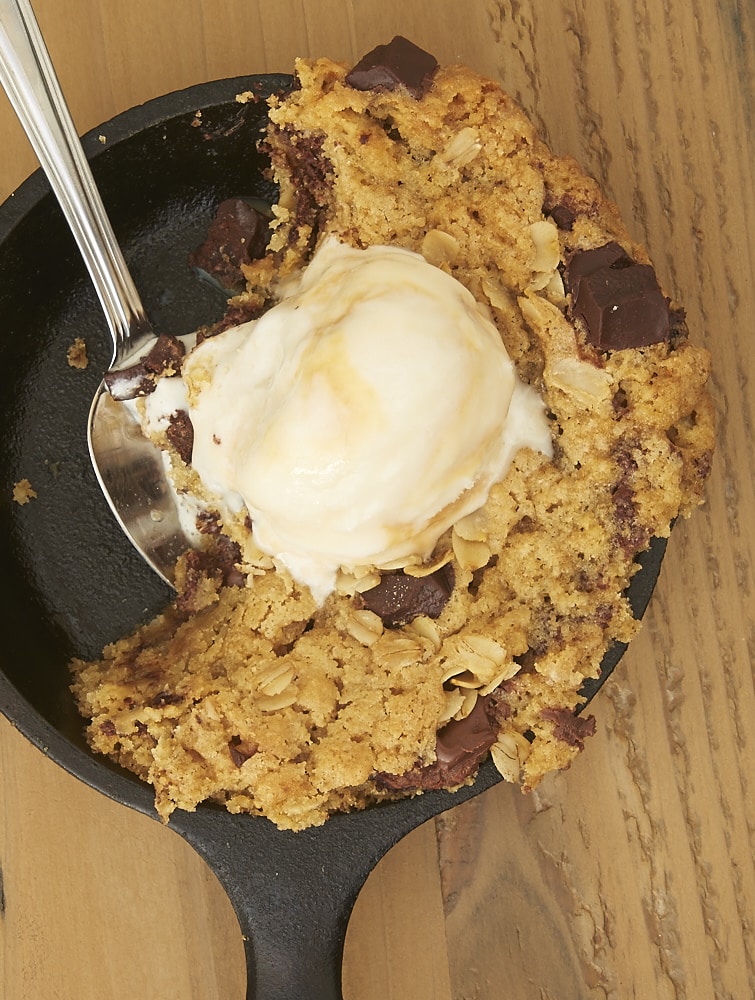 I'm sure I could have just made a simple oatmeal cookie dough, baked it in these wee skillets, and called it a day. But I couldn't resist making these an all-out indulgence. Hidden inside that oatmeal cookie is a dollop or two of Nutella to give them a burst of chocolate and hazelnut flavor.
There's also a nice sprinkling of chocolate chunks on top for even more chocolate. And since we are big sweet and salty fans, I sprinkled a bit of coarse salt on top as well.
These fellas are definitely spoon desserts, especially if you take them even further into dessert nirvana like we did with a scoop of ice cream. They're deliciously gooey and messy. Just the kind of dessert you'll want to share with someone who won't mind watching you make a mess as you dig in and enjoy every. single. bite.
Find more cookie recipes in the Recipe Index.
We are a participant in the Amazon Services LLC Associates Program, an affiliate advertising program designed to provide a means for us to earn fees by linking to Amazon.com and affiliated sites.
Nutella Oatmeal Skillet Cookies
Yield: 4 5-inch cookies
Prep Time:20 minutes
Cook Time:40 minutes
These mini Nutella Oatmeal Skillet Cookies are a deliciously winning combination of oats, chocolate, and Nutella. So amazingly delicious!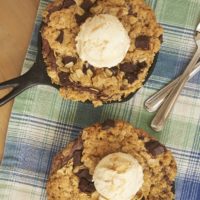 Ingredients:
For the cookies:
3/4 cup all-purpose flour
3/4 teaspoon baking powder
1/4 teaspoon salt
1/2 cup old-fashioned oats
1/2 cup unsalted butter, softened
3/4 cup firmly packed light brown sugar
1 large egg
1 teaspoon vanilla extract
1/2 cup chocolate-hazelnut spread, such as Nutella
For the topping:
1/3 cup semisweet chocolate chunks or chocolate chips
1/4 cup old-fashioned oats
coarse salt, optional
ice cream, optional
Directions:
To make the cookies:
Preheat oven to 325°F. Grease 4 5-inch mini skillets.
Whisk together flour, baking powder, and salt. Stir in oats. Set aside.
Using an electric mixer on medium speed, beat the butter and brown sugar until light and fluffy. Add the egg and vanilla, and mix well.
Reduce mixer speed to low. Gradually add the flour mixture, mixing just until combined.
Set aside about 1/2 cup of dough. Divide remaining dough among the prepared skillets, spreading evenly and firmly in the bottom of each skillet. Top each with about 2 tablespoons of chocolate-hazelnut spread, and spread evenly over the dough.
To make the topping and assemble:
Drop the reserved dough by teaspoonfuls over the chocolate-hazelnut spread. Sprinkle with chocolate chunks and oats. If desired, sprinkle a pinch of coarse salt on each cookie.
Place the skillets on a rimmed baking sheet lined with parchment paper to catch any spills and to make it simpler to get the cookies in and out of the oven.
Bake 35 to 40 minutes, or until the cookies are golden brown and set. Cool about 10 minutes before topping with ice cream and serving.