November 13, 2013
Salted Caramel Swirl Marshmallows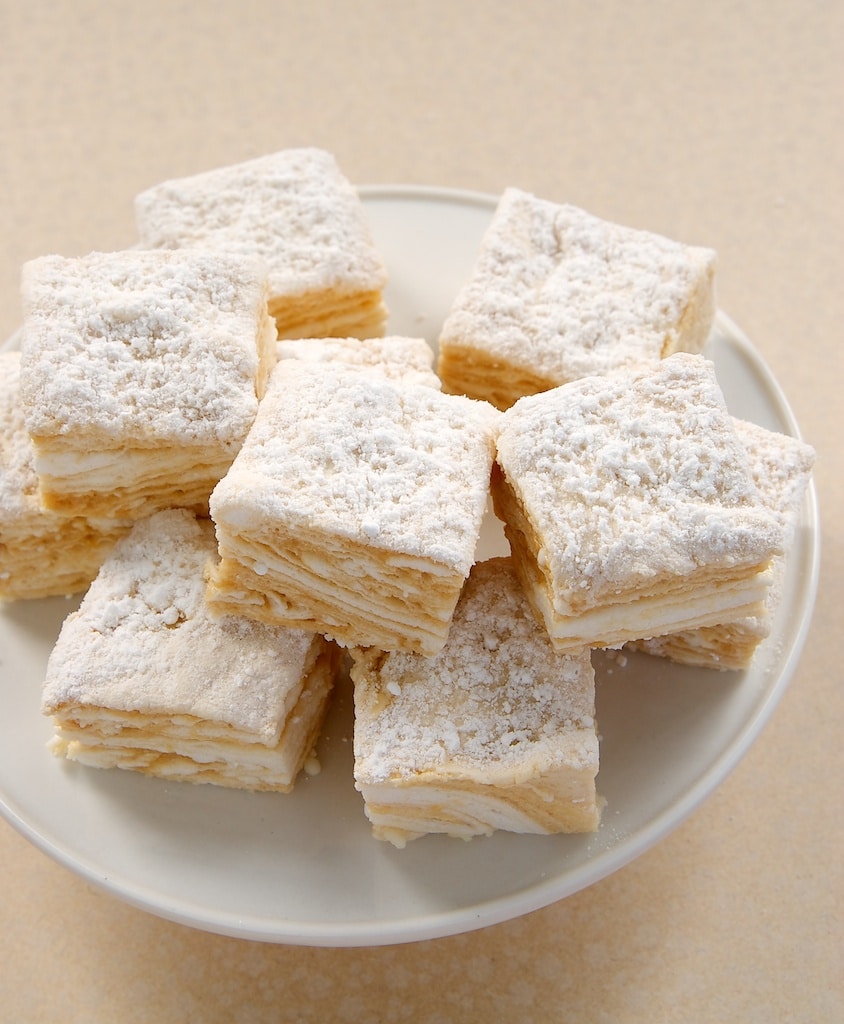 I remember years ago, long before BoB came to be, watching someone on a food show make marshmallows. I just rolled my eyes and wondered why anyone would want to do that. I didn't even like marshmallows. But, then I tried a homemade marshmallow and I understood all the fuss.
You see, those bags of mass-produced marshmallows may be handy to use in baking and such, but they're just not very good on their own. Homemade marshmallows, however, are an entirely different story. They're soft and sweet and just a joy to eat.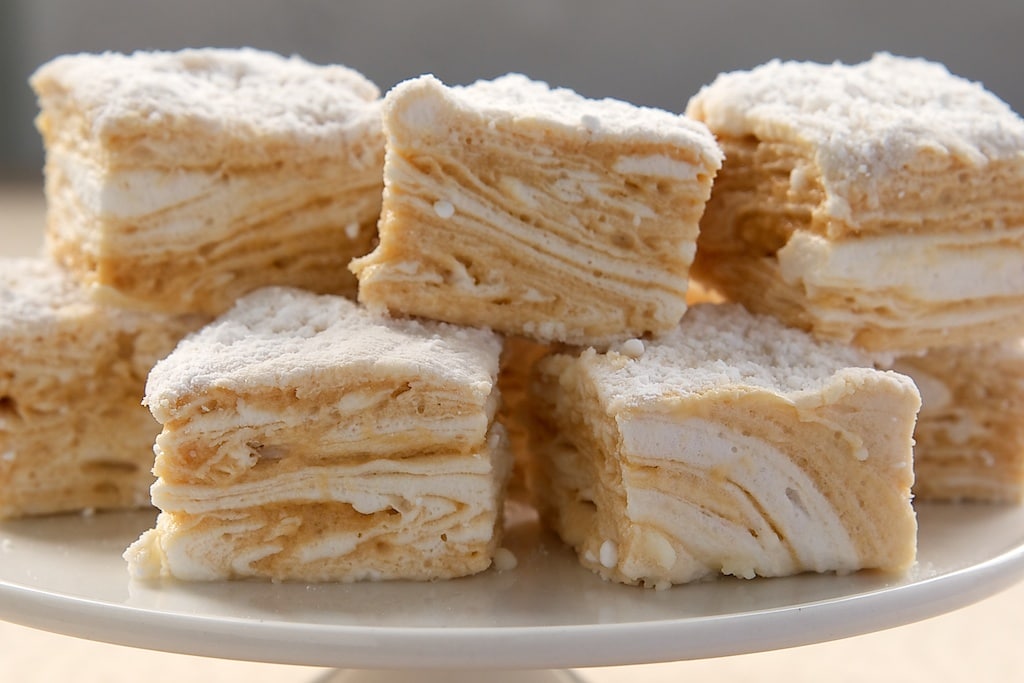 And, they are surprisingly easy to make. I made a couple of batches within a couple of days. Granted, I volunteered Quinn to help me, but they're completely doable on your own. Just make sure you have everything measured and ready to go.
The first batch I made was straight vanilla. I didn't want to complicate things right out of the gate. But, then I made these tasty beauties that are swirled with salted caramel. We all know how I love sweet and salty. The salt gets diluted down with all the sweet, but there's still plenty there.
These are absolutely delicious! They would make lovely holiday gifts for your friends. Maybe even package them with some hot chocolate mix and a couple of mugs. Of course, you can just keep them all for yourself instead. I'll never tell.
Recently, Chicago Metallic sent me a big box full of marshmallow-making tools. It was really the motivation I needed to try my hand at making marshmallows. I hope it will inspire you as well, because one of you is getting their own marshmallow kit! Scroll past the recipe for details.
Salted Caramel Swirl Marshmallows
Yield: 16 2-inch marshmallows or 25 1 & 1/2-inc
Prep Time:25 minutes
Cook Time:5 minutes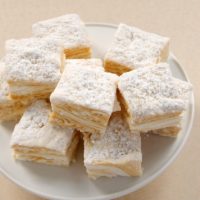 Ingredients:
For the coating:
3/4 cup confectioners' sugar
1/2 cup cornstarch
For the marshmallows:
1/2 cup store-bought salted caramel*
4 & 1/2 teaspoons unflavored powdered gelatin
1/2 cup cold water
3/4 cup granulated sugar
1/2 cup light corn syrup, divided into 1/4 cup portions
1/4 cup water
1/4 teaspoon salt
2 teaspoons vanilla extract
Directions:
To make the coating:
Sift together confectioners' sugar and cornstarch.
Set aside.*
To make the marshmallows:*
Lightly coat an 8-inch square pan with cooking spray. Dust the bottom of the pan with coating.
Place caramel in a medium bowl. Set aside.
Whisk together gelatin and 1/2 cup cold water in a microwave-safe bowl. Let sit for 5 minutes.
Combine sugar, 1/4 cup corn syrup, 1/4 cup water, and salt in a medium saucepan. Bring to a boil over high heat. Continue boiling, stirring occasionally, until the mixture reaches a temperature of 240°.
While sugar mixture is heating, place 1/4 cup corn syrup in the bowl of a stand mixer fitted with a whisk attachment. Heat gelatin mixture in microwave for 30 seconds, or until completely melted. Pour into mixer bowl with the corn syrup. Turn the mixer on low.
When the sugar mixture has reached 240°, remove it from heat, and carefully and slowly pour it into the mixer bowl while the mixer is still running on low speed. Increase the speed to medium and beat for 5 minutes. Then, beat at medium-high for 5 minutes. Increase to high, add the vanilla, and beat for 2 minutes. The mixture should be opaque white, fluffy, and tripled in volume.
Scoop about a quarter of the marshmallow batter into the bowl with the caramel. Working quickly, whisk until well blended. Scrape the mixture back into the remaining marshmallow batter. Use a large spatula in a figure-eight motion to fold and swirl the two mixtures.
Pour the batter into prepared pan. Spread evenly and smooth the top.
Generously sift the coating over the top of the marshmallows. Leave the marshmallows in a cool, dry place for 8 hours.
Use a knife to loosen the marshmallows from the edges of the pan. If using a collapsible pan, fold down the sides of the pan. If using a standard pan, flip the pan onto a surface coated with the prepared coating. Cut into pieces. Dip the edges in the coating and pat off the excess.
After a couple of days, you may need to coat the marshmallows again.
Notes:
*I used CC Made Sel Gris Caramel Sauce.
**This amount of coating will be more than plenty for 1 batch of marshmallows. If you plan to make more marshmallows, you can store any extra coating in an airtight container for quite a while.
To make vanilla marshmallows, just skip the caramel swirling steps and spread the mixture into the prepared pan.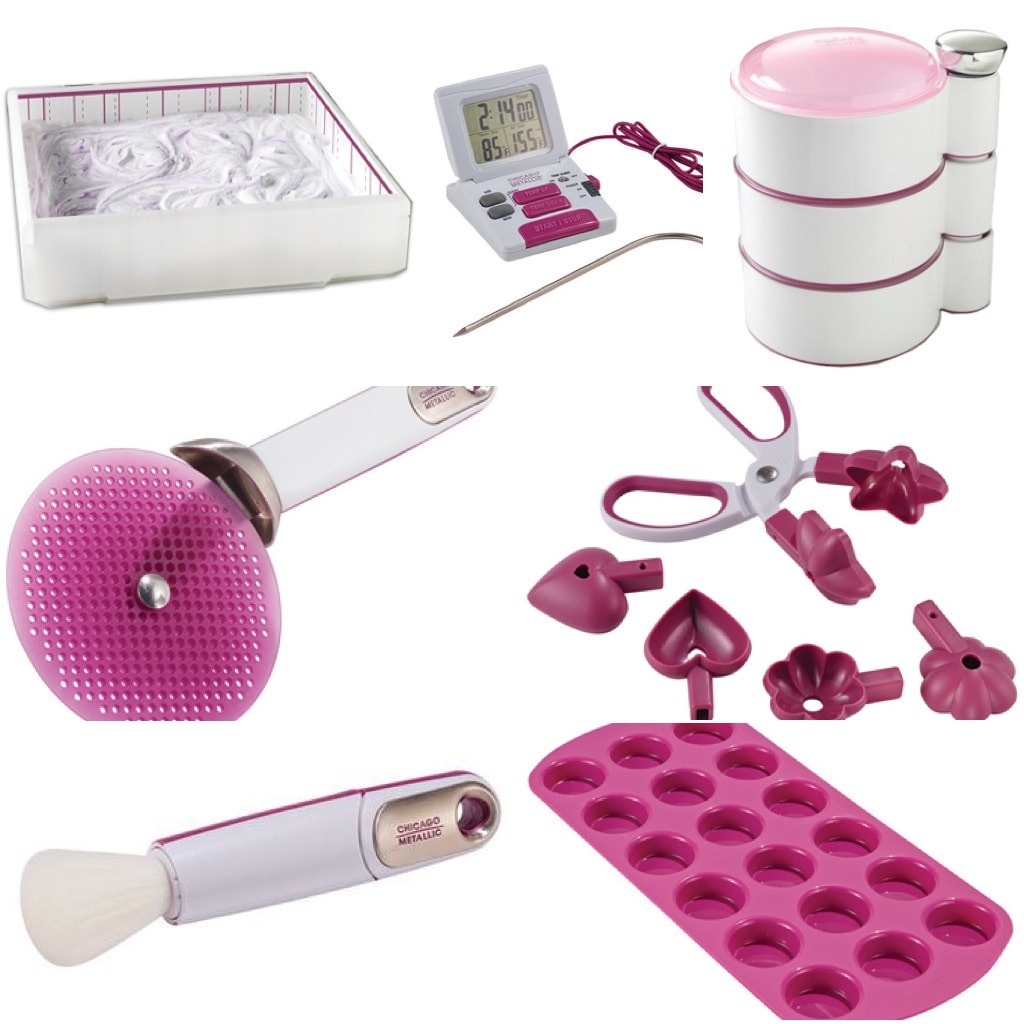 I'm very excited that Chicago Metallic is providing a marshmallow kit for me to give one of you, too! Here's what's included:
If you need any marshmallow inspiration, be sure to check out Chicago Metallic's blog.
Please see the giveaway widget below for all the details and requirements for entering. If you are unable to see the widget, make sure your browser is updated or try viewing in another browser. The winner must be a U.S. resident 18 years or older.
Be sure to add bakeorbreak at gmail dot com to your address book so that a winning email from me doesn't end up in your spam folder. If the winner doesn't respond within 48 hours, another winner will be chosen.
Good luck!
Disclosure: I was provided with products for my use as well as for the giveaway by Chicago Metallic. All opinions are my own.