May 7, 2013
Pecan Shortbread Brownies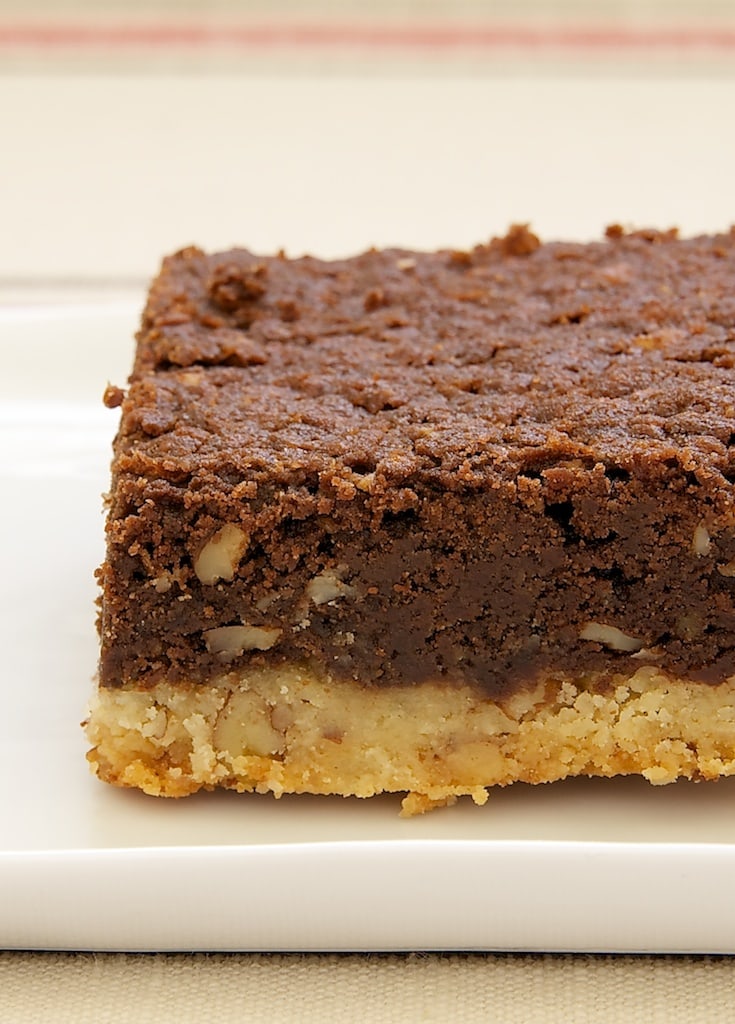 My baking habits and tastes have changed over the years, but longtime favorites still endure. Chocolate, pecans, and shortbread are always winners for me. When I find a recipe that combines all three, how can I not make it?
I happened upon the recipe for these brownies when browsing through Fat Witch Brownies. Fat Witch is a delicious little brownie shop in New York's Chelsea Market. When we lived in Manhattan, we lived just a few blocks away and visited the market frequently. We often ate dinner at one of the restaurants there, did a little shopping, and then hit up Fat Witch for our brownie fix.
Now that we live in Brooklyn, I don't get to visit Fat Witch as often. But, with their cookbook, I can recreate some of that deliciousness at home. I can't remember seeing these brownies in the shop, but I couldn't resist baking them.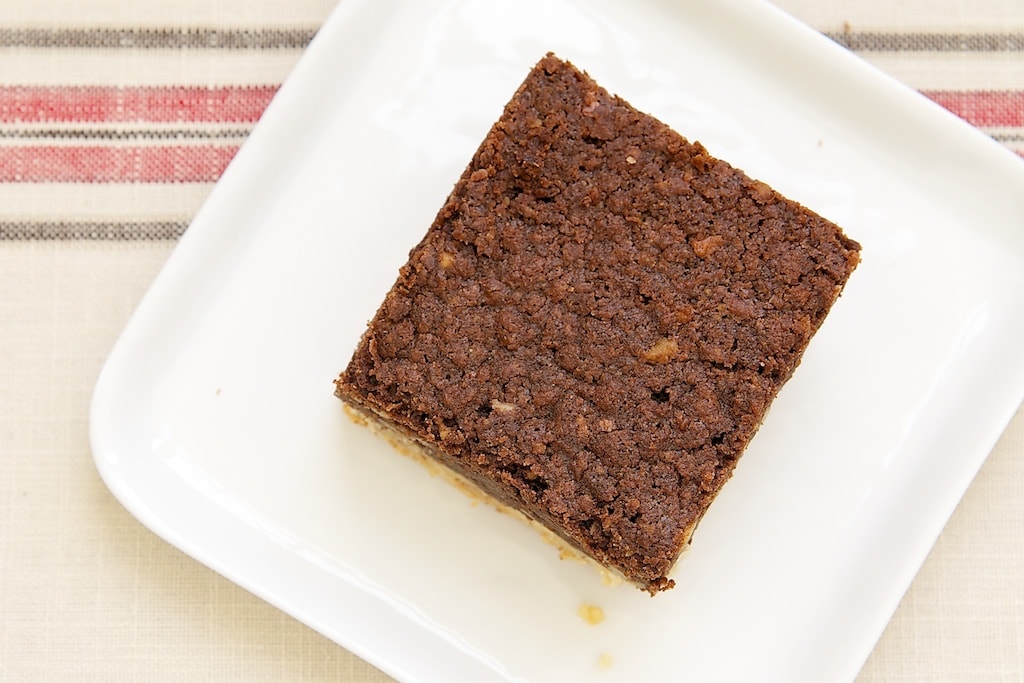 This is a lovely layered brownie that begins with a pecan shortbread crust. Topping that off is a dark chocolate brownie with even more pecans. I love how the simplicity of the shortbread contrasts with the richness of the brownie. The presence of pecans in both layers ties it all together. The pecans in the brownie are technically optional, but my love of them makes me incapable of omitting them.
Keep in mind that shortbread tends to be on the crumbly side. If your crust is a bit crumbly, don't fret. That's just the nature of shortbread. For best results, cool the brownies completely and use a sharp knife to cut into bars.
Pecan Shortbread Brownies
Yield: 16 2-inch brownies
Prep Time:25 minutes
Cook Time:38 minutes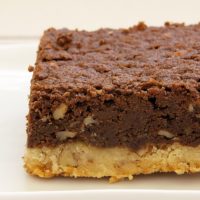 Ingredients:
For the crust:
7 tablespoons unsalted butter, softened
2 tablespoons granulated sugar
1 tablespoon packed light brown sugar
1 large egg yolk
1 cup all-purpose flour, sifted
1/2 cup finely chopped pecans
For the brownies:
12 tablespoons (3/4 cup) unsalted butter
1 cup (6 ounces) bittersweet chocolate chips
1 cup all-purpose flour
1 teaspoon baking powder
1/2 teaspoon salt
1 cup packed light brown sugar
2 large egg yolks
1 teaspoon vanilla extract
1/3 cup finely chopped pecans
Directions:
To make the crust:
Preheat oven to 350°. Grease and flour a 9-inch square baking pan.
Beat butter, granulated sugar, and brown sugar until combined but crumbly. Add egg yolk and mix until smooth.
Add flour and mix just until combined. Stir in pecans.
Transfer dough to prepared pan. Press firmly and evenly into bottom of pan. Bake 8 minutes. Set pan on wire rack to cool.
To make the brownies:
Place butter and chocolate in a microwave-safe bowl. Heat in microwave at half power in 30-second increments until butter has melted and chocolate melts when stirred. Transfer to a large mixing bowl and set aside to cool.
Whisk together flour, baking powder, and salt. Set aside.
Add brown sugar, egg yolks, and vanilla to cooled chocolate mixture and mix well. Gently mix in flour mixture, mixing just until combined. Stir in pecans.
Spread batter evenly on top of partially baked crust. Bake 25-30 minutes, or until a pick inserted in the center comes out with moist crumbs.
Cool completely in pan on wire rack before cutting into bars.