November 5, 2012
Chocolate Hazelnut Pie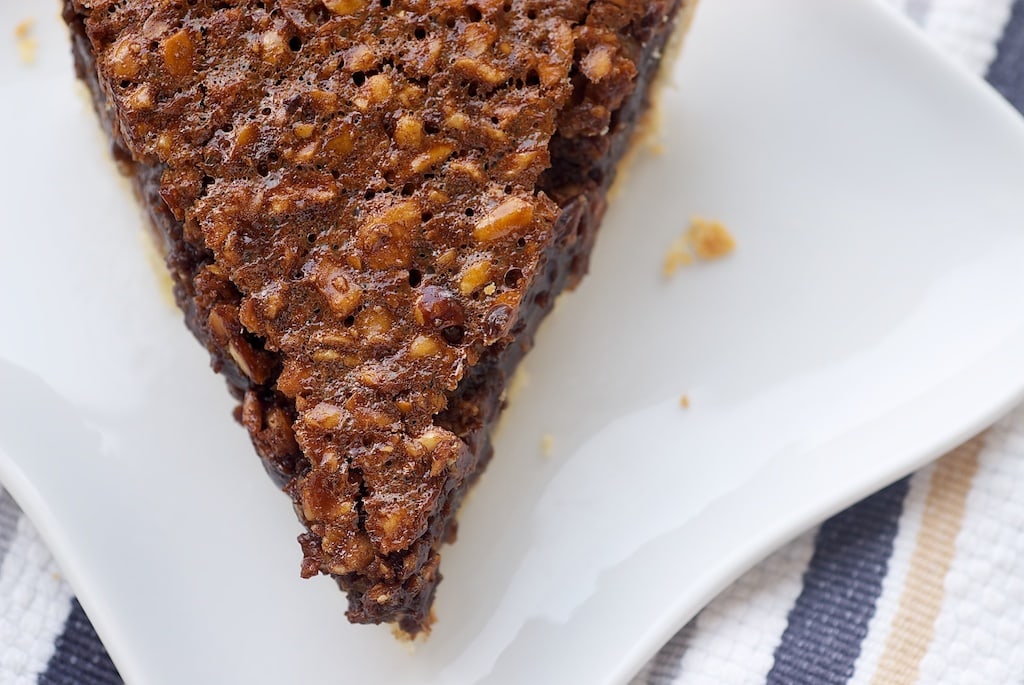 It's no secret how much I love chocolate and hazelnut. From brownies to more elaborate desserts, I'll take that combo in just about any way. Plus, I'm sure I'm not the only one here who always has a jar of Nutella in the pantry ready for a quick fix. Go on. 'Fess up.

Back to this pie…. I recently overcame my pie crust fear. The method I've included in the recipe below is the one that works best for me. If you have a pie crust you prefer making or had just rather go the store-bought route, go for it.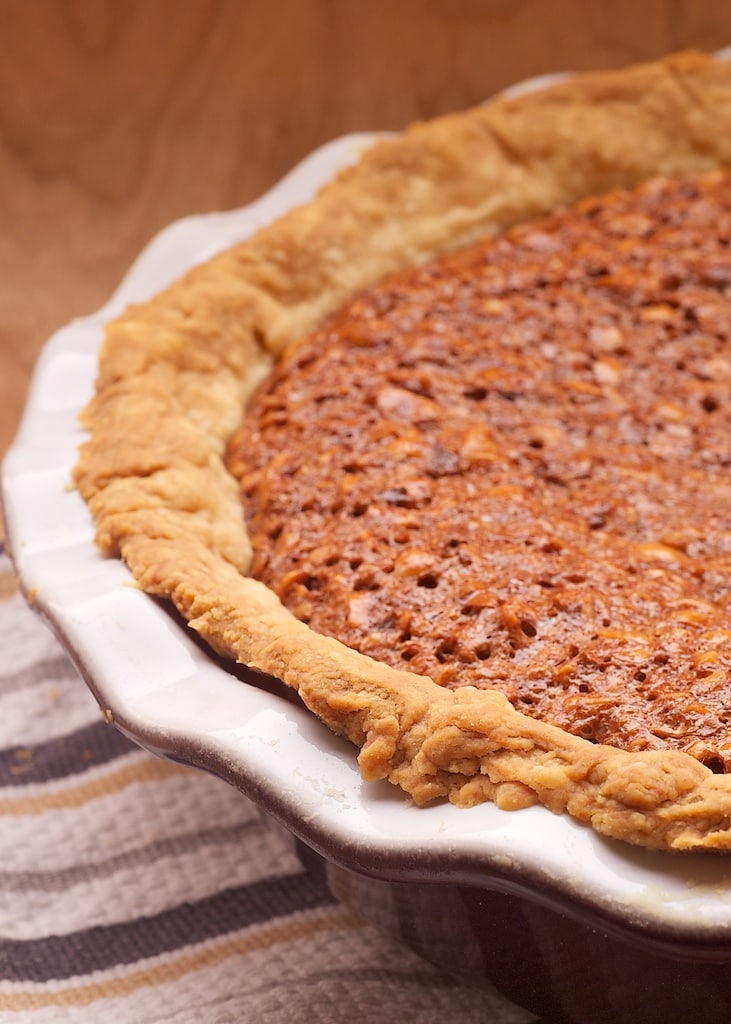 Whatever your crust preference, this filling will bring much happiness to chocolate and hazelnut fans. The total package is a twist on chocolate pecan pie. Sweet, gooey, chocolate-y filling topped off with toasted hazelnuts. Oh, yeah.
I suggest serving this pie warm, although I'll take it pretty much any way I can get it.
A little wary of making pie crusts? BoB's Pie Crust Tutorial can help!
Chocolate Hazelnut Pie
Yield: 8 to 10 servings
Prep Time:40 minutes
Cook Time:60 minutes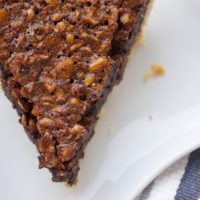 Ingredients:
For the crust:
2 & 1/2 cups all-purpose flour
2 teaspoons granulated sugar
1 teaspoon salt
1 cup cold unsalted butter, cut into 1/2-inch cubes
4-6 tablespoons cold water
For the filling:
4 ounces semisweet chocolate
3 tablespoons unsalted butter
4 large eggs
1 cup light corn syrup
1/2 cup granulated sugar
1 & 1/2 teaspoons vanilla extract
1 teaspoon salt
1 to 1 & 1/2 cups roasted hazelnuts, chopped or halved
Directions:
To make the crust:
Whisk together flour, sugar, and salt. Add cold butter and mix with a pastry blender or fork until mixture resembles coarse meal and the pieces of butter are pea-sized.
Add 1 tablespoon cold water and continue mixing. Continue adding water, 1 tablespoon at a time, and mix until dough holds together when you pinch it. (You may not need to use all of the water.)
Divide dough into 2 equal portions. Wrap dough tightly in plastic wrap and refrigerate for at least 2 hours.
Remove dough from refrigerator. If necessary, let it sit at room temperature for 10-15 minutes until slightly softened but still cold.
Flour work surface. Roll out dough into a circle about 1/4-inch thick. Press into a 9-inch pie pan. Trim off the excess.
To make the filling:
Preheat oven to 350°.
Place chocolate and butter in a microwave-safe bowl. Heat at half power in 30-second increments until chocolate melts when stirred and butter is melted. Stir until smooth. Set aside.
Lightly beat eggs in a large mixing bowl. Add corn syrup, sugar, vanilla, and salt. Mix well. Stir in chocolate/butter mixture until smooth. Stir in hazelnuts. Pour filling into crust.
Bake for 50-60 minutes or until filling is set.
Notes:
The crust recipe will make enough for 2 pie crusts. You can save the remaining pie dough for a future pie. Or, cut into small strips and sprinkle with cinnamon sugar and bake at 400° for about 8 minutes.