May 14, 2008
Focaccia with Onion and Rosemary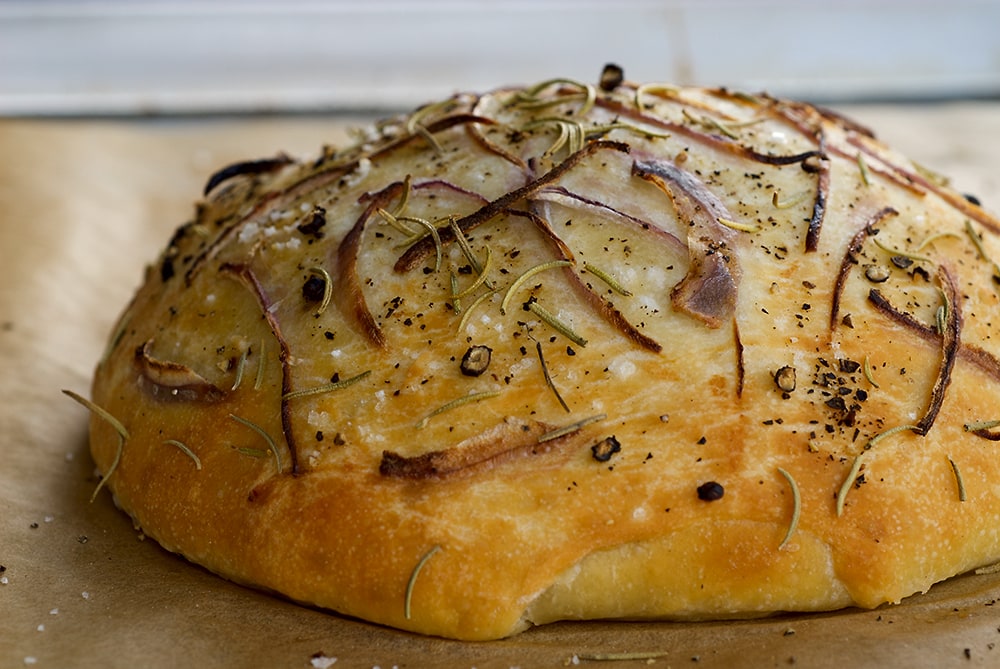 One of the best cookbooks we've recently bought is Artisan Bread in Five Minutes a Day. Reading the title made me do a bit of an eye roll, thinking that this was some baking scam. After reading some other bakers' experiences with the book, I had a change of heart and bought it.
I am not a bread baker. Honestly, I lack the patience for it. Quinn is the bread baker in our house. I am a big fan of my bread machine, but using it always feels a bit like cheating. With this book, however, I can now say that I can bake bread.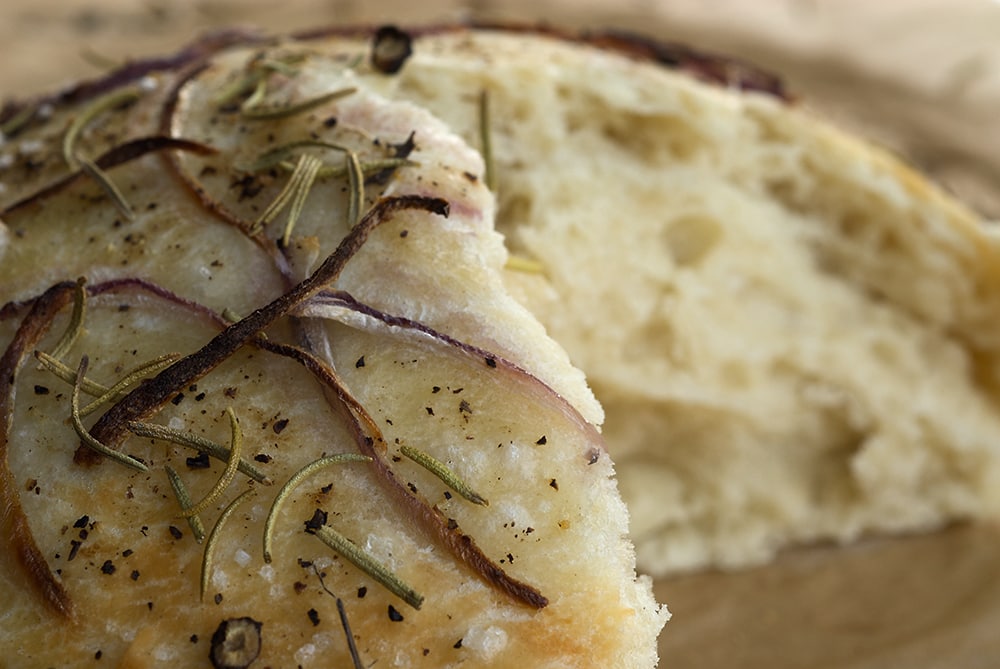 So, how does this work? It's really amazingly simple. There is no kneading whatsoever, and only a few minutes of rise time. The dough is kept in your refrigerator for up to two weeks, ready to be used whenever you're ready for it. Use it all at once, or just a little at a time. The small amount of work involved is definitely more than worth it for the delicious results.
There are many variations in the book from basic bread recipes to pizza to cinnamon rolls. Our favorite so far is focaccia. This particular focaccia features onions, one of my very favorite foods. It's really quite simple, not only in preparation but in flavor. The simplest things are sometimes the best, though.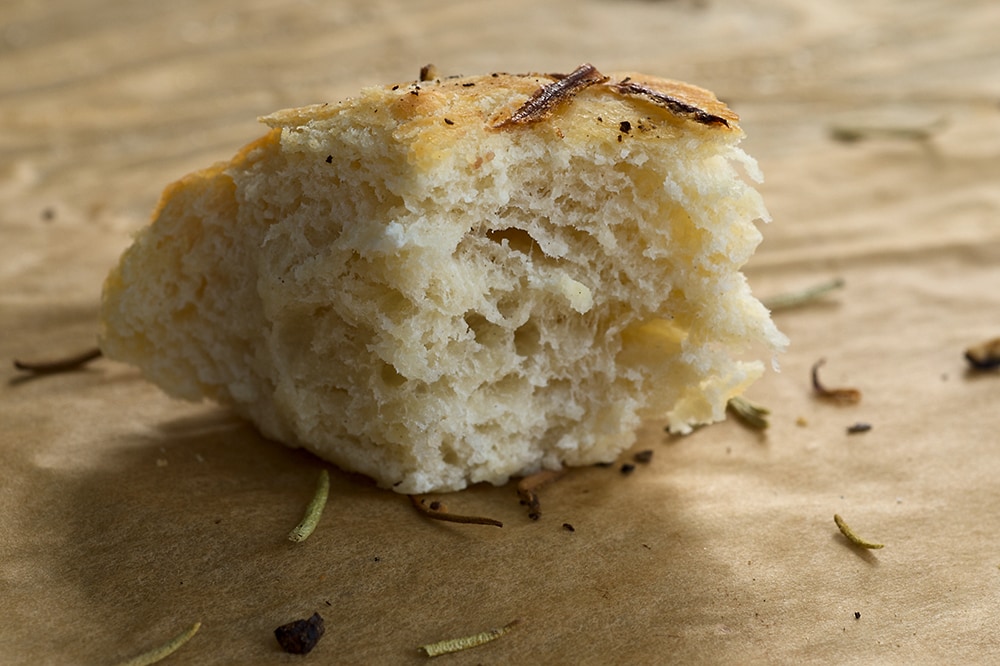 As a baker, I am so much more likely to make cookies or brownies or cakes. But, I do love homemade bread. With this book, I have an easy way to enjoy making it myself.
Focaccia with Onion and Rosemary
Prep Time:30 minutes
Cook Time:30 minutes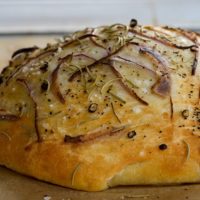 Ingredients:
For the olive oil dough:
2 & 3/4 cups lukewarm water
1 & 1/2 tablespoons granulated yeast (1 & 1/2 packets)
1 & 1/2 tablespoons salt
1 tablespoon sugar
1/4 cup extra virgin olive oil
6 & 1/2 cups unbleached all-purpose flour
For the focaccia:
Olive Oil Dough
1/4 medium white or yellow onion, thinly sliced
2 tablespoons extra virgin olive oil, plus 1 teaspoon for drizzling
3/4 teaspoon dried rosemary leaves, or 1 & 1/2 teaspoons fresh rosemary
coarse salt and freshly ground pepper
Directions:
To make the olive oil dough:
Mix yeast, salt, sugar, and olive oil with the water in a 5-quart bowl or lidded, non-airtight food container. Mix in flour (without kneading) using a spoon, food processor with dough attachment, or stand mixer with dough hook. Cover loosely and allow to rest at room temperature until dough rises and collapses or flattens on top (about 2 hours).
After the initial rise, the dough can be used but is handled more easily when cold. Refrigerate in a lidded, non-airtight container and use over the next 12 days.
To make the focaccia:
Twenty minutes before baking, preheat oven to 425°. Place an empty broiler tray on any shelf that won't interfere with the focaccia. Grease a cookie sheet with olive oil or line with parchment paper or a silicone mat.
Dust the surface of the refrigerated dough with flour. Cut off a 1-pound piece, about the size of a grapefruit. Dust with more flour and quickly shape into a ball stretching the surface of the dough around to the bottom on all four sides, rotating the ball a quarter-turn as you go. Flatten dough into a 1/2- to 3/4-inch-thick round, using your hands or a rolling pin and a minimal amount of flour. Place on prepared cookie sheet.
Saute onion slices in 2 tablespoons of olive oil until softened but not browned. Sparingly place the onions over the surface of the dough, leaving a 1-inch border at the edges. Allow most of the dough's surface to show through the onions to allow the focaccia to brown well. Sprinkle dough with rosemary, salt, and pepper. Lightly drizzle the remaining 1 teaspoon of olive oil over the focaccia, not covering the whole surface. Allow focaccia to rest and rise for 20 minutes.
After focaccia has rested, place the cookie sheet on a rack near the center of the oven. Pour 1 cup of hot water into the broiler tray and quickly close the oven door. Bake for about 25 minutes, or until crust is medium brown. Be careful not to burn the onions. Cut into wedges and serve warm.
This post contains affiliate links. If you make a purchase through one of the links, I'll receive a
small commission at no additional cost to you.