March 23, 2007
Chocolate Caramel Brownies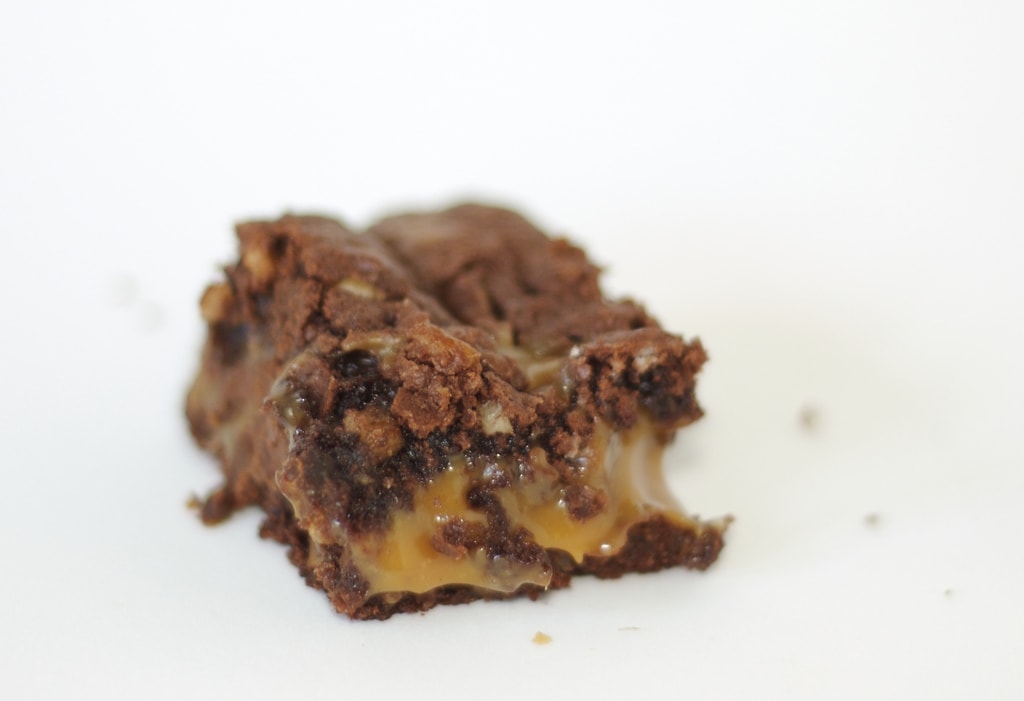 To say I have been absent from baking and blogging would be a gross understatement. I took a bit of a break after Christmas when I reached that point when I couldn't bear to look at another cake, cookie, or other baked good. After that, it's just proven difficult to get back into the baking habit. Hopefully, I'm back into the swing of things. I know Quinn hopes so.
With this recipe, I am unashamedly easing back into baking. I picked these brownies primarily because I knew Quinn would love them. It didn't hurt that they started with a cake mix, though, just to make them a bit simpler. They did prove simple, although I had forgotten how tedious it is to melt caramel. Patience is not my strongest suit. That aside, these are rather simple to make.

A couple of notes: I used a devil's food cake mix and pecans. You're probably all familiar with my ongoing love affair with pecans. I told Quinn I would put in whatever kind of nuts he wanted, and pecans were his choice. I half-expected him to pick his new love, hazelnuts, but I certainly didn't complain about his choice.
These brownies are wonderfully rich, due in part to the devil's food cake mix. A regular chocolate cake mix would certainly work if you wanted to tame these down a bit. I really liked the layers of these bars – brownie, chocolate, caramel, more brownie. They are wonderfully delicious and gooey when they are still a bit warm. Just don't forget your napkin.
Chocolate Caramel Brownies
Yield: 24 2-inch bars
Prep Time:20 minutes
Cook Time:45 minutes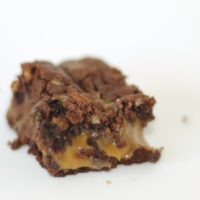 Ingredients:
1 18.25 oz. package chocolate cake mix
1 cup chopped nuts
1 cup evaporated milk, divided
1/2 cup unsalted butter, melted
35 caramels, unwrapped (about 10 oz.)
2 cups semisweet chocolate chips
Directions:
Preheat oven to 350°.
Combine cake mix and nuts. Stir in 2/3 cup evaporated milk and melted butter. Batter will be thick.
Spread half of mixture into bottom of a 9″x 13″x 2″ baking pan. Bake 15 minutes. Place pan on wire rack to cool slightly.
Place caramels and remaining 1/3 cup evaporated milk in a small saucepan. Cook over low heat, stirring constantly, until caramels have melted. Stir until smooth.
Sprinkle chocolate chips evenly over partially baked brownie. Drizzle with caramel mixture.
Drop remaining brownie batter by teaspoonfuls onto caramel.
Bake 25-30 minutes, or until center is set. Cool completely in pan on wire rack before cutting into bars.