December 9, 2013
Brown Butter-Hazelnut Cookies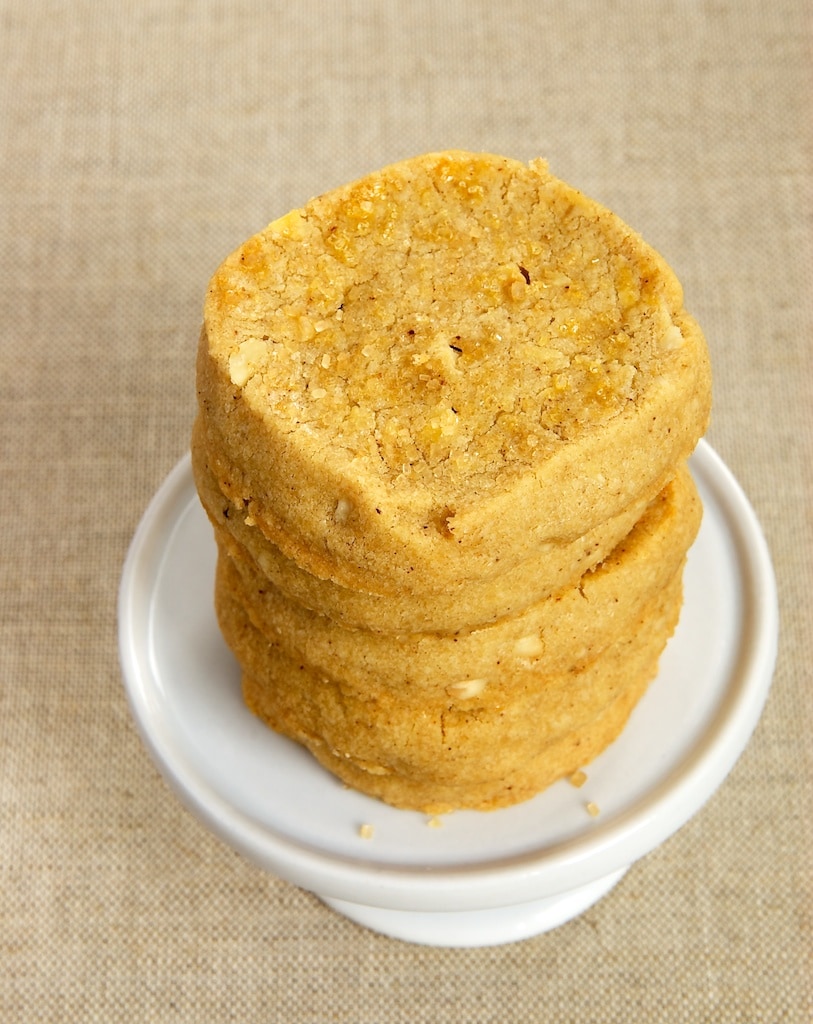 I hope you're prepared for lots of cookies in the next few days. December always puts me in a serious cookie-baking mood. I'm going through butter and sugar around here like you wouldn't believe.
When I started planning my holiday cookie baking spree, I really wanted to come up with a good variety of cookies. I made a list of cookies with all kinds of different flavors. But, I also wanted to make some cookies that are a little different in preparation than the ones I usually bake. It occurred to me that I don't make a lot of slice-and-bake cookies.
I don't really know why that is. Slice-and-bake cookies are such a convenience. Once you get the dough made and chilled, you can bake up some cookies whenever you'd like. Or, stick that dough in the freezer and save them for a cookie emergency.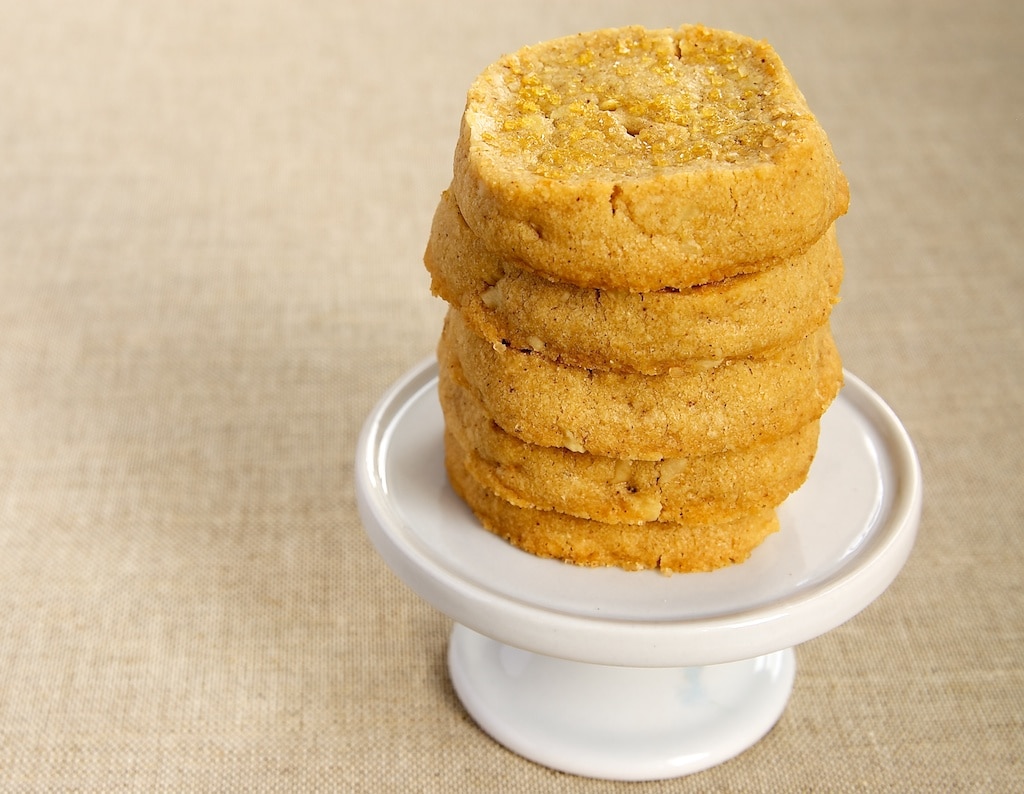 I really love these cookies. They are essentially a shortbread cookie dressed up with brown butter. They make look plain, but they are packed with flavor. I always love that wonderful nutty flavor that brown butter adds. To make them a bit more nutty, I also added some toasted hazelnuts, although they'll be perfectly lovely without those if you prefer.
I'm always a fan of simple recipes, and this one fits that description both in preparation and flavor. If you're looking for something a bit more decadent, slice these thin and try spreading on a little caramel or dulce de leche and make some amazing sandwich cookies.
Remember my Gift Guide I recently posted? The giveaways continue today with Vanilla Extract Infusion Kits from Beanilla for three BoB readers. Scroll past the recipe for details.
Brown Butter-Hazelnut Cookies
Yield: 20 cookies
Prep Time:25 minutes
Cook Time:14 minutes
Ingredients:
1 cup unsalted butter
2 cups all-purpose flour
1/2 teaspoon salt
1/2 cup packed dark brown sugar
1/4 cup granulated sugar
1 & 1/2 teaspoons vanilla extract
2 large egg yolks, divided
1/4 cup chopped toasted hazelnuts
turbinado sugar for garnish
Directions:
Place butter in a small saucepan. Cook over medium heat until the butter has melted.
Continue cooking, whisking often to prevent burning. Butter will begin to foam. Brown specks will begin to form at the bottom of the pan, and the butter will have a nutty aroma.
Transfer butter to a small bowl. Chill 1 to 2 hours, or until firm.
Whisk together flour and salt. Set aside.
Using an electric mixer on medium speed, beat chilled butter, brown sugar, and sugar until light and fluffy. Mix in 1 egg yolk and vanilla.
Reduce mixer speed to low, and gradually add flour mixture. Mix just until combined. Stir in hazelnuts.
Transfer the dough to a work surface. From dough into a 1 & 1/2-inch diameter log. Wrap tightly in plastic wrap. Refrigerate for 2 hours or up to 3 days. Or, freeze for up to 2 months.
Preheat oven to 350°. Line baking sheets with silicone liners or parchment paper.
Unwrap chilled dough. Use a serrated knife to cut dough into 1/2-inch slices. Place cookies 2 inches apart on prepared pans.
Brush tops of cookies with egg yolk. Sprinkle with turbinado sugar.
Bake 12 to 14 minutes, or until the edges are lightly browned. Cool on pans for 5 minutes. Then, transfer cookies to wire racks to cool completely.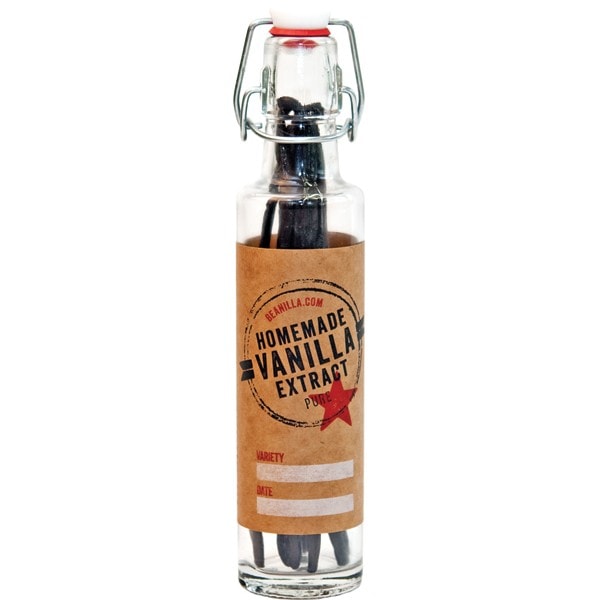 Vanilla extract is such a baking staple. With Beanilla's Homemade Vanilla Extract Infusion Kit, you can easily make your own. The kits include a bottle and vanilla beans to get you started. You just add alcohol and a little patience.
I'm excited to offer three of you one of these kits! See the widget below for entry details and requirements. Please note that the winner must be a U.S. resident 18 years or older. If you are unable to see the widget, make sure your browser is updated or try viewing this page in another browser.
Be sure to add bakeorbreak at gmail dot com to your contacts so that a winning email from me doesn't end up in your spam folder. If a winner doesn't respond to my email within 48 hours, another winner will be chosen.
Good luck!
Disclosure: Beanilla and Bake or Break are providing the kits for the giveaway. All opinions are my own.