December 12, 2008
Butterscotch Marble Cake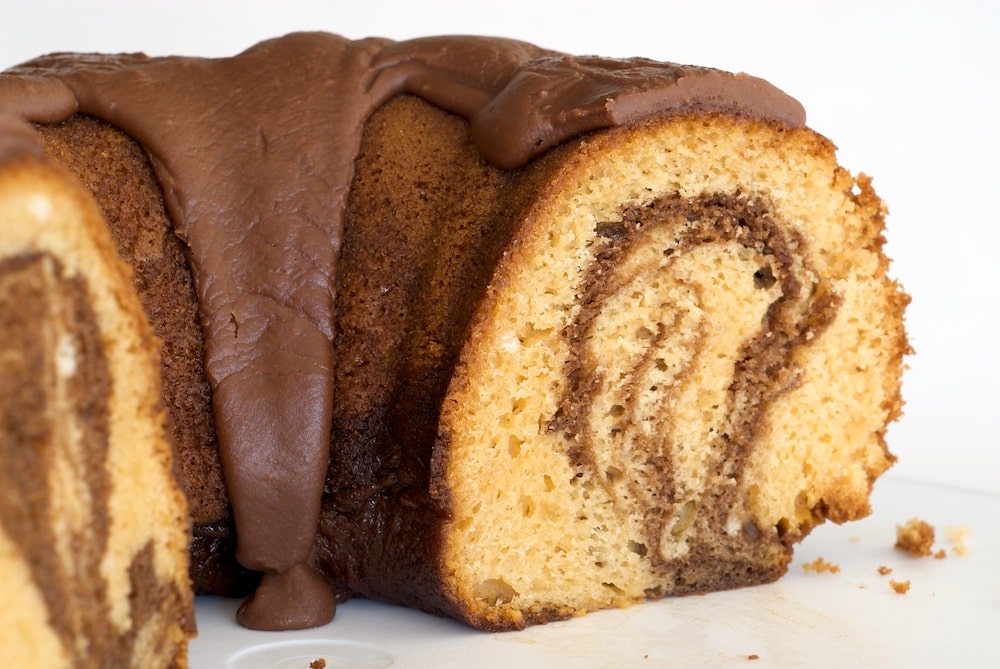 If your lives are as hectic as mine, simple recipes can be a blessing. I especially need a few simple ones in my repertoire during the even-busier-than-normal holiday season.
While my preference is to make cakes from scratch, I am not opposed to augmenting a cake mix. This cake starts with both a boxed cake mix and boxed pudding mix. It really is so quick and easy to put together. I had it mixed and in the oven within minutes.

I am on record as not being a huge butterscotch fan. I think that can be attributed in part to years spent trying to use butterscotch chips and being extremely disappointed. Then, I found Guittard's butterscotch chips and decided to give butterscotch another try.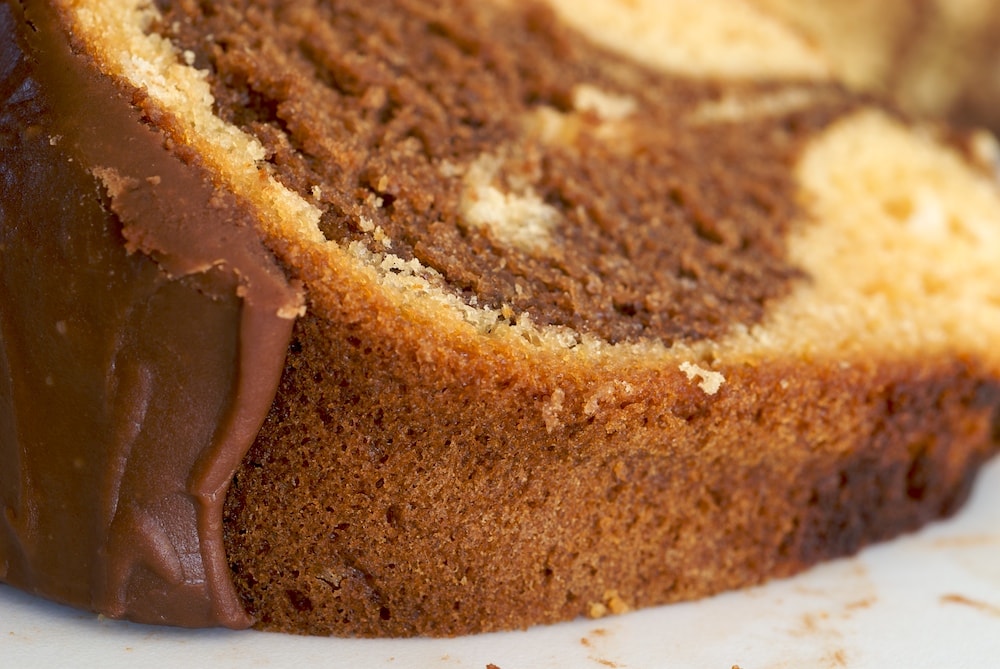 The butterscotch flavor is not that pronounced in this cake. Overall, it's a very mild flavor. I used semisweet chocolate for the glaze, but in hindsight I think bittersweet might have worked better. Of course, that's a matter of chocolate opinion and I know better than to start the great chocolate debate.
So, is this a great dessert for finishing a big holiday meal? Probably not. But, it would ideal for having around the house for snacking and sharing during the holidays.
Butterscotch Marble Cake
Yield: 12-16 servings
Prep Time:25 minutes
Cook Time:60 minutes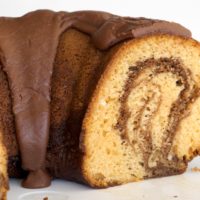 Ingredients:
1 package white cake mix
4 ounce package butterscotch instant pudding mix
1 cup water
4 large eggs
1/4 cup cooking oil
1/2 cup chocolate syrup
2 ounces semi-sweet baking chocolate, chopped
2 tablespoons unsalted butter
3/4 cup powdered sugar
1 tablespoon hot water
Directions:
Preheat oven to 350°. Grease and flour a 10-inch Bundt pan. Set aside.
Combine cake mix, pudding mix, 1 cup water, eggs, and oil. Using an electric mixer on low speed, mix until combined. Increase speed to medium and beat for 2 minutes, scraping down sides as needed.
Transfer 1 & 1/2 cups of cake batter to another bowl. Stir in chocolate syrup. Pour light batter into pan. Top with chocolate batter. Using a knife or metal spatula, gently swirl through the batters to marble.
Bake for 55-60 minutes, until a toothpick inserted near the center comes out clean. Cool in pan on wire rack for 15 minutes. Remove cake from pan and cool completely on wire rack.
Combine chocolate and butter in a small saucepan. Cook over low heat, stirring constantly, until melted. Remove from heat and stir in powdered sugar and hot water. Add additional hot water, 1 teaspoon at a time, if necessary to attain drizzling consistency. Drizzle icing over cake.