July 17, 2014
Upside-Down Pecan Brownie Tarts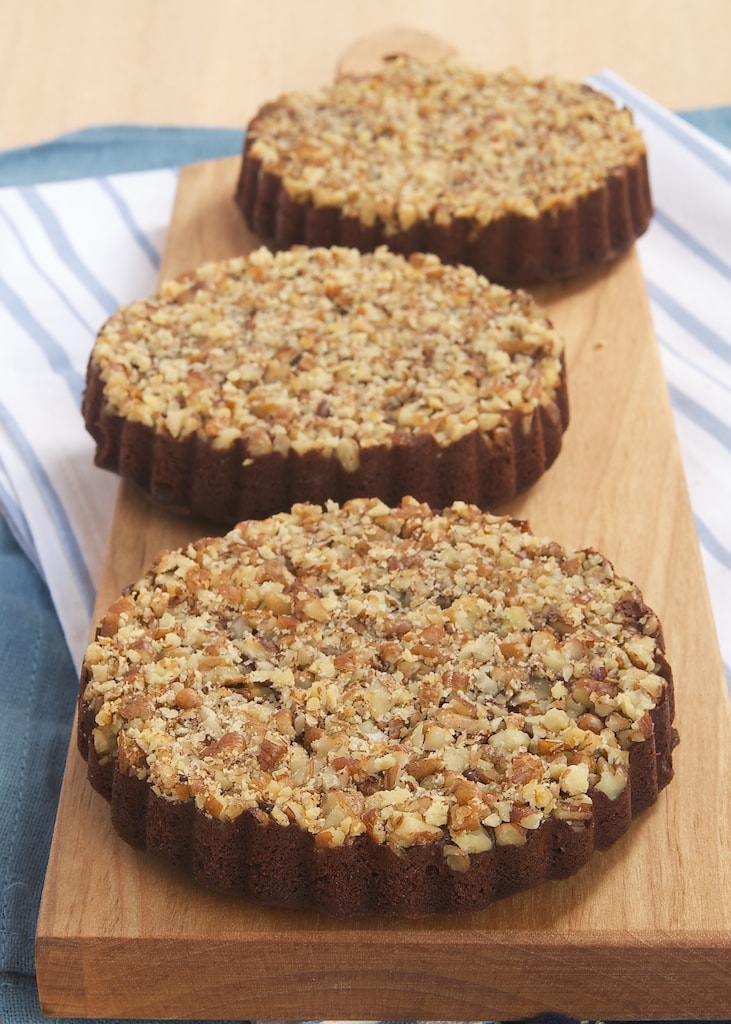 I bake a lot of brownies. Seriously, a lot. There are plenty here on BoB, but I also bake plenty that you don't see. I'm not holding out on you, I promise. Brownies are just my go-to when I need/want/crave a homemade chocolate dessert.
For the purposes of sharing brownies on BoB, however, I am constantly thinking of and searching for new twists on the classic brownie. While these brownies may not differ much in taste and texture from traditional brownies, the presentation certainly does.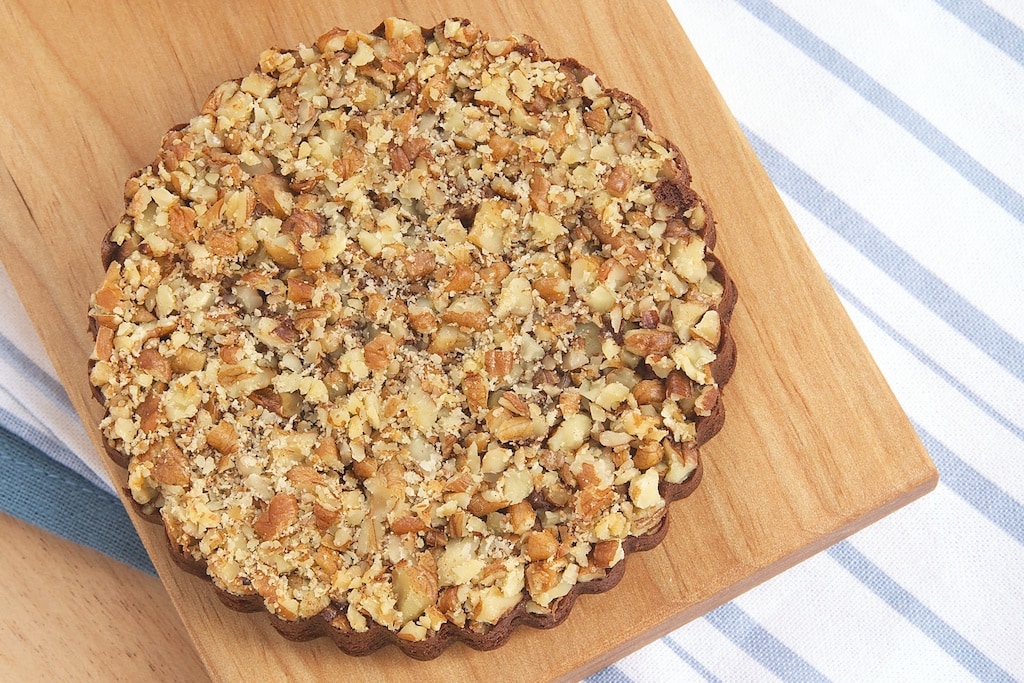 It all starts with mini tart pans. I realize that not everyone is as obsessed with mini desserts as I am, so feel free to use a 9-inch tart pan. Either way, plenty of toasted pecans are scattered in the bottom of the pans. Then, a rich brownie batter is poured on top of that. A little baking time, a little cooling time, and then it's time to flip these beauties over.
The end result is a dressed up brownie dessert that's so adorable I could barely stand it when I flipped them over. These are even more delicious with a scoop of ice cream, but I couldn't bear to cover up all those toasted pecans for the photos.
The size of these tarts makes them perfect for sharing. Grab a couple of forks and a friend, and dig in!
We are a participant in the Amazon Services LLC Associates Program, an affiliate advertising program designed to provide a means for us to earn fees by linking to Amazon.com and affiliated sites.
Upside-Down Pecan Brownie Tarts
Yield: 8 to 10 servings
Prep Time:25 minutes
Cook Time:25 minutes
Brownies get all dressed up with these Upside-Down Pecan Brownie Tarts!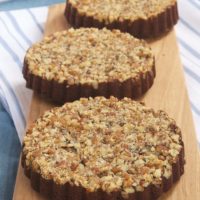 Ingredients:
1 cup coarsely chopped pecans, toasted
4 ounces bittersweet chocolate, coarsely chopped
6 tablespoons unsalted butter
1/2 cup all-purpose flour*
3 tablespoon sifted Dutch process cocoa powder
1/4 teaspoon salt
2 large eggs
6 tablespoons granulated sugar
2 tablespoons golden syrup or corn syrup
2 tablespoons coffee-flavored liqueur**
1/2 teaspoon vanilla extract
Directions:
Place oven rack in lower third of oven. Preheat oven to 350°F. Grease four 4.75-inch mini tart pans with removable bottoms.
Sprinkle toasted nuts into the bottom of prepared pans.
Place chocolate and butter in a microwave-safe bowl. Heat at half power in microwave in 30-second increments until butter has melted and chocolate melts when stirred. Stir until smooth. Set aside to cool slightly.
Whisk together flour, cocoa, and salt. Set aside.
Using an electric mixer on medium speed, beat eggs until thickened and pale (about 2 minutes). Continue mixing and add sugar, 1 tablespoon at a time, mixing until sugar dissolves.
Reduce mixer speed to low and add syrup, liqueur, and vanilla. Add chocolate mixture and mix until blended. Gradually add flour mixture, mixing just until combined.
Divide batter evenly among prepared pans (about 1 cup per pan). Spread gently and evenly.
Bake 20 to 25 minutes, or until a pick inserted into the center comes out with a few moist crumbs.
Cool tarts in pans on a wire rack for about 20 minutes. Then, invert tarts, remove pans, and serve.
Notes:
*Too much flour will make these brownies dry. Be sure you either weigh your flour (2.25 ounces), or fluff your flour, lightly spoon to overflowing into a measuring cup, and level with a straight edge.
**The Kahlua is optional, but I like the hint of coffee flavor it adds.