Bake or Break Cookbook, Volume 1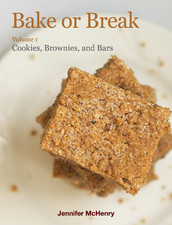 My first iBook was published December 6, 2012. Bake or Break Volume 1: Cookies, Brownies, and Bars is a collection of 32 recipes for some BoB favorites as well as some new recipes never before seen on the blog.
If you have an iPad and enjoy baking, this is a great book to add to your collection. There are big, beautiful photos and easy to follow, full-page recipes.
Get your copy in the iBookstore today!
Contents
Cookies:
Chewy-Chocolate Cookies
Sand Tarts
Brown Butter Salty Sugar Cookies
Chocolate-Peanut Butter Sandwich Cookies
Italian Cream Cookies
Peanut Butter and Jelly Thumbprints
Cream Cheese Chocolate Chip Cookies
Toffee-Almond Oatmeal Cookies
Chocolate Sprinkles Cookies
Chocolate Chip Pecan Cookie Bites
Cranberry Shortbread
Almond-Apricot Sandwich Cookies
Brownies:
Basic Brownies – Fudgy
Basic Brownies – Cakey
Dark Chocolate-Sour Cherry Brownies
Hazelnut Brownie Tart
Brown Brown Brownies
Triple Chocolate Brownies
Monster Brownies
Pumpkin Swirl Brownies
Peanut Butter-Toffee Brownies
n-Layer Brownies
Bars:
Coconut Pecan Blondies
Brown Sugar Cashew Blondies
Salty Chocolate Chunk Blondies
Cream Cheese Swirl Blondies
Caramel Apple Bars
Blueberry-Hazelnut Oat Bars
Graham Cracker Bars
Caramel-Chocolate Chip Bars
Buttery Nut Bars
Salted Caramel Crispy Squares