Individual Berry Cheesecake Trifles
Fresh berries, a lemony no-bake cheesecake, and pound cake combine for these delicious and delightful Individual Berry Cheesecake Trifles!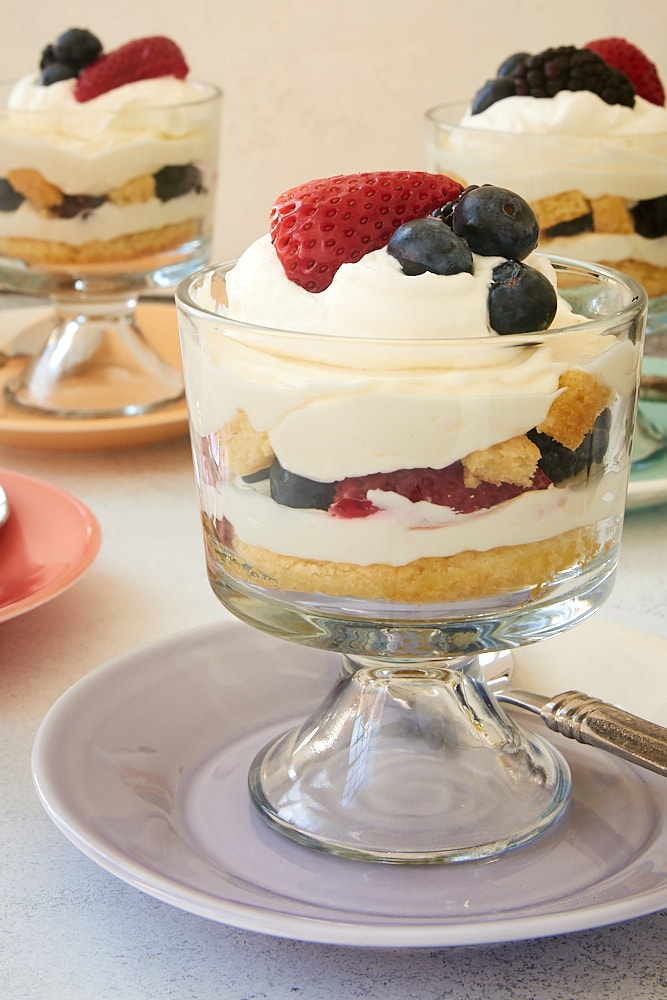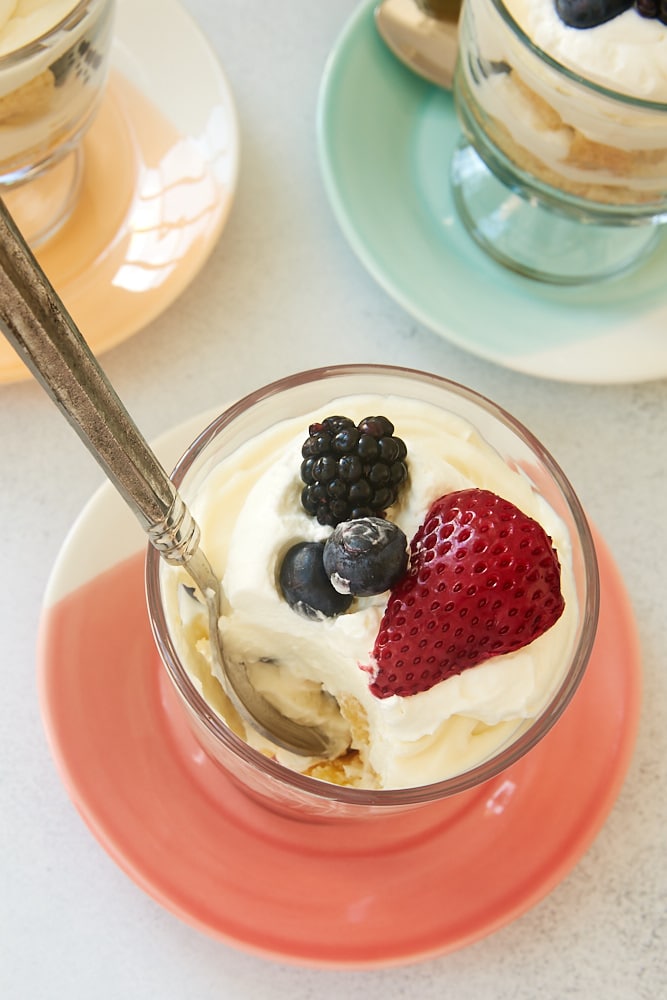 When it's time to assemble these trifles, I like to cut a round of cake to fit each glass so there's a nice solid layer in the bottom. I cube the rest of the cake for the next layer of cake, but you can cube all of the cake if you like. The layering begins with the cheesecake filling and berries. The number of layers you'll need may vary depending on what serving glasses you're using. The ones pictured here are mini trifle bowls. I like them for these trifles because of their straight sides and footed bottom. They really show off all those layers!
As for the berries, use any that you like. Stick with one kind or use a few. I often have a variety on-hand, so I usually go with mixed berries. Or how about mixing them up with a different single kind of berry in your trifles? Then you can offer a variety to your guests!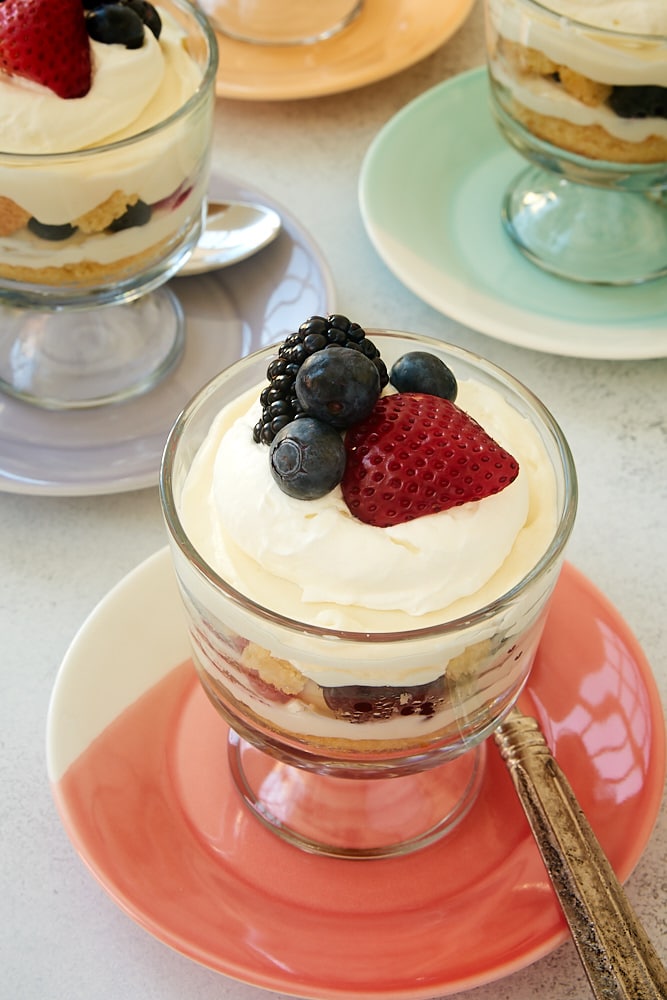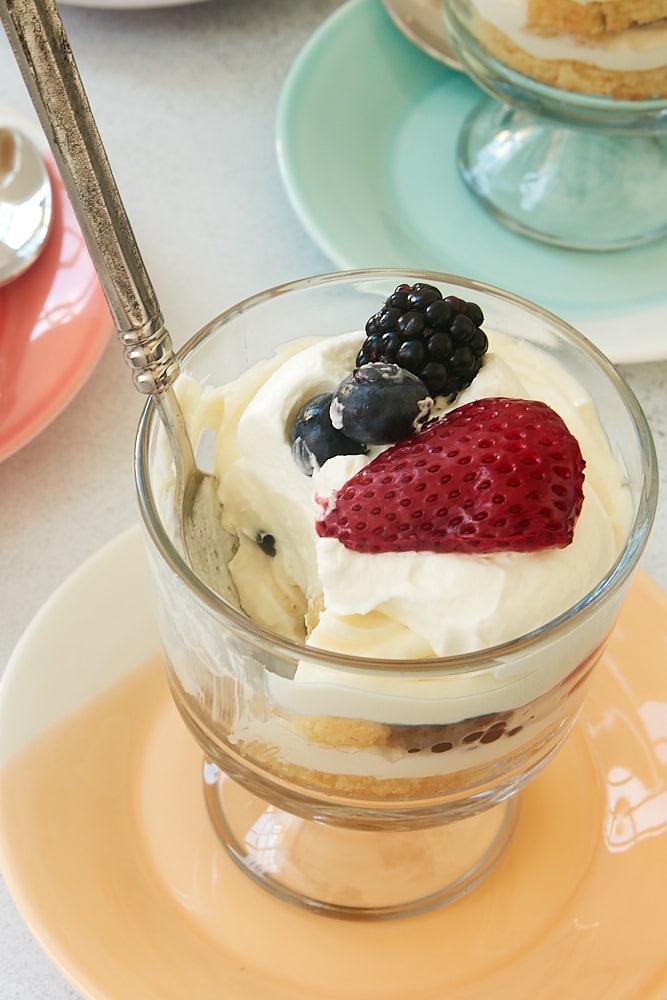 If you're a fan of berries and cheesecake, then I hope you'll try these Individual Berry Cheesecake Trifles. They're really just lovely and so very delicious. A summer favorite, indeed!
Find more individual desserts in the Recipe Index.
More Desserts in Glasses and Jars
Bake or Break is a participant in the Amazon Services LLC Associates Program, an affiliate advertising program designed to provide a means for us to earn fees by linking to Amazon.com and affiliated sites.
Berry Cheesecake Trifles
Yield: 4 servings
Prep Time: 35 minutes
Cook Time: 22 minutes
Individual Berry Cheesecake Trifles combine cheesecake, pound cake, and berries for a lovely and delicious dessert!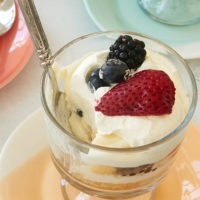 Ingredients:
For the cake:
1/2 cup (60g) all-purpose flour
1/2 teaspoon baking powder
1/4 teaspoon salt
1/4 cup (57g) unsalted butter, softened
1/2 cup (100g) granulated sugar
1 large egg
1/4 teaspoon vanilla extract
For the filling:
8 ounces (227g) cream cheese, softened
1/2 cup (100g) granulated sugar
juice of half of a medium lemon (about 1 tablespoon)
1/2 cup heavy cream
1 & 1/2 to 2 cups assorted berries
sweetened whipped cream
Directions:
To make the cake:
Preheat oven to 350°F. Grease an 8- or 9-inch square baking pan.
Whisk together the flour, baking powder, and salt. Set aside.
Using an electric mixer on medium speed, beat the butter and sugar until light and fluffy. Add the eggs, one at a time, mixing well after each addition. Mix in the vanilla.
Reduce mixer speed to low. Gradually add the flour mixture, mixing just until combined.
Spread the batter in the bottom of the prepared pan. Bake 18 to 22 minutes, or until the edges are browned, and a pick inserted into the center comes out clean. Allow the cake to cool completely.
Cut 4 rounds to fit serving glasses and cut the remaining cake into cubes. Alternatively, cut all of the cake into cubes.
To make the filling:
Using an electric mixer on medium speed, beat the cream cheese, sugar, and lemon until thoroughly combined and smooth.
Place the cream in a large, cold mixing bowl. Using an electric mixer with a whisk attachment, beat at medium-high speed until the cream begins to thicken.
Continue beating until you can lift the whisk out of the whipped cream and a peak that curves downward forms in the cream. This should take 4 to 5 minutes.
Transfer about 1/4 of the whipped cream to the cream cheese mixture. Mix just until combined. Then gently fold in the remaining whipped cream, mixing just until combined
Beginning with the cake rounds (or about half the cubed cake if you cubed all of it) and continuing with cheesecake and berries, layer the components in serving glasses until full. Top with sweetened whipped cream and more berries. Chill at least 4 hours or overnight.