Dark Cocoa Powder Brownies
Want a big-time chocolate experience? You've got to try these Dark Cocoa Powder Brownies. They're amazingly fudgy, dense, and rich!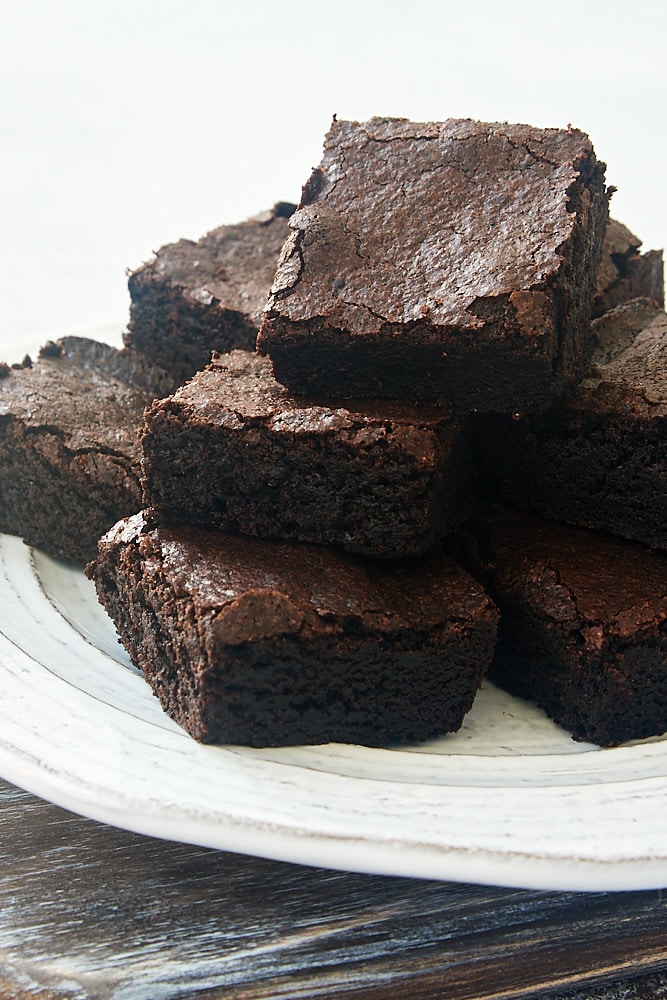 I've made countless batches of brownies over the years, which is evidenced by the sheer size of the brownies section of my Recipe Index. I rarely meet a brownie I don't like, and my tastes for them are all over the place. Whether they're cakey or fudgy, plain or with nuts, or anything in between, I'm likely to devour it with pleasure.
These Dark Cocoa Powder Brownies are at the far end of a few brownie-related spectrums. Fudgy? Most definitely. Dense? Yep. Rich? Oh, yeah. If that sounds like brownie perfection to you, then get ready to get baking.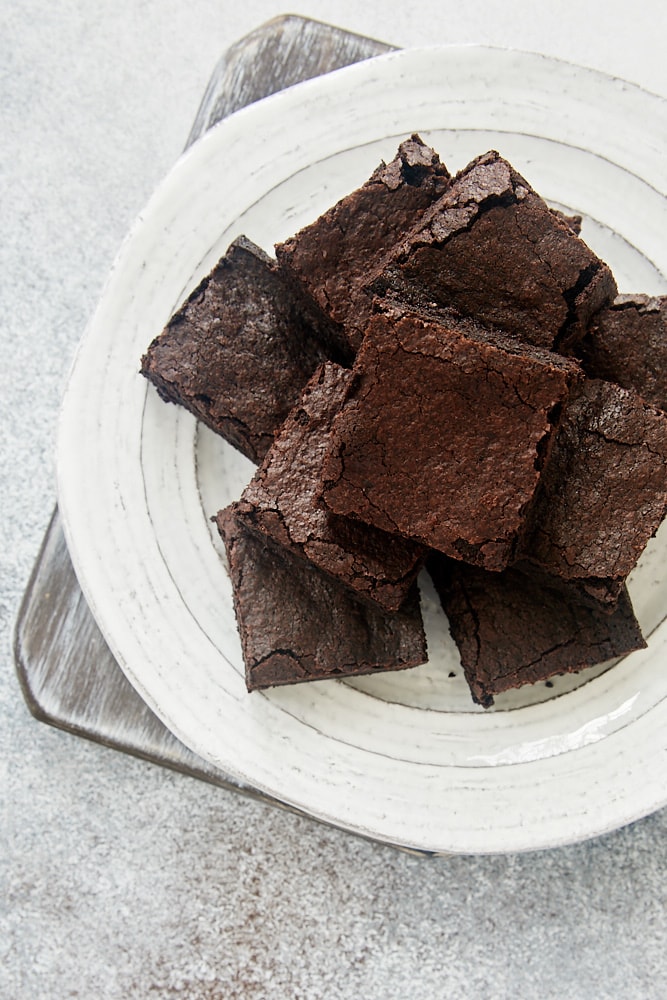 Using cocoa powder in brownies adds plenty of chocolate flavor while keeping the brownies dense and fudgy. Plus, you don't have to melt chocolate, so you can get these mixed and in the oven quicker and easier.
I like to use dark cocoa powder for richness and color in these brownies. As you can see in these photos, that dark cocoa makes these brownies super dark. It also adds a deeper chocolate flavor that's sure to hit the spot for you dark chocolate fans. If you like, you can use regular cocoa powder for a lighter color and less intense flavor. Either natural or Dutch process cocoa will work for this recipe.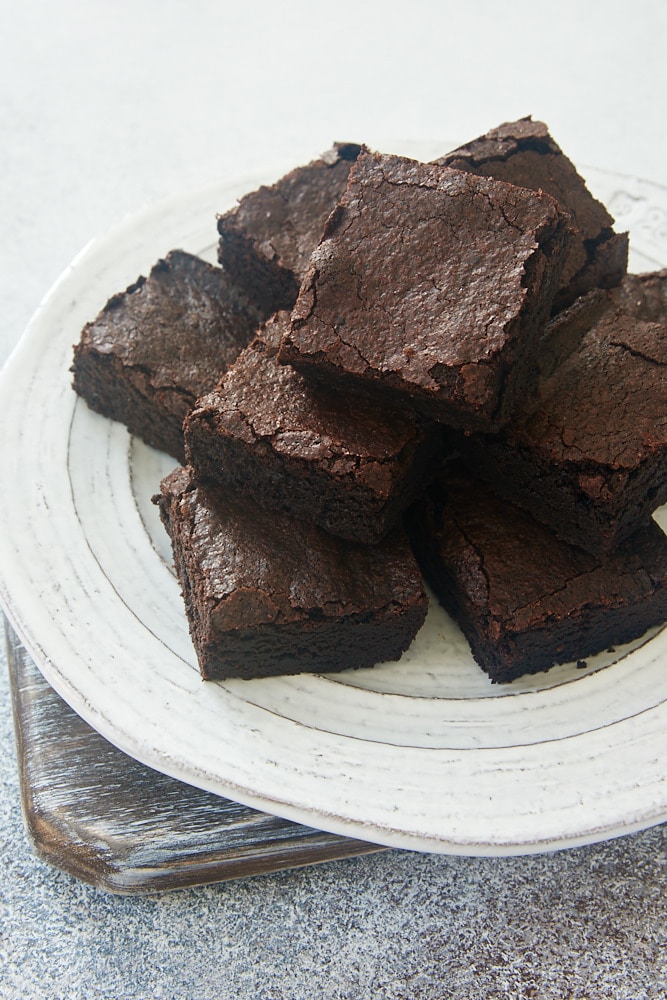 You can add nuts or chocolate chips if you like. They're great in any form, although I really like them just like this for a full-on chocolate experience. Either way, you don't need to get out your electric mixer for these, although you can certainly use one if you like. Just make sure not to overmix the batter or you'll lose some of that dense, fudgy texture.
If you can bear to wait, these Dark Cocoa Powder Brownies are even better the next day after baking. They somehow get even richer and fudgier. I love that they are such an all-out chocolate experience. Smaller than usual brownies may be a good idea here, as these pack a lot of rich flavor. Simply eat them out of hand or top with a little ice cream for an even more decadent treat!
Find more brownies recipes in the Recipe Index.
More Cocoa Powder Brownie Recipes
Bake or Break is a participant in the Amazon Services LLC Associates Program, an affiliate advertising program designed to provide a means for us to earn fees by linking to Amazon.com and affiliated sites.
Dark Cocoa Powder Brownies
Yield: 16 2-inch brownies
Prep Time: 15 minutes
Cook Time: 30 minutes
Satisfy your biggest chocolate cravings with these fudgy, dense, rich Dark Cocoa Powder Brownies.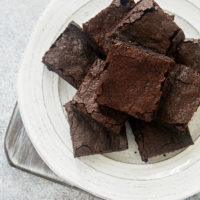 Ingredients:
1 cup (120g) all purpose flour

3/4 cup (64g) unsweetened dark cocoa powder*

1/4 teaspoon salt

1/2 cup (113g) unsalted butter, melted and slightly cooled

1 cup (200g) granulated sugar

2 large eggs

1 teaspoon vanilla extract
Directions:
Preheat oven to 350°F. Grease an 8-inch square baking pan.

In a medium bowl, whisk together the flour, cocoa powder, and salt. Set aside.

Place the melted butter and sugar in a large mixing bowl. Using a spoon, mix until combined. Add the eggs and vanilla extract, and stir until well mixed.

Add the flour mixture in three portions, mixing just until the batter is combined.

Transfer the brownie batter to the prepared pan. Use a spatula to spread the batter evenly in the pan.

Bake 25 to 30 minutes, or until a pick inserted into the center of the brownies comes out with moist crumbs.

Cool the brownies for at least 15 minutes before cutting into bars.
Notes:
*Either natural or Dutch process cocoa powder will work. Just be sure to use a good quality cocoa powder. There are several brands of dark cocoa powder available. For these brownies, I used King Arthur Flour's Double Dutch Dark Cocoa.