Blueberry Cobbler with Ginger Biscuits
Blueberry Cobbler with Ginger Biscuits has such wonderful flavor in an easy-to-make dessert. You'll crave this one all summer long!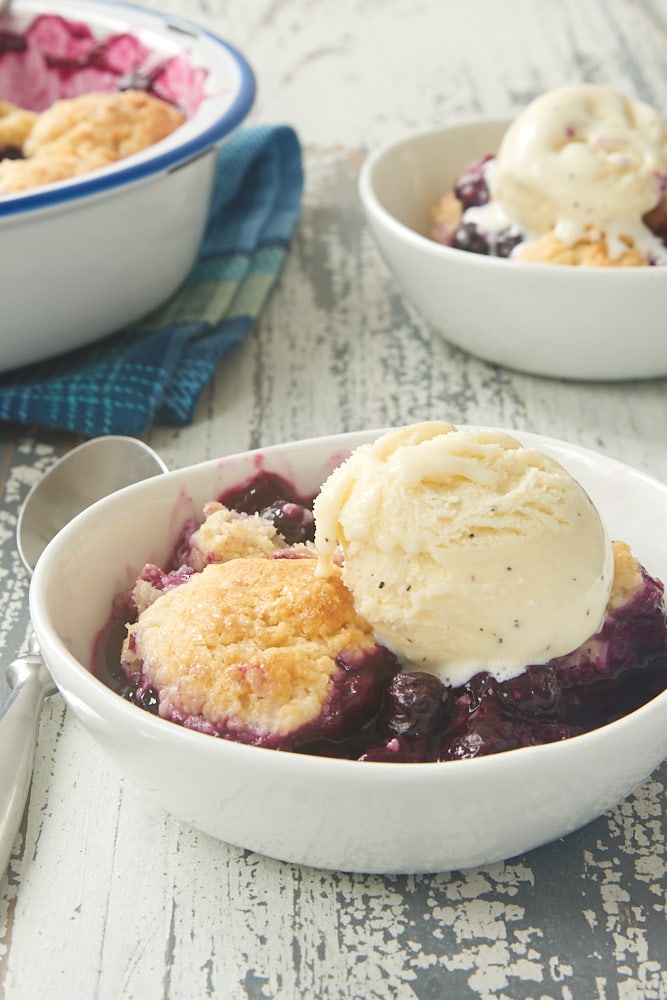 Summer cobblers are the best, aren't they? They're easy to make with the berries and other fruits of the season, and they're a perfect ice cream delivery system. They're one of the first things I consider when I need a dessert for a summer gathering.
When it comes to berry season, I'm admittedly in favor of as many blueberries as possible. For this Blueberry Cobbler with Ginger Biscuits, you can keep things simple with an easy blueberry filling topped with a fairly basic biscuit topping that comes together quickly.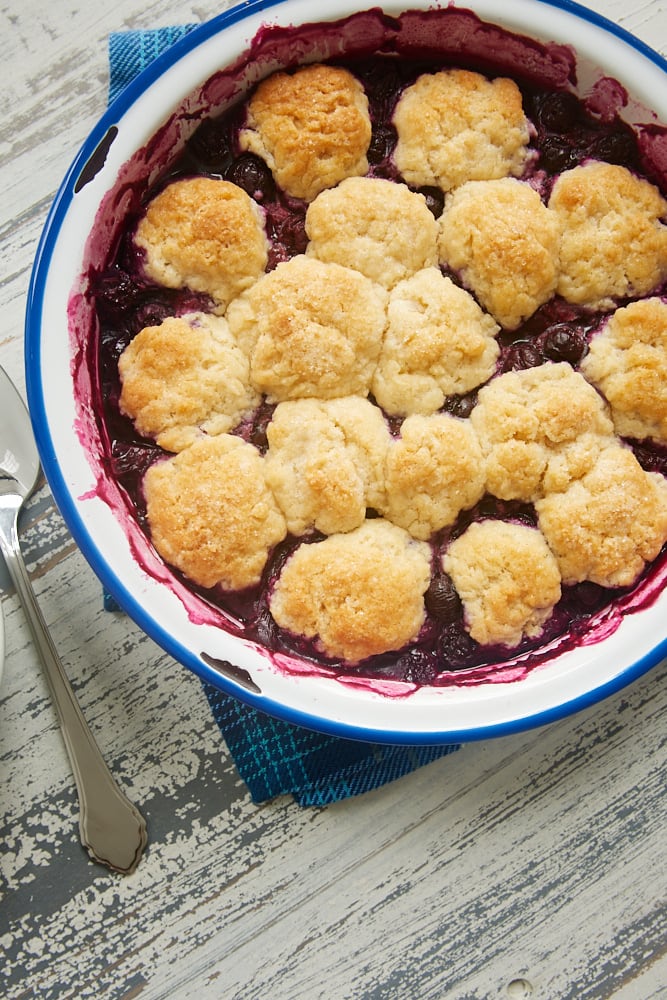 That biscuit topping has one thing going for it that makes it just a bit different. Adding a hint of ginger to the biscuit dough gives this cobbler a little zing of flavor that goes oh-so well with all those blueberries. It's not enough to stand out. In fact, those who sample it may not quite be able to put their finger on what's different from a standard cobbler topping.
Add to that ginger the bit of fresh lemon juice in the filling, and you've got a simple way to make your blueberry cobbler anything but ordinary. The flavor focus will still be on all those blueberries, where it rightfully should be. But you'll enhance it even more with those added ingredients.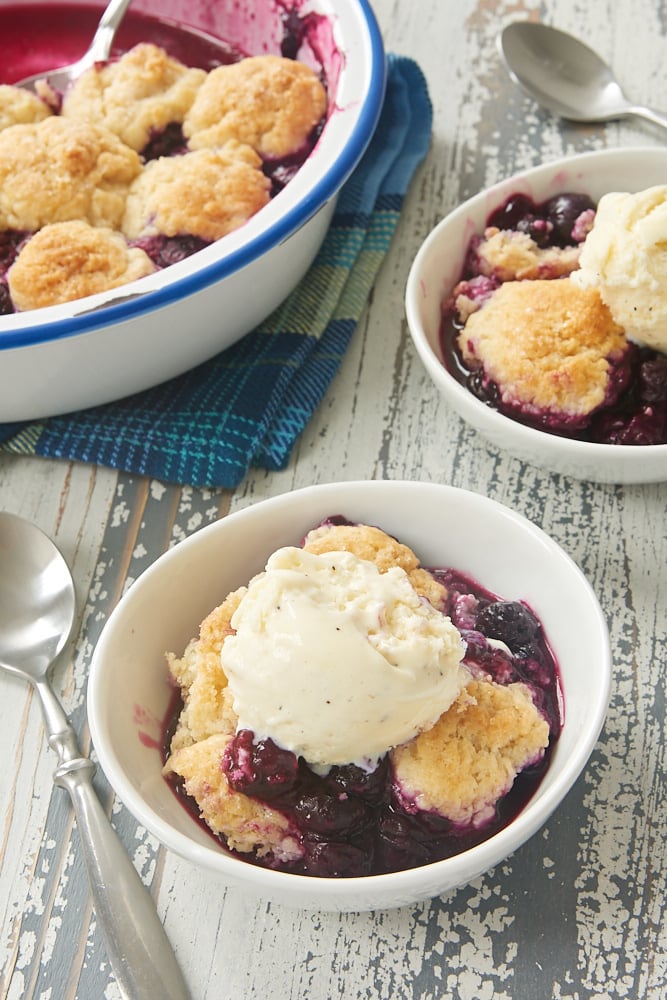 This Blueberry Cobbler is so easy to make for summer celebrations. It's perfectly delicious all on its own. But add a scoop of ice cream or sweetened whipped cream, and it becomes pretty magical. I'll be enjoying this one all summer long!
Find more cobbler, crisp, and crumble recipes in the Recipe Index.
More Summer Cobbler Recipes
Bake or Break is a participant in the Amazon Services LLC Associates Program, an affiliate advertising program designed to provide a means for us to earn fees by linking to Amazon.com and affiliated sites.
Blueberry Cobbler with Ginger Biscuits
Yield: 8 to 10 servings
Prep Time: 15 minutes
Cook Time: 40 minutes
A hint of ginger makes this Blueberry Cobbler with Ginger Biscuits a berry season favorite!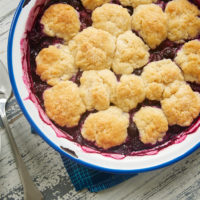 Ingredients:
For the filling:
5 cups (850g) blueberries

3 tablespoons granulated sugar

2 tablespoons cornstarch

juice of 1 medium lemon (about 2 tablespoons)
For the topping:
1 cup (120g) all-purpose flour

1/4 cup (50g) granulated sugar

1 teaspoon baking powder

1/2 teaspoon ground ginger

1/4 teaspoon salt

1/4 cup (56g) unsalted butter, cold and cut into small pieces

1/4 cup milk

sanding sugar or turbinado sugar, optional

sweetened whipped cream or ice cream, for serving
Directions:
To make the filling:
Preheat oven to 375°F.
Combine the blueberries, sugar, cornstarch, and lemon.
Transfer to a 1 & 1/2- or 2-quart baking dish.
To make the topping:
Combine the flour, sugar, baking powder, ginger, and salt. Add the butter and mix using a pastry blender, a fork, or your fingers. Mix until the largest pieces of butter are about the size of peas.
Add the milk, and mix just until the dough comes together.
Drop the dough by tablespoonfuls over the top of the filling. Sprinkle with sanding sugar or turbinado sugar, if desired.
Place the baking dish on a lined, rimmed baking sheet to catch any potential spills.
Bake 35 to 40 minutes, or until the topping is browned and the filling is bubbly.
Serve warm or at room temperature with sweetened whipped cream or ice cream.