January 4, 2018
Chocolate Chip Peanut Butter Bread
Fans of chocolate and peanut butter will love this Chocolate Chip Peanut Butter Bread! It's lightly sweet and jam-packed with lots of dark chocolate.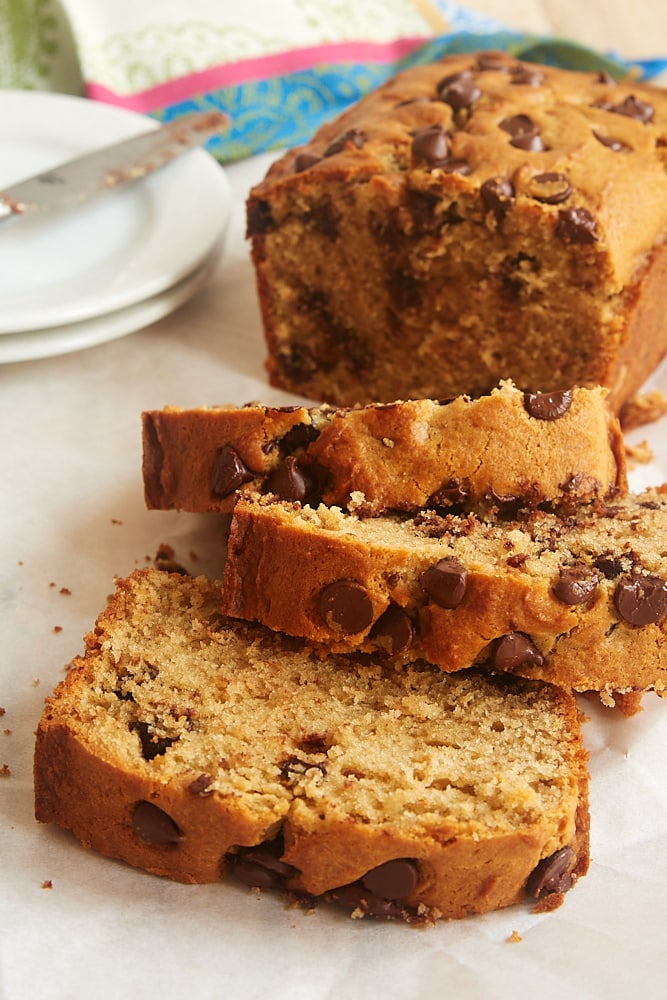 Of all the quick breads I've shared here on BoB, this is somehow my first one involving peanut butter. With my abiding love of all things peanut butter, that's a bit hard to believe. And if peanut butter is involved, there's a pretty good chance that chocolate is going to make an appearance, too. That brings us to this Chocolate Chip Peanut Butter Bread.
This lightly sweet bread combined with plenty of dark chocolate chips is just the kind of thing I want for an afternoon snack. It's soft and flavorful and just the right amount of sweet. It even works as a simple dessert. Basically, I'll take it most any time of day.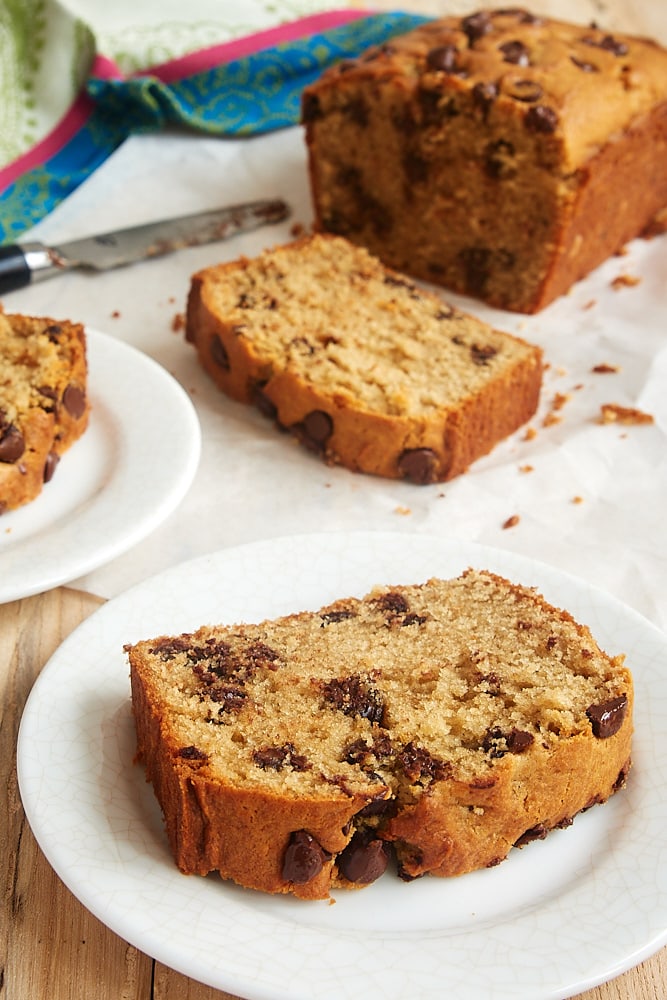 Making the bread is about as straightforward as a baking recipe gets. Unlike a lot of quick breads, it doesn't follow the muffin method (adding the combined wet ingredients to a well in the combined dry ingredients) but is mixed more like a cake. In fact, I debated whether or not to call this a cake, as it does have some characteristics of one. It's a bit of both, actually, so either name can work.
With peanut butter recipes, I often get asked about using natural peanut butter. While I like natural versions, I don't usually bake with them. In my experience, there's just too much variation in results, even among different brands of natural peanut butters. If you should try this recipe with a natural peanut butter, please let me know how it works for you.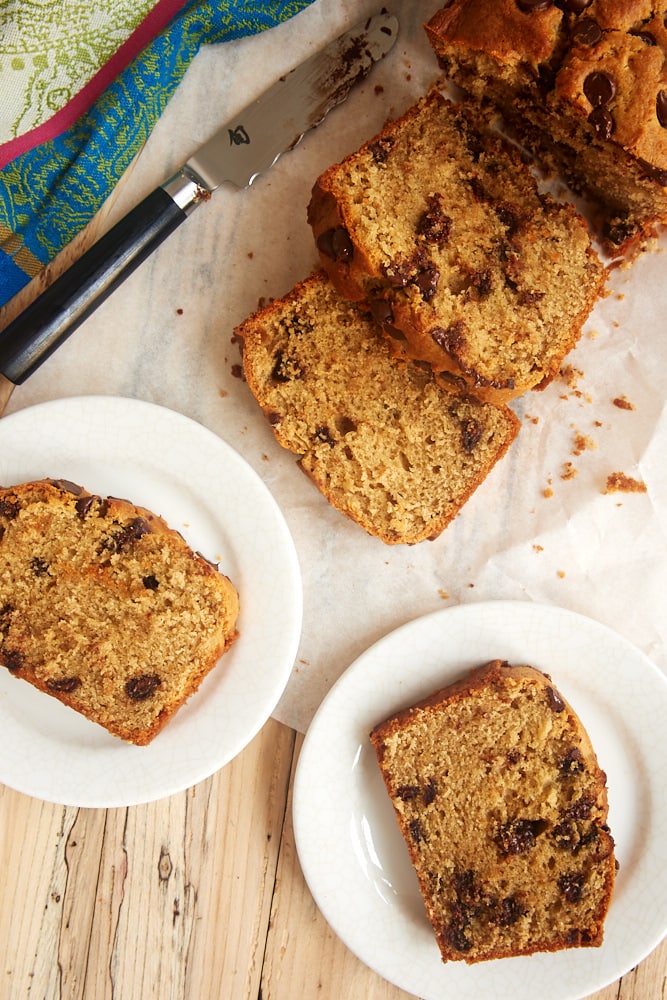 There are so many things to love about this Chocolate Chip Peanut Butter Bread. I love its flavor, its texture, and its versatility. This is the kind of thing I like to bake for a no-occasion day and just keep it on-hand to grab a sweet snack whenever the craving strikes.
This bread is certainly good at room temperature, but I love it even more served warm. A quick 10 seconds or so in the microwave is enough to warm a slice just a bit and make the chocolate chips a bit melty. Oh, yeah.
Find more quick bread recipes in the Recipe Index.
More Chocolate Chip Quick Bread Recipes
Bake or Break is a participant in the Amazon Services LLC Associates Program, an affiliate advertising program designed to provide a means for us to earn fees by linking to Amazon.com and affiliated sites.
Chocolate Chip Peanut Butter Bread
Yield: 10 to 12 servings
Prep Time: 15 minutes
Cook Time: 55 minutes
Lightly sweet and full of dark chocolate chips, this Chocolate Chip Peanut Butter Bread is a great anytime snack!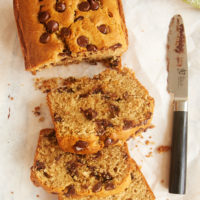 Ingredients:
1 & 3/4 (210g) cups all-purpose flour
1 teaspoon baking powder
1/2 teaspoon baking soda
1/2 teaspoon salt
1/4 cup (57g) unsalted butter, softened
1/2 cup (100g) firmly packed light brown sugar
1/2 cup (127g) creamy peanut butter
1 large egg
1/2 teaspoon vanilla extract
3/4 cup (180ml) buttermilk
3/4 cup (128g) semisweet chocolate chips
Directions:
Preheat oven to 350°F. Grease a standard 9″x 5″ loaf pan.
Whisk together the flour, baking powder, baking soda, and salt. Set aside.
Using an electric mixer on medium speed, beat the butter, brown sugar, and peanut butter until thoroughly combined. Add the egg and vanilla, and mix well.
Reduce mixer speed to low. Add the flour mixture in 3 portions, alternating with 2 portions of buttermilk. Mix just until combined.
Stir in the chocolate chips.
Transfer the batter to the prepared pan. Bake 50 to 55 minutes, or until the bread is golden brown and a pick inserted into the center comes out clean.
Cool the bread in the pan on a wire rack for 10 minutes. Then remove the bread from the pan to cool completely.