December 7, 2017
Mini Cream Cheese Pound Cakes
Mini Cream Cheese Pound Cakes are as simple or as fancy as you want. Dress them up with different toppings for endless possibilities!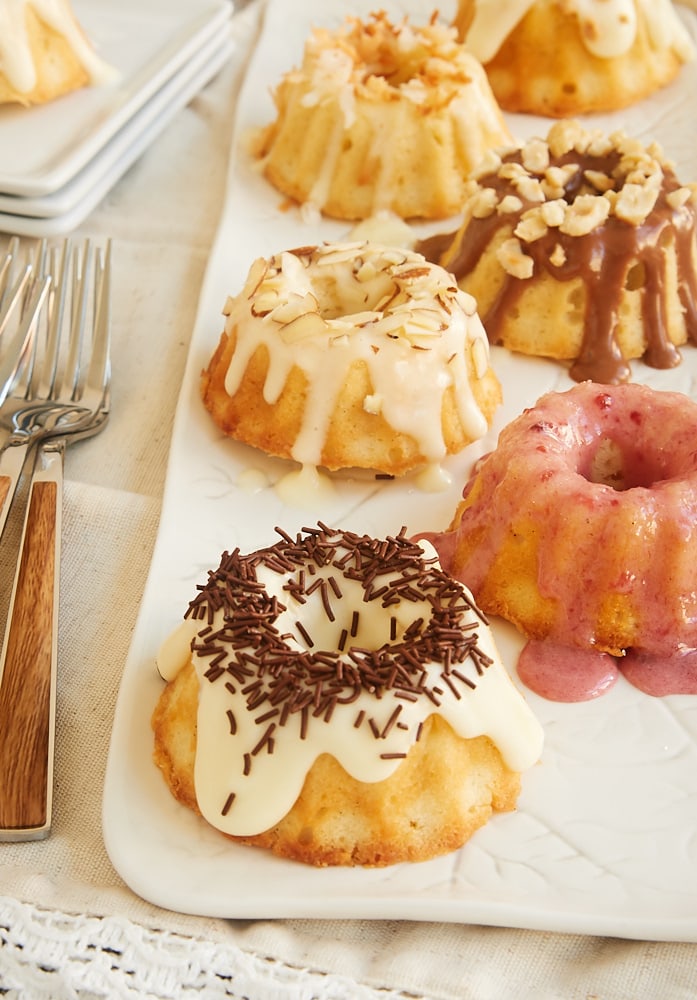 A little bit of time spent browsing the pages of BoB will quickly reveal my affinity for mini versions of desserts. Their adorableness is only part of their appeal. I also love them to make serving simpler and to give as gifts.
These Mini Cream Cheese Pound Cakes are a perfect choice when you've got a hankering to bake some mini treats. The cakes themselves are simple and sweet and really just wonderfully delicious. Topping them with glaze is where the real fun starts. You can go with a simple glaze or up the ante with a whole slew of glaze options!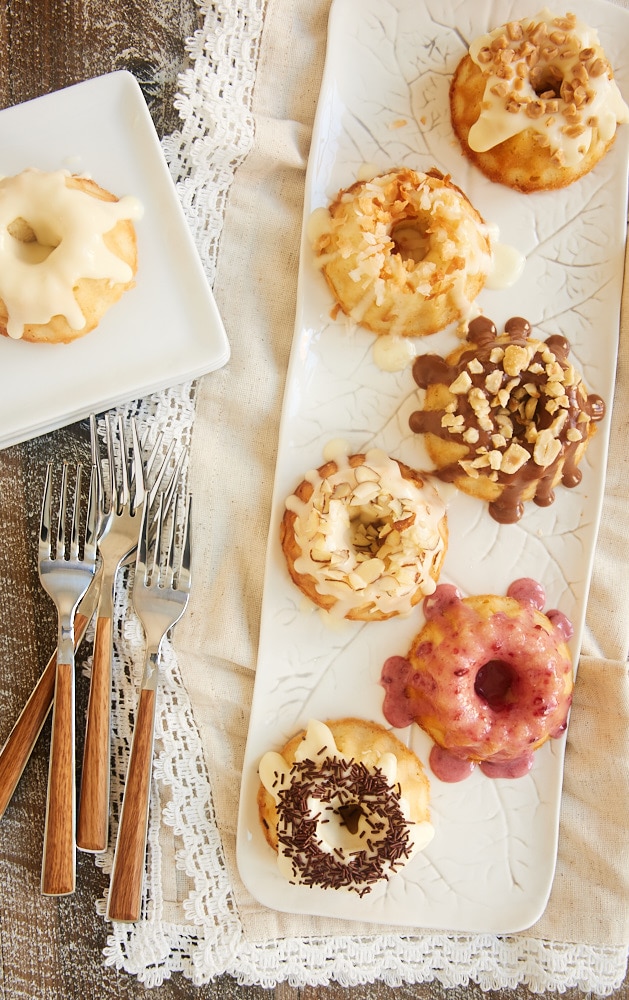 The simple glaze recipe I've included below is a great pairing with these little cakes. Serve them just with the glaze or add a topping or a variety of toppings if you like. Nuts, coconut, toffee bits, sprinkles… Just about anything! You can even keep things simpler by skipping the glaze and just adding a sprinkling of confectioners sugar to each cake.
Of course, there are other glaze options, too. I've shown several here for some inspiration. There's an almond glaze, a fruity one made with preserves, and even a chocolate-hazelnut one. See the recipe notes for how to make those plus some other ideas.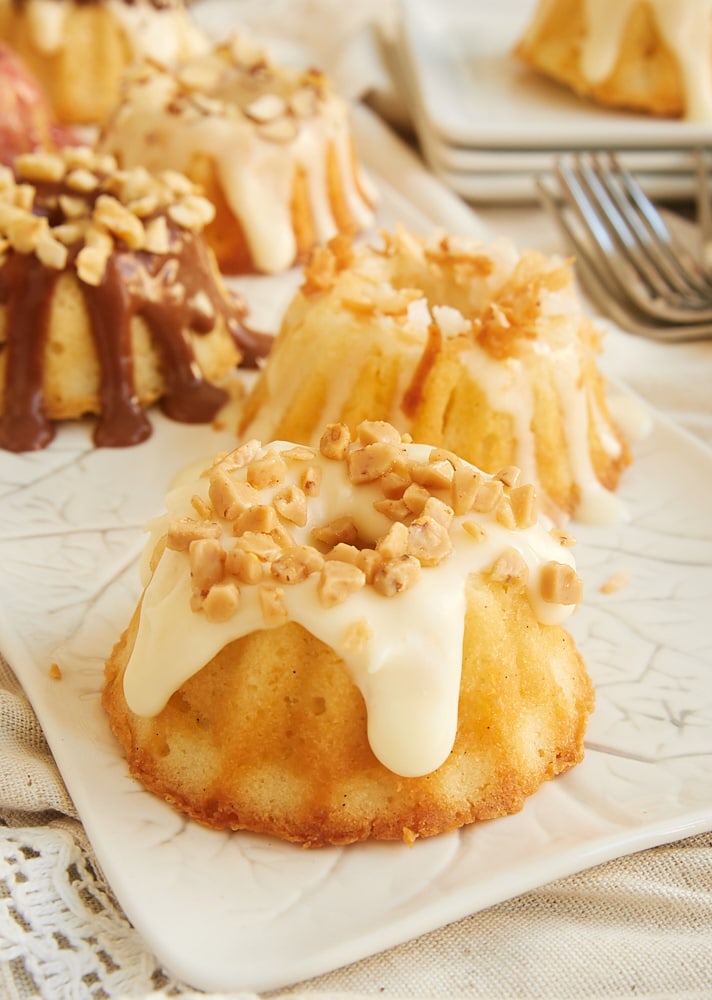 These cakes with all their different toppings and glazes are certainly eye-catching. If you're going for variety, I would suggest picking a few variations. Don't go overboard, or you'll spend way too much time making all the different glazes.
These Mini Cream Cheese Bundt Cakes are the kind of recipe I turn to time and again when I need simple desserts for a crowd or when I'm putting together homemade gifts. With all the different topping options, you can alter these for most any occasion and taste!
Find more cake recipes in the Recipe Index.
More Mini Bundt Cake Recipes
Bake or Break is a participant in the Amazon Services LLC Associates Program, an affiliate advertising program designed to provide a means for us to earn fees by linking to Amazon.com and affiliated sites.
Mini Cream Cheese Pound Cakes
Yield: 30 cakes
Prep Time: 30 minutes
Cook Time: 20 minutes
Mini Cream Cheese Pound Cakes are perfect little desserts for entertaining, gifting, or just because! With so many glaze options, you are sure to find one (or a few!) to suit just about all occasions and tastes!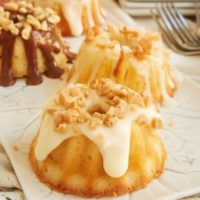 Ingredients:
For the cakes:
3 cups (360g) all-purpose flour
1/4 teaspoon salt
1 & 1/2 cups (339g) unsalted butter, softened
8 ounces (226g) cream cheese, softened
3 cups (600g) granulated sugar
6 large eggs
1 tablespoon vanilla bean paste or vanilla extract
For the glaze:
1 cup (110g) confectioners' sugar, sifted
3 to 5 tablespoons heavy cream
chopped nuts, toffee bits, toasted coconut, sprinkles, etc. for garnish
Directions:
To make the cakes:
Preheat oven to 350°F. Grease or spray a 1/4-cup capacity mini fluted Bundt pan(s).*
Whisk together the flour and salt. Set aside.
Using an electric mixer on medium speed, beat the butter and cream cheese until creamy. Gradually add the sugar and beat well. Add the eggs, one at a time, beating just until yellow disappears. Mix in the vanilla.
Reduce mixer speed to low. Gradually add the flour mixture, mixing just until combined.
Fill the prepared pans 3/4 full with batter, using about 2 & 1/2 tablespoons of batter per cup. Bake 18 to 20 minutes, or until a pick inserted into the center comes out clean.
Cool the cakes in the pans for about 10 minutes. Then, remove from the pans to a wire rack to cool completely.
To make the glaze:
Combine the confectioners sugar with about 3 tablespoons of cream. Add more cream, a small amount at a time, until the glaze is the desired consistency.
Drizzle the glaze over the cooled cakes. If desired, top with chopped nuts, toffee bits, toasted coconut, sprinkles, or other topping of your choice.
Notes:
*I have a pan similar to this one, although it's a light-colored pan. Each cup of my mini Bundt pan measures 2 & 3/4 inches in diameter and 1 & 1/4 inches tall. Remember if you're reusing a pan to let it cool completely before filling and baking again.
Other glaze options:
Almond: Add 1 teaspoon almond extract. Top with sliced almonds.
Vanilla bean: Add 1 teaspoon vanilla bean paste.
Fruity: Add 2 to 3 tablespoons of your favorite fruit preserves.
Chocolate-hazelnut: Add 1 or 2 tablespoons of chocolate-hazelnut spread. Add a small amount of cream or milk as needed to get the desired consistency. Top with chopped toasted hazelnuts.
Caramel sauce: Make your own or use your favorite store-bought brand. Top with chopped nuts.
Chocolate ganache: You can never go wrong with chocolate!
Coconut: Use about 2 tablespoons of coconut milk in place of the cream. Top with toasted coconut.
More glazes: Find even more glaze options in the Recipe Index.