July 31, 2017
Chocolate Chip Cream Cheese Pound Cake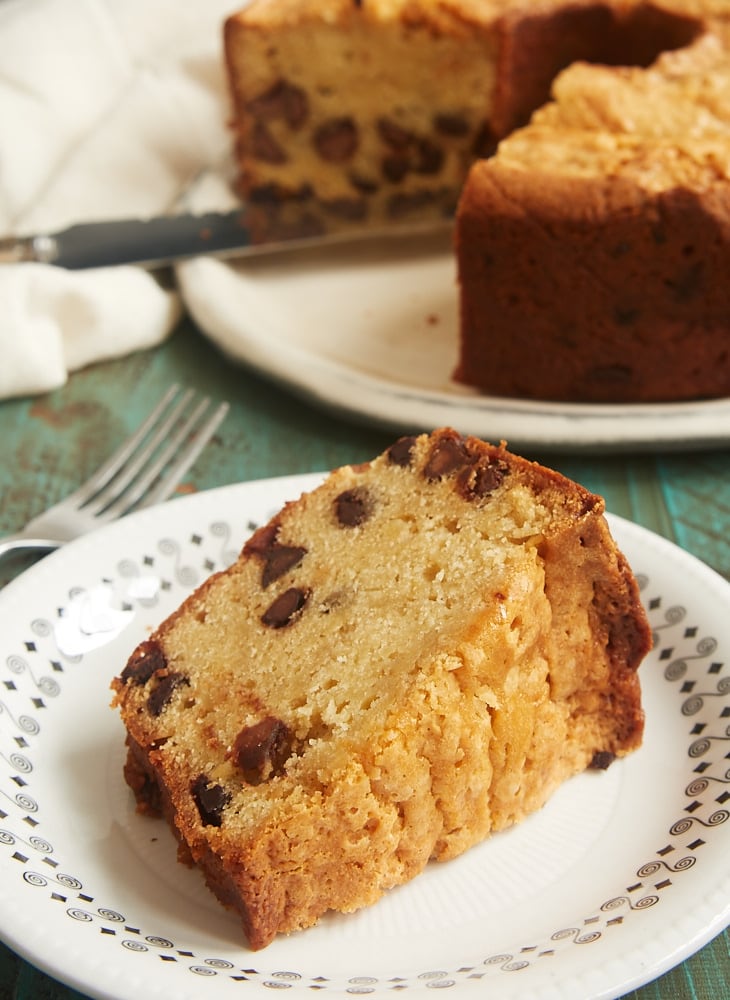 Pound cake has always been one of those desserts that I like but don't necessarily crave. It's often too dense and dry for my tastes. A while back, though, I discovered the beauty of adding cream cheese to pound cakes, and I became instantly smitten with the soft-yet-dense texture and the amazing flavor.
For this Chocolate Chip Cream Cheese Pound Cake, I made a simple tweak to my basic Cream Cheese Pound Cake with the addition of chocolate chips. All that chocolate adds so much flavor!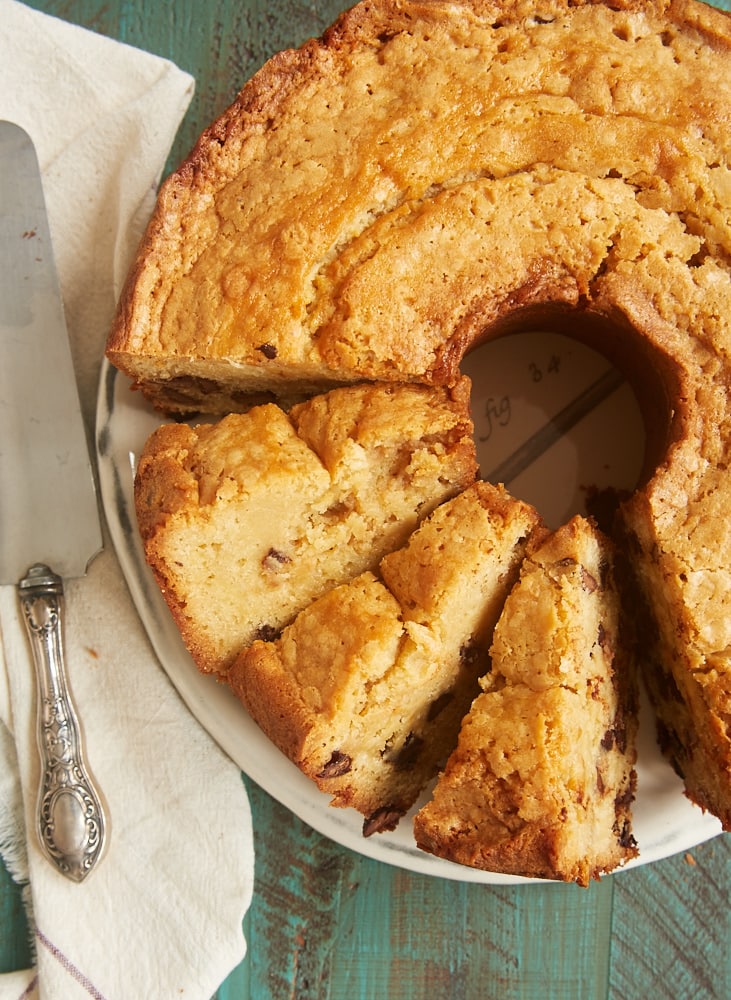 This is a lot of cake, y'all. It's a big, tall cake packed with flavor. I indicate in the recipe that it can serve up to 16, but you can easily stretch it further if you're feeding a big crowd. There's plenty of big flavor in even a small slice.
The chocolate chips in this cake are a combination of semisweet and milk chocolate. The combination of the two creates a little more flavor interest than using just one. Sometimes you'll get a bite of dark chocolate, and sometimes it will be milk chocolate or a combination. Of course, if you prefer to use just one kind, that's perfectly fine, too.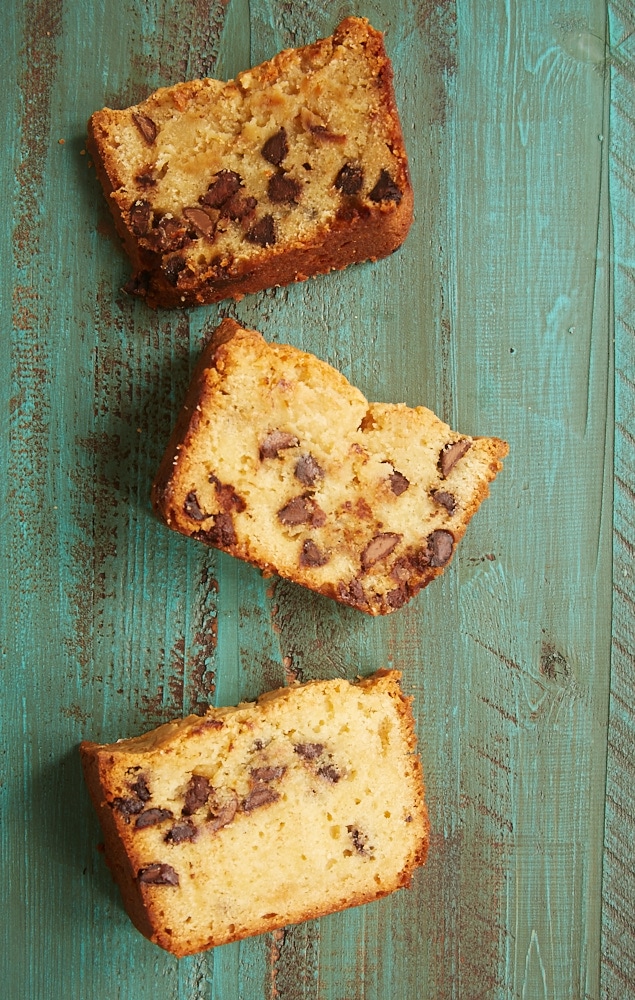 I prefer to make this cake in a tube pan versus a Bundt pan, although either will work. With a tube pan, though, you'll get plenty of that trademark pound cake crust on top of the cake. It's one of my favorite parts of the cake, so I like to get as much of it as possible. You just won't get quite the same effect with a Bundt pan.
This is such a great cake for those times when you need a real crowd-pleaser. It's simple to make with amazing flavor. That puts it pretty high up on my go-to cake recipe list!
Find more cake recipes in the Recipe Index.
This post contains affiliate links. If you make a purchase through one of the links, I'll receive a
small commission at no additional cost to you.
Chocolate Chip Cream Cheese Pound Cake
Yield: 12 to 16 servings
Prep Time: 20 minutes
Cook Time: 90 minutes
Chocolate Chip Cream Cheese Pound Cake is jam-packed with TWO kinds of chocolate. It's sweet, rich, dense, soft, and delicious!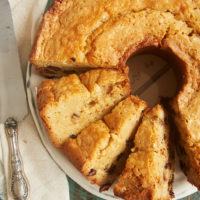 Ingredients:
3 cups all-purpose flour
1/2 teaspoon salt
1 & 1/2 cups unsalted butter, softened
8 ounces cream cheese, at room temperature
1 & 1/2 cups granulated sugar
1 & 1/2 cups firmly packed light brown sugar
6 large eggs
2 teaspoons vanilla extract
1 cup semisweet chocolate chips
1 cup mik chocolate chips
Directions:
Preheat oven to 325°F. Generously grease a 12-cup tube or Bundt pan.
Whisk together the flour and salt. Set aside.
Using an electric mixer on medium speed, beat the butter, cream cheese, sugar, and brown sugar until light and fluffy. Add the eggs, two at a time, mixing well after each addition. Mix in the vanilla.
Reduce mixer speed to low. Gradually add the flour mixture, mixing just until combined.
Stir in the chocolate chips.
Transfer the batter to the prepared pan, and spread evenly. Bake 80 to 90 minutes, or until the top is golden brown and a pick inserted into the center comes out clean.
Cool in the pan for 15 minutes. Then remove the cake from the pan to finish cooling.*
Notes:
*If you used a tube pan, you will likely want to flip the cake out of the pan and then flip it again so that fantastic crust is right side up.