June 1, 2017
Peanut Butter Rocky Road Bars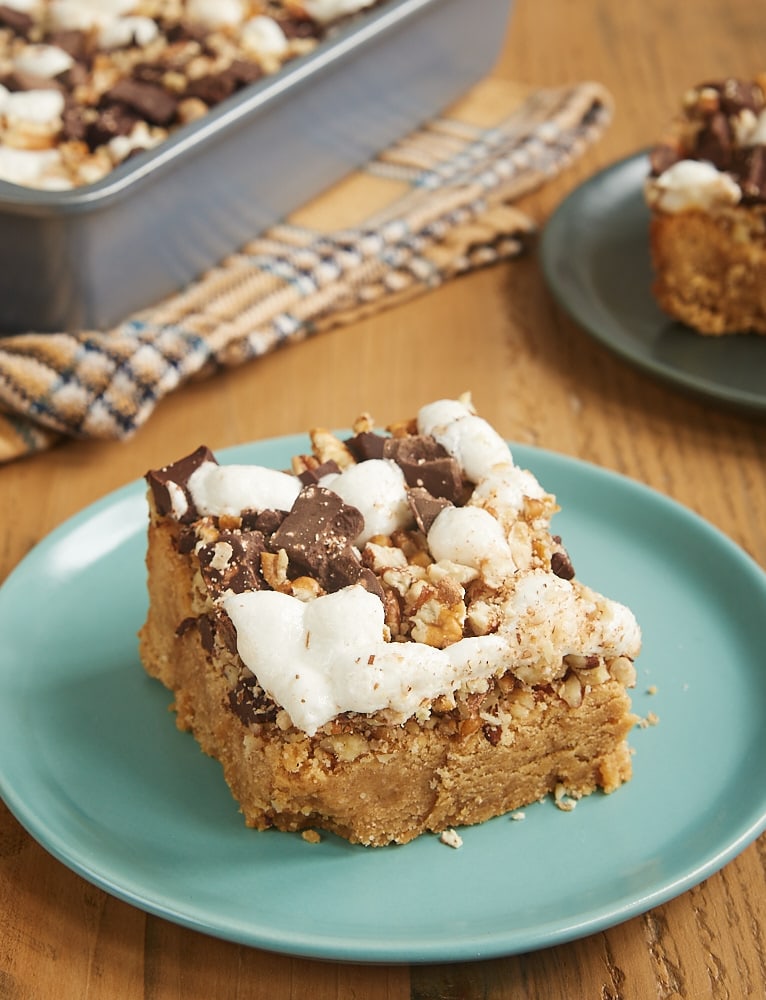 The inspiration for these Peanut Butter Rocky Road Bars came from some ice cream that Quinn picked up for us recently. We are fortunate to have a really stellar ice cream shop in our neighborhood. They always have lots of interesting flavors, like our recent sampling of Peanut Butter Rocky Road. As soon as I tried it, I knew that I had to use that flavor combination to bake something tasty.
These Peanut Butter Rocky Road Bars start with my go-to peanut butter cookie recipe spread out in a baking pan to make a simple peanut butter bar. When the bars are almost done baking, they get topped off with a mixture of chocolate chips, mini marshmallows, and nuts. With a few more minutes of baking time, you've got a sweet, gooey, nutty bar with big, big flavor.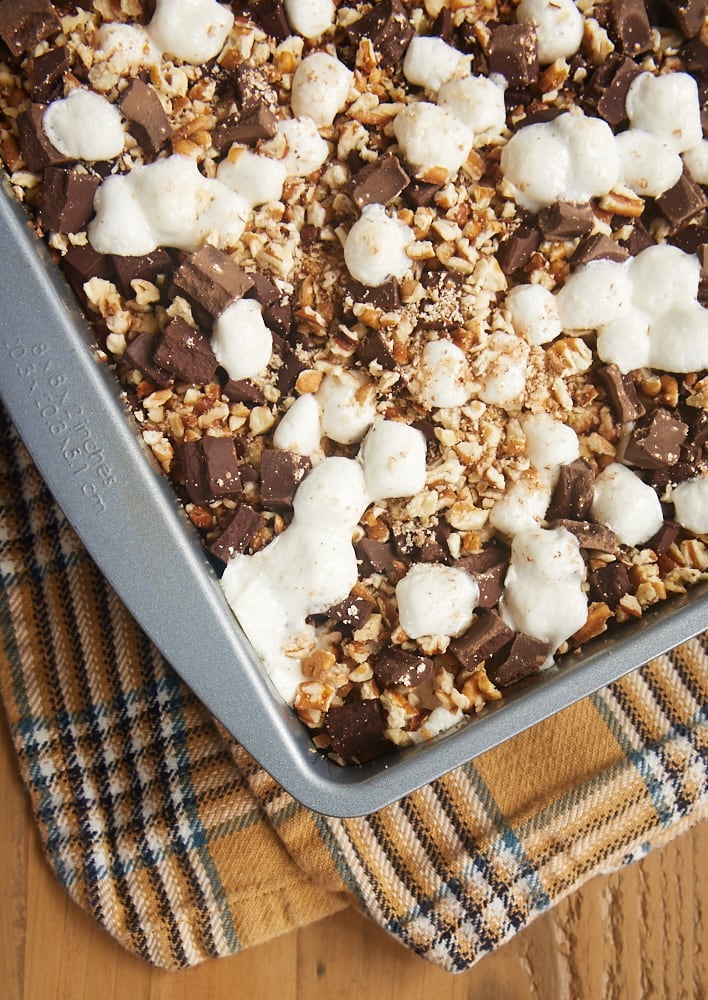 You can use most any kind of nuts in the topping. I usually just grab whatever I happen to have on hand. Pecans, almonds, hazelnuts, macadamias… whatever you like! I recommend chopping them roughly so that you'll get some large pieces to mix with the chocolate chips and marshmallows.
These bars are simple to make, but I do offer one piece of valuable advice. First, be sure not to bake the bars thoroughly before adding the topping. You want the top to be not quite set so that the topping will stick better. If you'd like, you can carefully press the topping into the bars to help a bit more. Marshmallows, of course, tend to be a bit sticky, so you might want to spray a bit of cooking spray on whatever you use to press down the topping.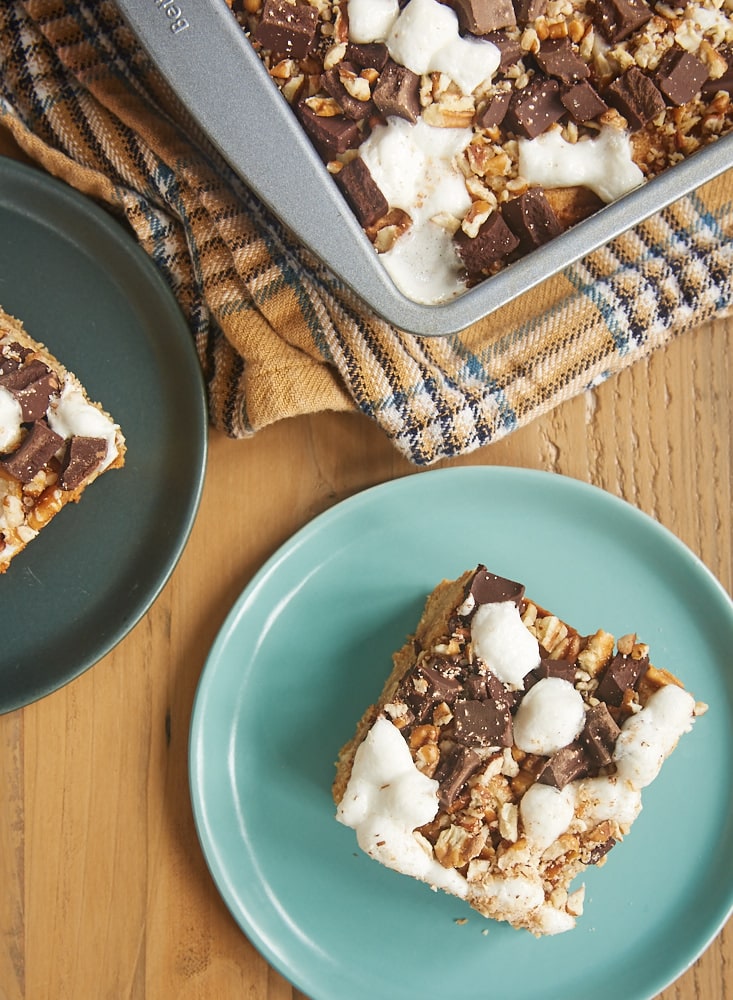 If you'd like to bring a little more crunch to the party, try using crunchy peanut butter in the bars. The ones you see here were made with creamy peanut butter, but either way will work just fine.
We really enjoy these bars. I love those big, thick peanut butter bars. Adding all that deliciousness to the top of them just makes them irresistible. If you're a fan of rocky road desserts, I think you'll love this peanut butter twist!
Find more bar recipes in the Recipe Index.
Peanut Butter Rocky Road Bars
Yield: 16 2-inch bars
Prep Time: 20 minutes
Cook Time: 30 minutes
Rocky road takes a peanut butter detour in these sweet, nutty, fantastic Peanut Butter Rocky Road Bars!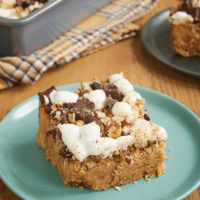 Ingredients:
For the bars:
1 & 1/4 cups all-purpose flour
1/2 teaspoon baking powder
1/2 teaspoon salt
1/2 cup unsalted butter, softened
1/2 cup granulated sugar
1/2 cup firmly packed light brown sugar
1 cup creamy or crunchy peanut butter
1 large egg
1 teaspoon vanilla extract
For the topping:
1 cup semisweet chocolate chips
1 cup mini marshmallows
1 cup roughly chopped nuts
Directions:
To make the bars:
Preheat oven to 350°F. Grease an 8-inch square baking pan.
Whisk together the flour, baking powder, and salt. Set aside.
Using an electric mixer on medium speed, beat the butter, sugar, and brown sugar until light and fluffy. Add the peanut butter, and mix until thoroughly combined. Add the egg and vanilla, and mix well.
Reduce mixer speed to low. Gradually add the flour mixture, mixing just until combined.
Spread evenly in the prepared pan. Bake 20 to 25 minutes. The bars won't be quite baked all the way through. A pick inserted into them should come out with a few moist crumbs.
To make the topping:
Combine the chocolate chips, marshmallows, and nuts. Sprinkle over the partially baked bars.
Return the pan to the oven. Bake 5 minutes.
Cool in the pan on a wire rack before cutting into bars.