November 7, 2016
Mini Cinnamon Crumb Cheesecakes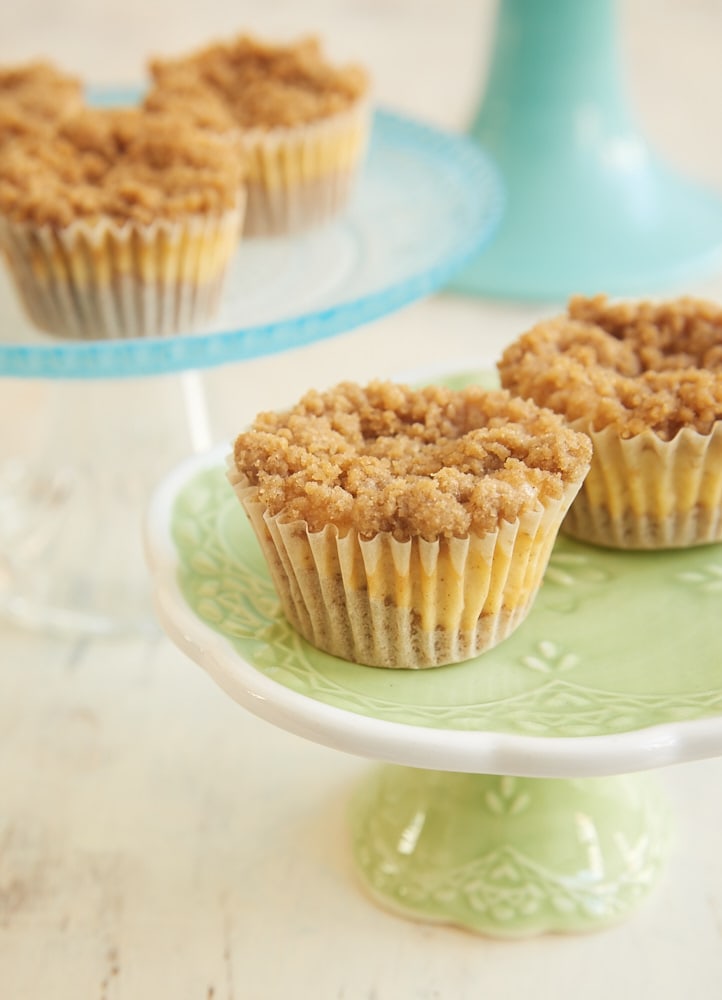 Cinnamon is very likely the most used spice in my spice drawer. Whether I'm using it as the predominant flavor or as a nice complement to other flavors, I find myself reaching for it again and again.
It takes center flavor stage in these Mini Cinnamon Crumb Cheesecakes. There's plenty of cinnamon in both the cheesecake and the crumb topping to give these little treats a wonderful taste that's tough to resist.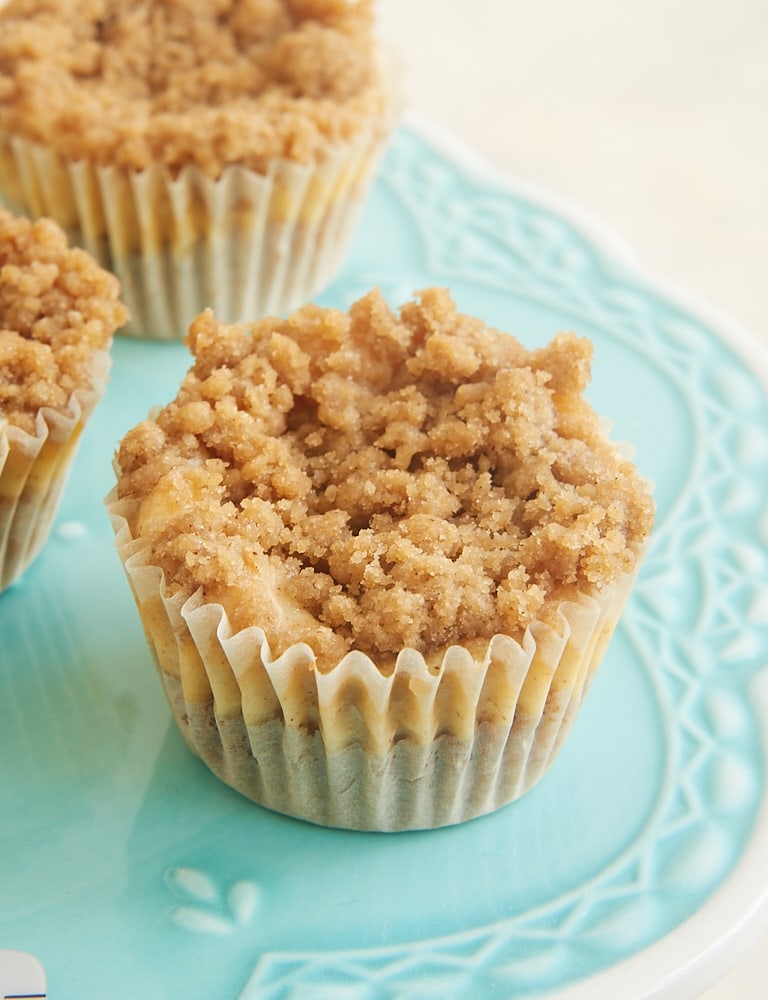 These little cheesecakes are perfectly delicious all on their own. But that crumb topping really makes them something special. I'm a sucker for crumb toppings anyway, but there's something so perfectly magical that happens when you add it to these cheesecakes. The flavor, the texture, the spice… It's the whole package!
Speaking of that crumb topping, there's plenty of it here. I tend to like lots of crumb, but feel free to dial it back if you like. When topping off the cheesecakes with the crumb topping, I recommend gently pressing it into the cheesecake batter just a bit. Don't press so hard that the crumb disappears into the batter, but just apply enough light pressure to help the topping hold on a bit better.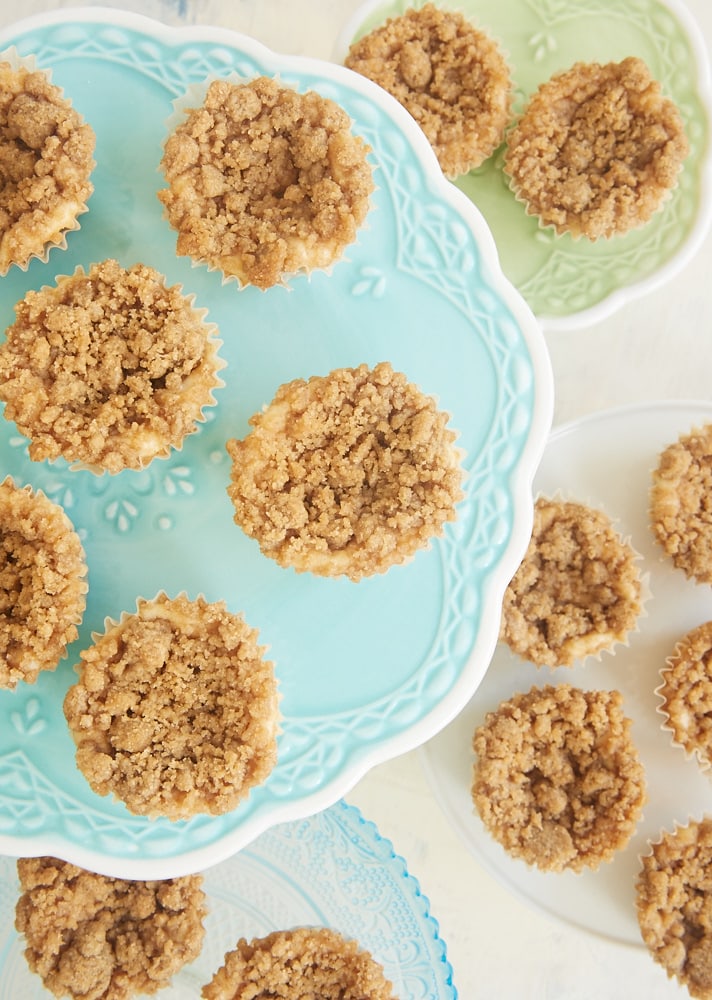 For some variety, it's simple to swap out the graham cracker crumbs for another cookie crumb. Vanilla wafers, shortbread, pecan sandies, and more would all make a great crust companion for these cinnamon-y cheesecakes. If you want even more cinnamon flavor, try using cinnamon graham crackers.
I adore mini desserts like this for so many reasons. Their single serving size means no slicing and serving. If you're hosting a get-together, that makes things simpler for you and your guests. Also, the small size means that they bake far faster than a traditional cheesecake. Plus, they're adorable! So many wins!
Find more cheesecake recipes in the Recipe Index.
This post contains affiliate links. If you make a purchase through one of the links, I'll receive a
small commission at no additional cost to you.
Mini Cinnamon Crumb Cheesecakes
Yield: 24 mini cheesecakes
Prep Time:25 minutes
Cook Time:22 minutes
Mini Cinnamon Crumb Cheesecakes are bite-size treats full of fantastic cinnamon flavor.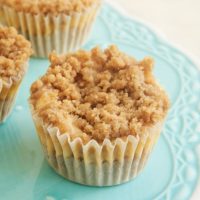 Ingredients:
For the crust:
6 ounces graham cracker crumbs (about 1 & 1/2 cups)
1/4 cup unsalted butter, melted
For the crumb topping:
1/2 cup all-purpose flour
1/4 cup firmly packed light brown sugar
1/2 teaspoon ground cinnamon
pinch of salt
3 tablespoons unsalted butter, cold and cut into cubes
For the filling:
8 ounces cream cheese, at room temperature
1/4 cup granulated sugar
1 large egg
1/2 teaspoon vanilla extract
1/2 teaspoon ground cinnamon
3 tablespoons sour cream
Directions:
To make the crust:
Preheat oven to 350°F. Line 24 cups of a mini muffin pan with paper liners.
Combine the cookie crumbs and butter until thoroughly combined.
Divide the crust mixture evenly among the muffin cups, using about a tablespoon of the mixture in each cup. Press firmly into the bottom of the liners.
To make the crumb:
Combine the flour, brown sugar, cinnamon, and salt.
Add the butter, and mix with a pastry blender, a fork, or your fingers until the mixture forms crumbs.
Refrigerate the topping while you make the filling.
To make the filling:
Using an electric mixer on medium speed, beat the cream cheese and sugar until thoroughly combined and smooth. Add the egg, vanilla, and cinnamon, and mix well. Mix in the sour cream.
Divide the batter evenly among the muffin cups, filling almost to the top of each.
Sprinkle the crumb topping over the filling. Gently press down into the filling.
Bake 18 to 22 minutes, or until the cheesecakes are set and the topping has browned.
Cool to room temperature. Then cover and refrigerate at least 4 hours before serving.