June 20, 2016
Ginger Pecan Peach Cobbler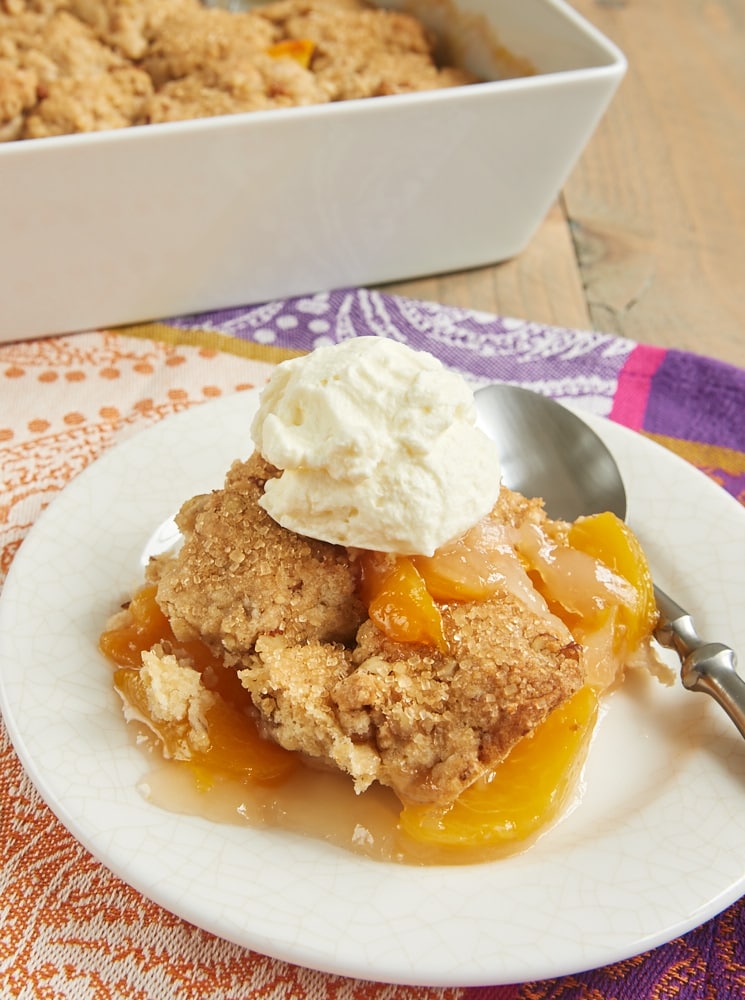 Peach Cobbler is such a Southern dessert staple. There's no telling how many servings of it I had in all the years I lived in Mississippi. So many summer meals ended with a serving of it alongside some vanilla ice cream. It's certainly less prevalent in New York, so I just make my own when the craving strikes!
For a little twist on the traditional, this recipe features one of my favorite flavors – ginger! I have become completely enamored with ginger sometime in the last few years. We use it often in cooking, but I also love the hint of spicy flavor it adds to desserts. I just couldn't resist adding a bit to some sweet peaches!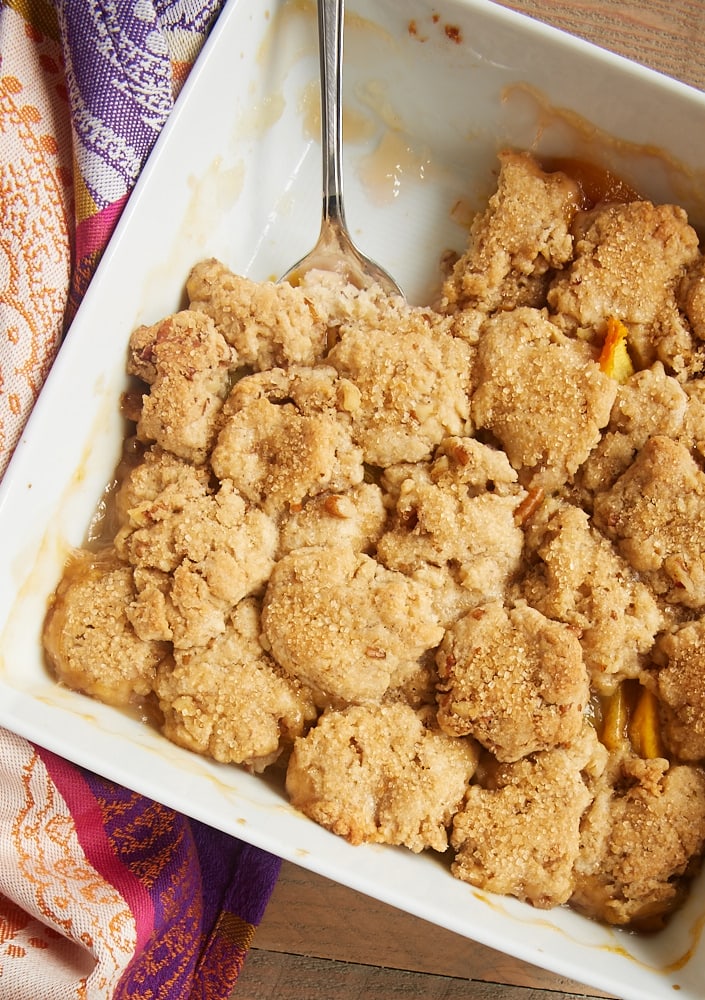 When I bake with a blend of spices (like Chai Spice Bundt Cake or Spiced White Chocolate Blondies), I don't hesitate to use ground ginger. But for this recipe, I recommend using fresh ginger for the best flavor. Ground ginger just doesn't give you quite the same taste. Luckily, fresh ginger is usually easy to find and relatively inexpensive. And you can store it for quite a while in the freezer. Just take it out and grate what you need!
I'm also a big, big fan of this cobbler's topping. I first used a brown sugar biscuit topping on a cobbler with another favorite, Brown Sugar Apple Cobbler. Changing the regular sugar to brown sugar makes such a big difference! The flavor is the perfect complement to the sweet, slightly spicy filling.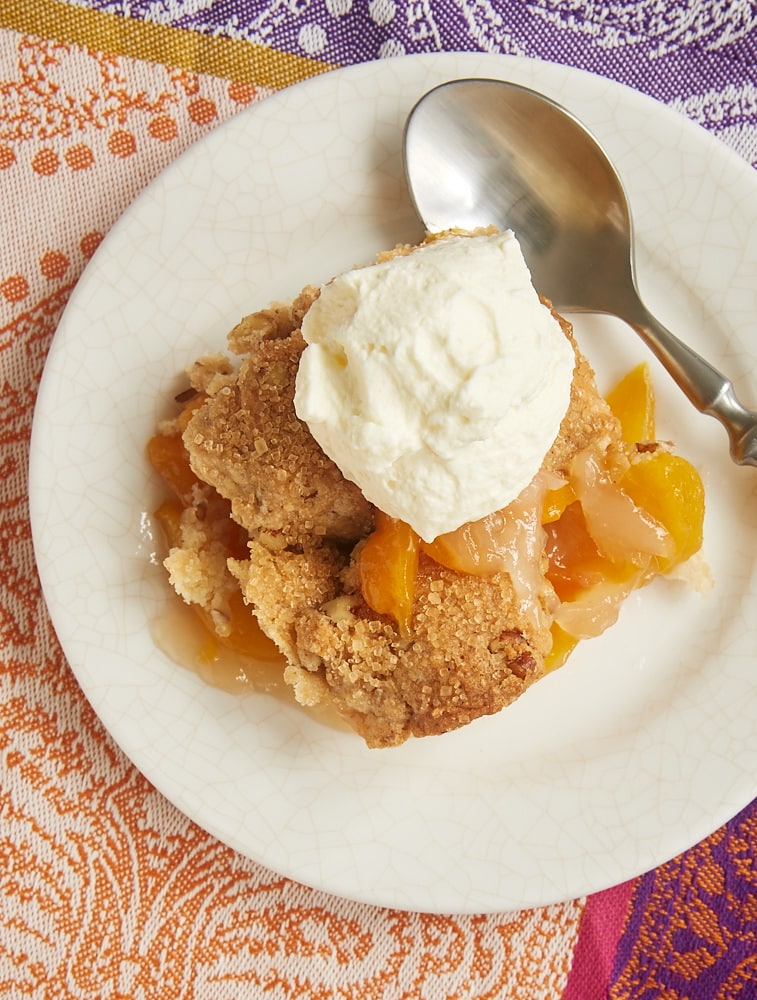 I must say that of all the Peach Cobbler variations I've tasted, this one is my favorite. The flavor is just amazing! My favorite way to serve it is warm with some sweetened whipped cream. But whether you eat it that way, at room temperature, with ice cream, or straight out of the refrigerator, it's all good!
Find more delicious cobblers, crips, and crumbles in the Recipe Index!
This post contains affiliate links. If you make a purchase through one of the links, I'll receive a
small commission at no additional cost to you.
Ginger Pecan Peach Cobbler
Yield: 8 to 10 servings
Prep Time:20 minutes
Cook Time:45 minutes
Ginger adds a bit of spice, and pecans contribute some crunch to this fantastic Ginger Pecan Peach Cobbler.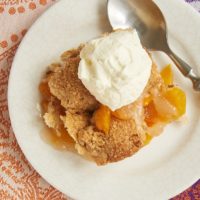 Ingredients:
For the filling:
6 medium peaches, peeled and sliced (about 4 cups)
1/4 cup granulated sugar
juice of 1 medium lemon (about 2 tablespoons)
1 tablespoon cornstarch
1/4 teaspoon grated fresh ginger*
For the topping:
1 & 1/2 cups all-purpose flour
1/2 cup firmly packed brown sugar
1 teaspoon baking powder
pinch of salt
1/4 cup unsalted butter, cold and cut into 1/2-inch cubes
1/4 cup milk
1/2 cup chopped pecans
turbinado sugar or sanding sugar, optional
sweetened whipped cream or ice cream for serving
Directions:
To make the filling:
Preheat oven to 375°F.
Combine the peaches, sugar, lemon juice, cornstarch, and ginger in a large bowl. Set aside while you make the topping.
To make the topping:
Combine the flour, brown sugar, baking powder, and salt. Add the butter, and mix with a pastry blender, a fork, or your fingers until the largest pieces of butter are about the size of large peas.
Add the milk, about a tablespoon at a time, mixing just until the mixture forms crumbs. Gently mix in the pecans.
To assemble:
Transfer the peach mixture to a 2-quart baking dish.
Drop the topping by tablespoonfuls over the peach mixture. Sprinkle with turbinado sugar or sanding sugar.
Place the baking dish on a lined, rimmed baking sheet to catch any spills. Bake 40 to 45 minutes, or until the topping is lightly browned and the filling is bubbly.
Serve warm or at room temperature with ice cream or sweetened whipped cream.
Notes:
*Feel free to adjust the amount of ginger to your taste. This amount gives the cobbler a nice flavor but isn't too bold.