April 21, 2016
Chocolate Blackout Cookies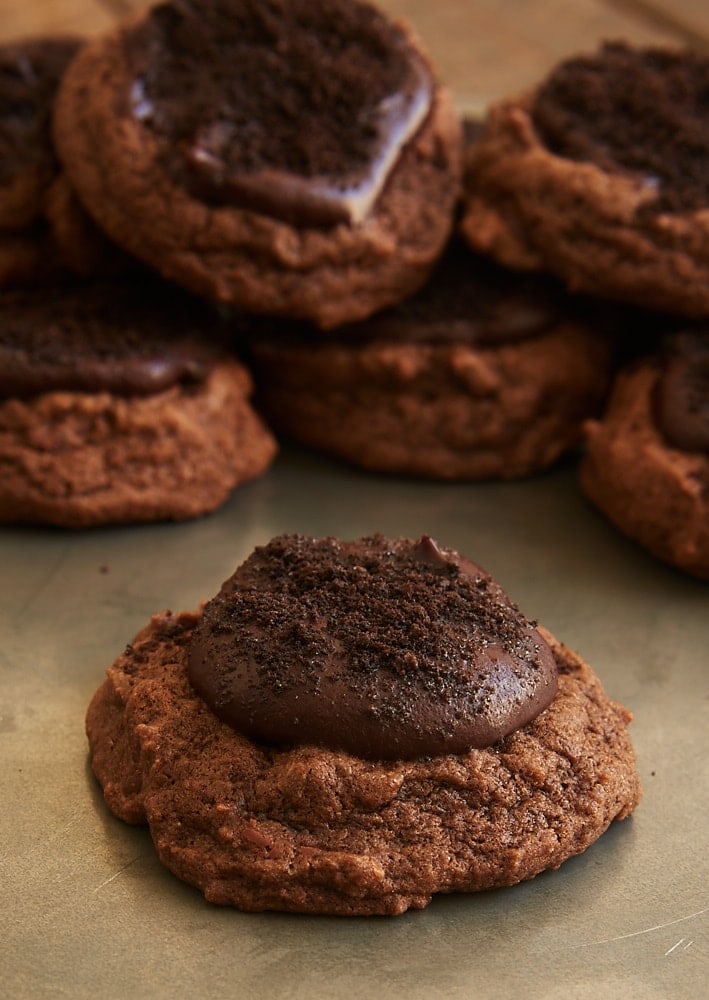 Just so you know who to thank once you've tried one of these beauties, I must tell you that the idea for these cookies came from Quinn. We were eating lunch one day, and he asked if I could make a blackout cookie. As much as I love chocolate and baking cookies, I enthusiastically jumped on that idea and got to work.
You may be familiar with the legendary Blackout Cake that was served in a now defunct Brooklyn bakery. It was a chocolate cake with a chocolate filling and frosting, and covered in cake crumbs. From what I've read, people absolutely adored that cake. These cookies are an homage to and a loose interpretation of that famous cake.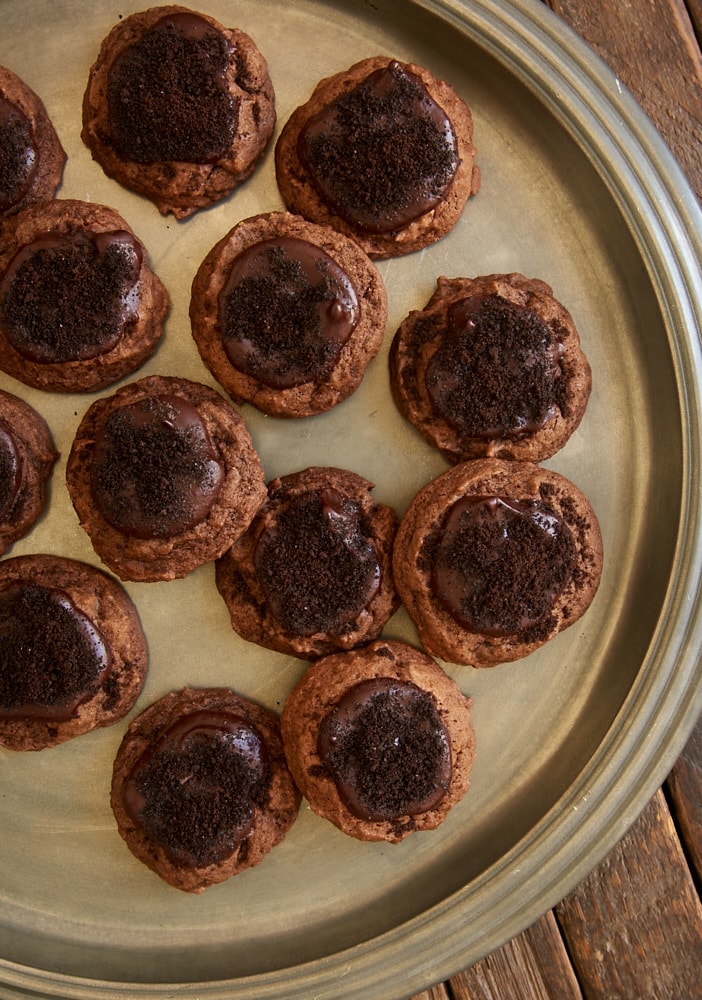 It all starts with the cookies. Oh, the cookies! These are the softest, fudgiest, tastiest chocolate cookies I've ever made. I'm certain that these are my go-to chocolate cookies now. They're that good. And if you like, you can just make the cookies without the other embellishments and be perfectly happy.
But for blackout mode, each cookie is topped with a rich chocolate ganache. And then in keeping with the way the cake was traditionally finished, chocolate cookie crumbs are sprinkled on top.
With chocolate in the starring role in these cookies, be sure to use good quality cocoa powder and chocolate.
I'm afraid I can't adequately express to you how very good these cookies are. They're deliciously rich. You aren't likely to sit down and eat several at a time. But just one of these cookies is wonderfully chocolate-y and satisfying. A perfect treat for your serious chocolate cravings!
Find more chocolate recipes in the Recipe Index!
Chocolate Blackout Cookies
Yield: 36 cookies
Prep Time: 30 minutes
Cook Time: 10 minutes per pan
Chocolate lovers will absolutely adore these wonderfully rich and delicious Chocolate Blackout Cookies!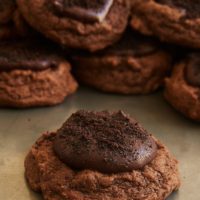 Ingredients:
For the cookies:
1 & 3/4 cups all-purpose flour
1/2 cup unsweetened cocoa powder, sifted
1/2 teaspoon baking soda
1/2 teaspoon salt
1/2 cup unsalted butter, softened
1/2 cup granulated sugar
1/2 cup firmly packed light brown sugar
2 large eggs
1 teaspoon vanilla extract
1/2 cup semisweet chocolate chips
1/2 cup milk chocolate chips
For the topping:
4 ounces bittersweet chocolate, roughly chopped
1 & 1/2 teaspoons corn syrup*
1/4 cup heavy cream
3 to 4 tablespoons chocolate cookie crumbs**
Directions:
To make the cookies:
Preheat oven to 350°F. Line baking sheets with parchment paper or silicone liners.
Whisk together the flour, cocoa powder, baking soda, and salt. Set aside.
Using an electric mixer on medium speed, beat the butter, sugar, and brown sugar until light and fluffy. Add the eggs, one at a time, mixing well after each addition. Mix in the vanilla.
Reduce mixer speed to low. Gradually add the flour mixture, mixing just until combined. Stir in the chocolate chips.
Drop the dough by tablespoonfuls onto the prepared pans. Bake, one pan at a time, 8 to 10 minutes, or until the cookies are almost set with a soft center. Do not overbake.
Cool the cookies on the pans for 5 minutes. Then transfer the cookies to a wire rack to cool completely.
To make the topping:
Place the chocolate and corn syrup in a heat-proof bowl. Set aside.
Place the cream in a small saucepan. Heat over medium heat until the cream begins to bubble.
Pour the cream over the chocolate. Let stand for 5 minutes. Then, stir until the ganache is smooth. Top each cookie with about a teaspoonful of ganache. Use the back of the spoon to spread out the ganache on top of the cookie.
Sprinkle about 1/4 teaspoonful of cookie crumbs on top of each cookie while the ganache is still warm.
Allow the ganache to set before serving the cookies.
Notes:
*This little bit of corn syrup helps the ganache hold up a bit better, but you can omit it if you like.
**I used Nabisco Famous Chocolate Wafers. They can sometimes be hard to find locally, but they are available from Amazon.
This post contains affiliate links.