Apple Crisp Bites
While I love to bake fruit crisps, crumbles, cobblers, and such, it can be tough to keep them new and interesting. These little guys certainly address that issue with bite-size versions of a classic fall dessert.
Apples, oats, and spices are one of our favorite flavor combinations. If that trio sings to you as well, then you'll find these to be perfect packages of flavor!
If you like a high crisp topping to fruit ratio like I do, then you'll absolutely love these. You essentially form a shell of crisp topping, fill it with spiced apples, and then finish it with even more crisp topping. That's about a 2:1 ratio of topping to filling. Works for me!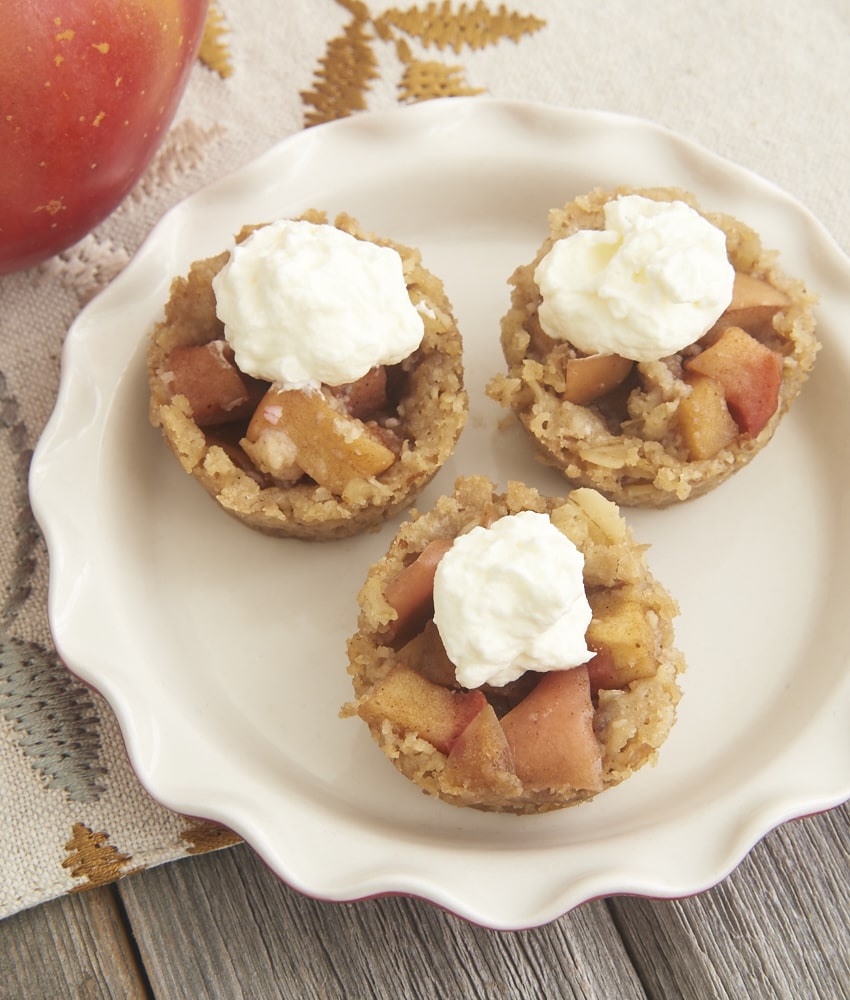 Forming the crisp mixture in the muffin pans is much easier than you might think. It just takes a bit of time and effort to make sure the muffin cups are well covered with no holes so that the filling will stay nicely inside the cups. And once they're baked, they come out of the pans quite easily with a little help from a thin knife or spatula.
These Apple Crisp Bites are great for a one-bite dessert. Or serve two or three at a time on a small plate or bowl. Dress them up a bit with a little dollop of sweetened whipped cream if you like. I wouldn't turn down a little drizzle of caramel sauce, either.
Sure, these little beauties may take a tad more effort than tossing together a standard Apple Crisp, but they are at least a thousand times more adorable.
Remember when you are choosing apples for baking to look for an apple that will stand up well to baking and won't fall apart or turn to mush. I also prefer a nice sweet/tart flavor in my baking apples. I most commonly bake with Fuji, Pink Lady, Gala, and Jonagold. Apples that we usually like to eat out of hand, like Red Delicious, don't really do that well in baking.
Apple Crisp Bites
Yield: 24 bite-size crisps
Prep Time: 35 minutes
Cook Time: 15 minutes
Apple Crisp Bites turn traditional apple crisp into bite-sized treats with the fantastic flavors of apples, oats, and cinnamon!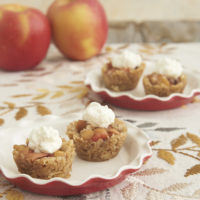 Ingredients:
For the filling:
2 cups chopped apples (about 2 medium apples)
2 tablespoons apple juice
1 tablespoon granulated sugar
1/4 teaspoon ground cinnamon
1/8 teaspoon ground ginger
1/8 teaspoon ground allspice
1/8 teaspoon ground nutmeg
For the crisp cups:
1/2 cup all-purpose flour
1/2 cup old-fashioned rolled oats, divided
6 tablespoons firmly packed light or dark brown sugar
1/4 teaspoon ground cinnamon
1/2 cup unsalted butter, cut into 1/2-inch cubes
2 tablespoon finely chopped pecans
Directions:
To make the filling:
Combine the apples, apple juice, granulated sugar, cinnamon, ginger, allspice, and nutmeg in a medium saucepan. Bring the mixture to a boil over medium-high heat. Then reduce the heat and simmer 5 to 8 minutes, or until the apples are tender.
Remove from the heat and set aside.
To make the crisp cups:
Preheat oven to 350°F. Grease 24 mini muffin cups (1 & 3/4-inch).
Place the flour, 1/4 cup of the oats, brown sugar, and cinnamon in the bowl of a food processor. Pulse to combine. Add the butter, and process until the mixture forms coarse crumbs.
Stir in the remaining 1/4 cup oats and the pecans.
Place a rounded tablespoon of the oat mixture in each muffin cup. (You'll have some of the mixture left over to use for the topping.) Press the mixture into the bottom and up the sides of the muffin cups, making sure to cover each cup well.
Fill each cup with about 2 teaspoons of the apple filling. Sprinkle the top of each cup with the remaining oat mixture.
Bake 15 to 20 minutes, or until golden brown. Cool in the pan for 10 minutes. Then use a thin knife or spatula to loosen the edges and remove the cups from the pan.
Recipe slightly adapted from BHG.