Lemon Raspberry Muffins
Lemon Raspberry Muffins combine sweet raspberries with tart lemon in a wonderfully soft muffin that's great for breakfast, brunch, or just a sweet treat!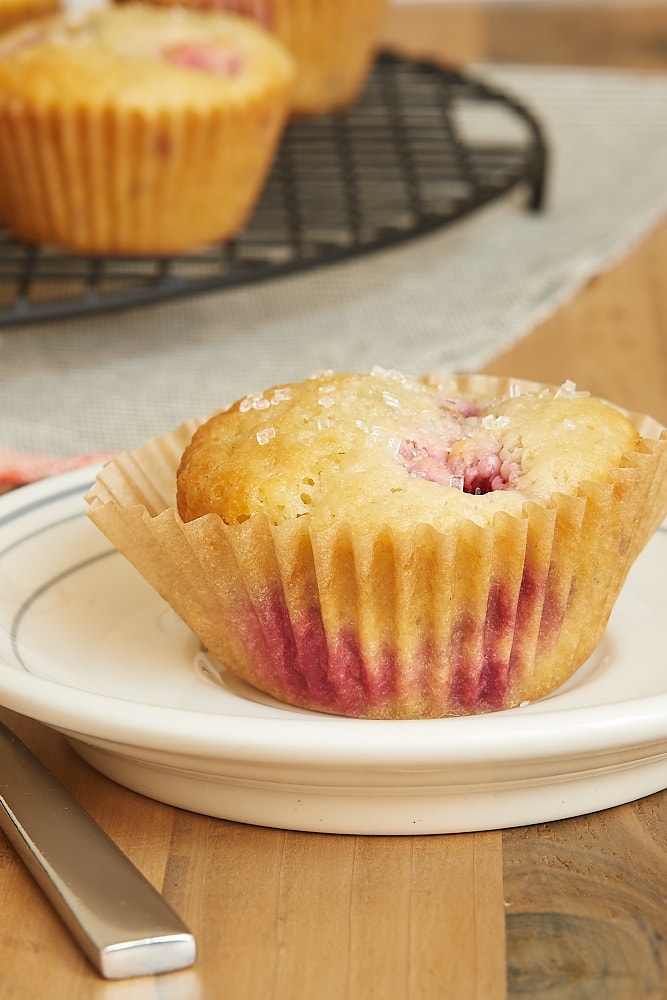 In my current berry craze, I often find myself with a lack of baking focus. When I see summer fruits in all their glory, I tend to procure as many as possible with no real idea what I'm going to do with them. Inevitably, I end up with a whole slew of fruit and a feeling of urgency to make the most of it.
My recent fruit excess mainly consisted of a whole bunch of raspberries. I had also somehow acquired a giant bag of lemons that had been taunting me from my countertop. So I made a small dent in the inventory with a batch of these utterly delightful Lemon Raspberry Muffins.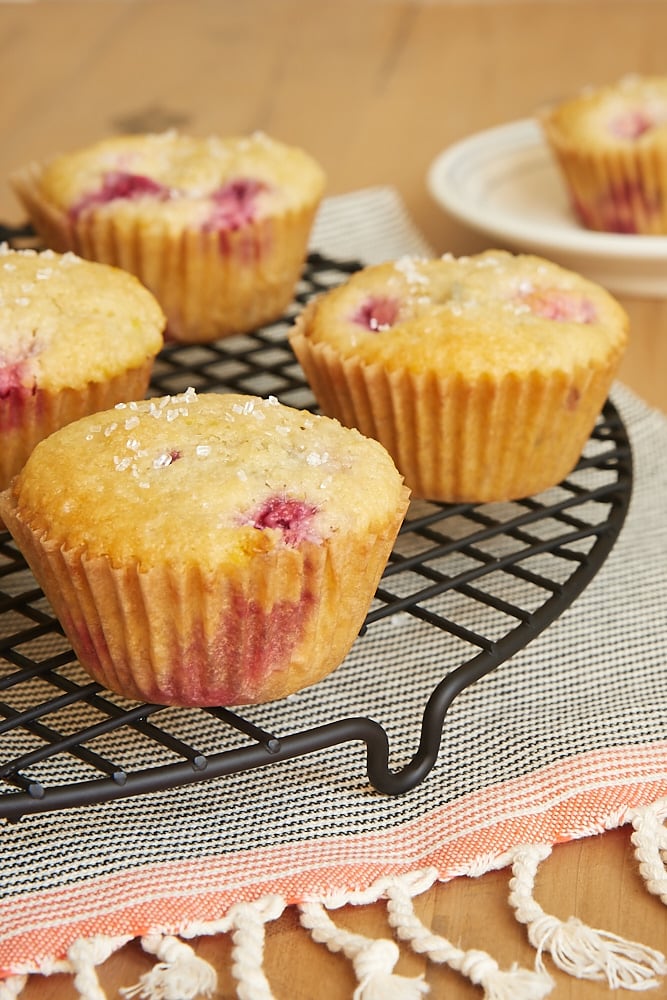 If you've baked your share of muffins, you'll likely recognize this mixing method. It's the most common way to mix muffin batter, so it's no surprise that it's called the muffin method. If you'd like to read more about the finer points of this mixing method, be sure to read my post about The Muffin Method.
The combination of sweet and tart in these muffins is really just lovely. The flavors are so fresh and bright that you'll find yourself smiling as you enjoy your muffin. And then you'll probably find yourself reaching for a second muffin.
If you have a berry buying problem like I do, then this recipe is a great way to make good use of some of your berry supply. And don't just limit these to raspberries. Try substituting another berry, like blueberries or strawberries, that will benefit from being paired with a burst of lemon.
Find more muffin recipes in the Recipe Index.
More Berry Muffin Recipes
Lemon Raspberry Muffins
Yield: 12 standard-size muffins
Prep Time: 15 minutes
Cook Time: 18 minutes
Lemon Raspberry Muffins are a lovely, sweet, tart treat for breakfast or an afternoon snack!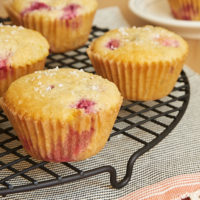 Ingredients:
2 cups (240g) all-purpose flour
1/2 cup (100g) granulated sugar
1/4 cup (50g) packed light brown sugar
1 teaspoon baking powder
1/2 teaspoon baking soda
1/2 teaspoon salt
zest of 1 medium lemon
1/2 cup (113g) unsalted butter, melted and cooled
1/2 cup (118ml) milk
2 large eggs, lightly beaten
juice of 1 medium lemon
6 ounces (170g) raspberries
sanding sugar, optional
Directions:
Preheat oven to 400°F. Line or grease 12 standard muffin cups.
Stir together the flour, sugar, brown sugar, baking powder, baking soda, salt, and lemon zest. Make a well in the center of the mixture.
In a separate bowl, stir together the butter, milk, eggs, and lemon juice. Pour into the well in the flour mixture. Stir just until combined. Gently stir in the raspberries.
Divide the batter among the prepared muffins cups, filling each about 3/4 full. If desired, sprinkle the top of each with a pinch or two of sanding sugar.
Bake 14 to 18 minutes, or until the edges are browned and a pick inserted into the center comes out clean.
Cool the muffins in the pan 5 to 10 minutes before serving.