Chocolate Sour Cream Bundt Cake
In the early days of BoB, the vast majority of recipes I shared were ones I found in cookbooks, in magazine, online, and from friends and family. Gradually, though, I inevitably became a recipe tinkerer. Those of you who bake frequently will know how you start to recognize things you want to change. Swapping out a bit of brown sugar for granulated sugar, adding a bit of spice, changing the flavor profile a bit.
These days it's very rare for me to make a recipe exactly as it's written. It seems I just can't resist! But every once in a while, I find a recipe that's so amazingly perfect that I simply don't have the heart to alter it.
This Chocolate Sour Cream Bundt Cake is one of those recipes.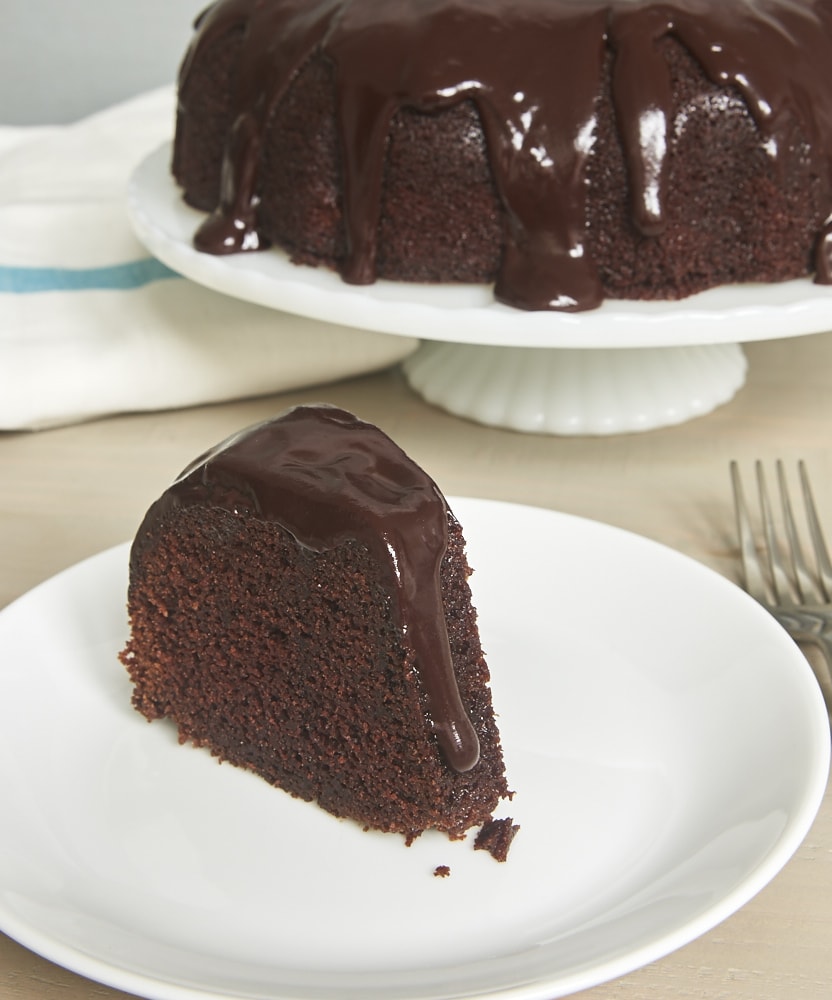 It all started innocently enough. I had been working on my own recipe for an all-out chocolate Bundt cake, but I just wasn't happy with my recipe. So I did some research. I looked at so, so many recipes and read what people liked and didn't like about each of them. Just about every one I found lamented the dryness of the cake. Nobody wants that, right?
But then I found several comments about this cake. After reading about how wonderfully moist it is and how absolutely delicious it is, I knew I had to try it. Oh, my. Every good thing I read about it is absolutely true. It's rich and moist and soft and really just a pleasure to eat. Plus, it's so simple to make, too. You won't even need to get out your mixer. Just grab a bowl and a whisk.
Let me tell you, my baking friends, this is what I now consider THE chocolate cake. I've already let Quinn know that this is the cake I want him to bake me for my birthday in August. And I cannot wait to enjoy it all over again!
Visit the Recipe Index for more chocolate recipes!
Chocolate Sour Cream Bundt Cake
Yield: 10 to 12 servings
Prep Time:25 minutes
Cook Time:45 minutes
Chocolate Sour Cream Bundt Cake is the most delicious, moist, rich, downright amazing chocolate cake!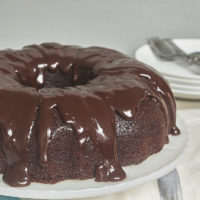 Ingredients:
For the cake:
1 cup unsalted butter
1 cup water
1/3 cup unsweetened cocoa powder
1 teaspoon salt
2 cups all-purpose flour
1 & 3/4 cups granulated sugar
1 & 1/2 teaspoons baking soda
2 large eggs
1/2 cup sour cream
1 teaspoon vanilla extract*
For the glaze:
4 ounces bittersweet chocolate, chopped
1 & 1/2 tablespoons light corn syrup or agave nectar**
1/2 cup heavy cream
1 & 1/2 tablespoons granulated sugar
Directions:
To make the cake:
Preheat oven to 350°F. Generously grease or butter and flour a 10- or 12-cup Bundt pan.
Place the butter, water, cocoa powder, and salt in a small saucepan. Cook over medium heat, stirring frequently, until the butter has melted and the mixture is combined. Set aside.
Whisk together the flour, sugar, and baking soda in a large mixing bowl. Add half of the butter mixture and whisk to combine. Add the remaining butter mixture, and whisk until combined. Add the eggs, one at a time, whisking well after each addition. Whisk in the sour cream and vanilla.
Pour the batter into the prepared pan and spread evenly. Bake 40 to 45 minutes, or until a pick instead into the center comes out clean.
Cool the cake in the pan for 15 minutes. Then invert the cake onto a wire rack to cool completely.
To make the glaze:
Place the chocolate and corn syrup in a medium bowl.
Combine the cream and sugar in a small saucepan. Cook over medium heat, stirring occasionally, just until the sugar has dissolved and the cream begins to bubble around the edges.
Pour the cream mixture over the chocolate. Let stand for 5 minutes. Then whisk until smooth. Drizzle over the cooled cake.
Notes:
*I know I said I didn't make changes to this recipe, but I do like to use 2 or 3 tablespoons of coffee-flavored liqueur in place of the vanilla.
**I've only made this type of ganache glaze with corn syrup, but the original recipe also suggests agave nectar.
This post contains affiliate links.