Peanut Butter Coffee Cake with Chocolate Crumb Topping
Recently, I was in a bit of a baking funk. I was just feeling uninspired. I'm sure we've all been there. Luckily, Quinn came to the rescue and very quickly suggested that I should make a coffee cake. We both love coffee cakes, so that seemed like a good place to start to make something we'd both enjoy.
A quick scan of my coffee cakes here showed me that I had not integrated peanut butter into a coffee cake. And I'd been wanting to make a chocolate crumb topping for a while. It seemed like it was meant to be!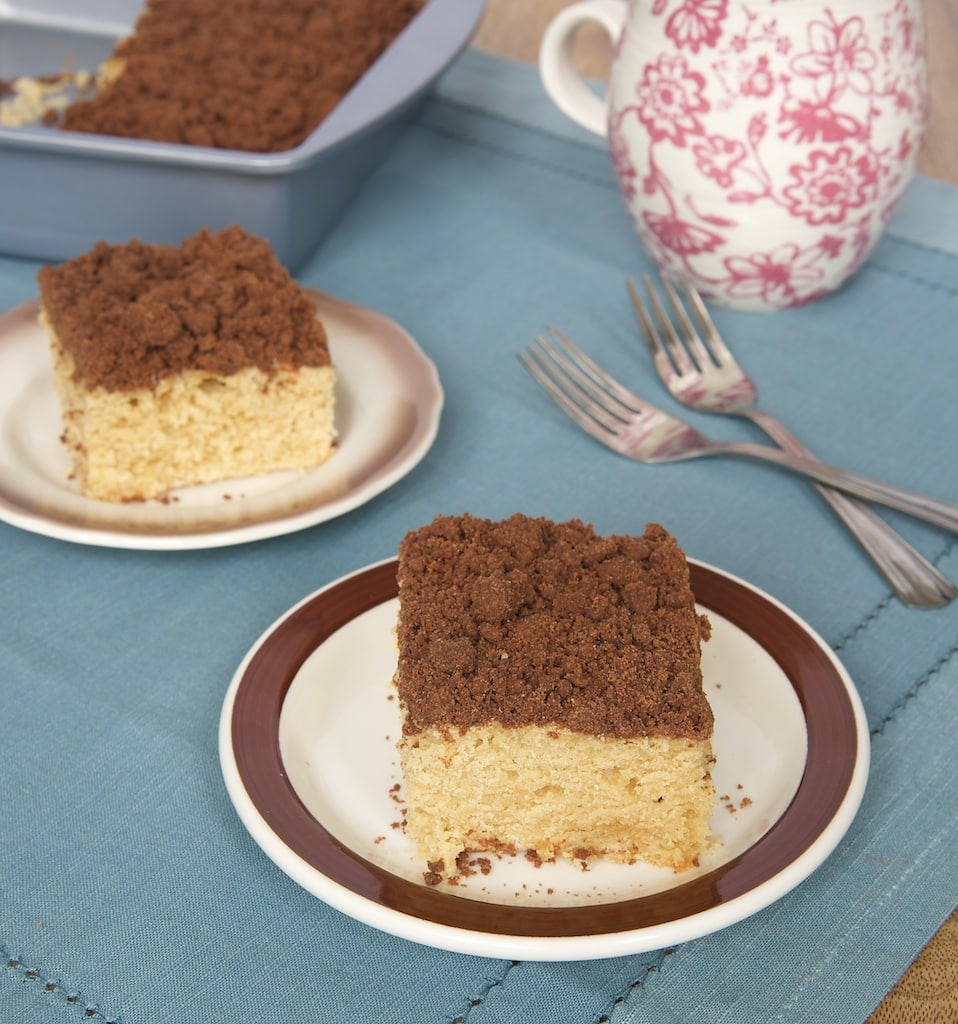 The cake itself offers a simple twist on coffee cake with the addition of peanut butter. It's sweet and soft and dense. Just how I want my coffee cake to be!
Of course, 99% of the time you see peanut butter on BoB, you're going to see some chocolate, too. The chocolate in this cake is found in the crumb topping. I added a little cocoa powder to an otherwise standard crumb topping and sprinkled it generously on top of the cake.
Other than the use of one of my all-time favorite flavor combinations, the best thing about this cake to me is its subtle sweetness. It has just the right amount to be a great afternoon snack. Or dessert. Or maybe even breakfast.
Click here to see more coffee cake recipes.
Peanut Butter Coffee Cake with Chocolate Crumb Topping
Yield: 9 to 12 servings
Prep Time:25 minutes
Cook Time:40 minutes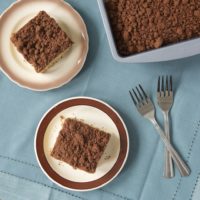 Ingredients:
For the topping:
1/2 cup all-purpose flour
1/4 cup firmly packed light brown sugar
1 & 1/2 tablespoons unsweetened cocoa powder
pinch salt
3 tablespoons unsalted butter, cold and cut into small cubes
For the cake:
1 & 3/4 cups all-purpose flour
1 teaspoon baking powder
1/2 teaspoon salt
6 tablespoons unsalted butter, softened
1/2 cup granulated sugar
1/4 cup firmly packed light brown sugar
1/3 cup peanut butter*
1 large egg
1 teaspoon vanilla extract
1/2 cup milk
Directions:
To make the topping:
Combine the flour, sugar, cocoa powder, and salt in a small bowl.
Add the butter and mix with a fork or your fingers until the mixture forms crumbs.
Refrigerate the topping while you make the cake.
To make the cake:
Preheat oven to 350°. Grease an 8-inch square or 9-inch round baking pan.
Whisk together the flour, baking powder, and salt. Set aside.
Using an electric mixer on medium speed, beat the butter, sugar, and brown sugar until light and fluffy. Add the peanut butter and mix well. Add the egg and vanilla, and mix thoroughly.
Reduce the mixer speed to low. Add the flour mixture in 3 portions, alternating with 2 portions of milk. Mix just until combined.
Spread the batter evenly in the prepared pan. Sprinkle the crumb topping over the cake.
Bake 35 to 40 minutes, or until a pick inserted into the center comes out clean. Place the pan on a wire rack to allow the cake to cool.
Notes:
*I used creamy peanut butter, but crunchy will work just fine if you prefer to add a little crunch.