No recipe today, because I want to share one of my favorite products – Philadelphia Cream Cheese Spreads! Thanks to Philadelphia Cream Cheese for sponsoring this post.
I sometimes wonder if you picture me in my kitchen constantly surrounded by freshly baked goods. While that is often the case, we have a lot of everyday routines just like everyone.
Most weekdays, we are a bit of a boring pair when it comes to breakfast. Quinn has his cereal, and I have my yogurt and granola. Lately, though, I've been veering off that path with some delicious help from Philadelphia Cream Cheese Spreads.
It's such a treat to smear a generous helping of fruity cream cheese onto a toasted English muffin or bagel and top it off with some toasted almonds. I'm loving the strawberry and blueberry varieties!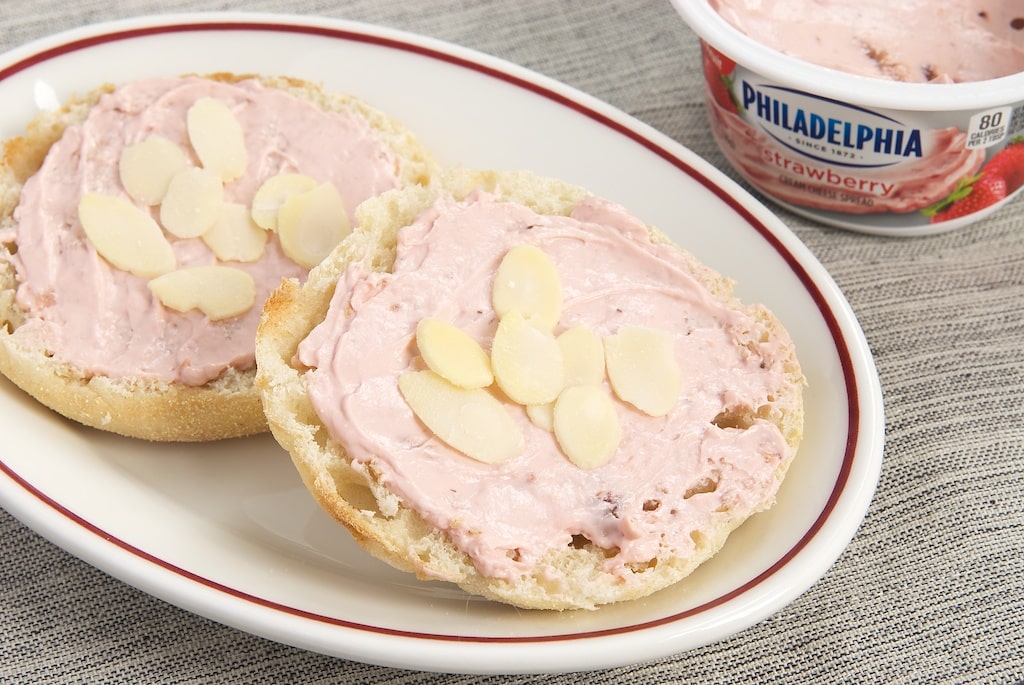 These spreads are great for so much more, too. Spread them on slices of pound cake or shortbread cookies or even some salty pretzels. Use them as a shortcut starting point for cream cheese frosting. Or, try these Strawberry Cream Cheese Cookies with Philadelphia Strawberry Cream Cheese instead of plain.
Like the bricks of Philadelphia Cream Cheese, the spreads are made with fresh milk and real cream. These spreads have been around for a while, but now they've gotten even better with more fruits and vegetables. The packaging has changed a bit as well, with a new oval container that makes it easier to find the flavors you want on the shelves at your market.
I'm looking forward to trying other sweet varieties, too, such as Brown Sugar & Cinnamon, Honey Pecan, and Milk Chocolate. If you're a savory fan, try the Garden Vegetable, Chive & Onion, Chipotle, or Spicy Jalapeño.
Have you tried the new and improved spreads? Do you have a favorite variety?
Disclosure: I have been chosen by Kraft Foods to be a spokesperson for Philadelphia Cream Cheese. I have been provided with compensation for my time. All opinions written are my own. For more cream cheese inspiration, be sure to visit www.creamcheese.com.