February 17, 2014
Meyer Lemon Pudding Cakes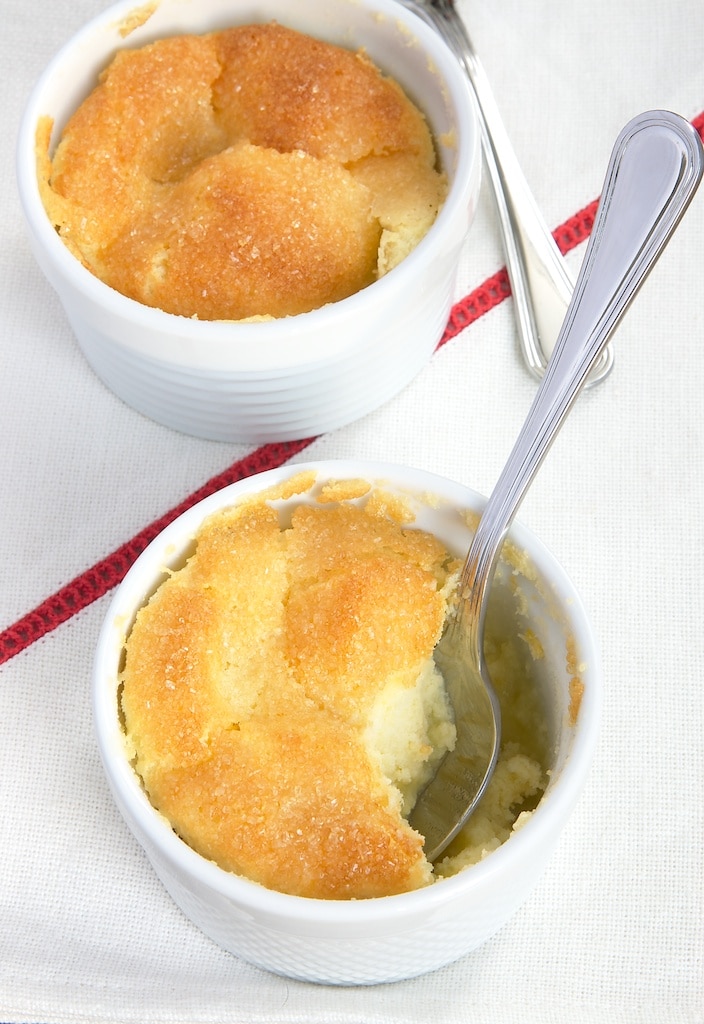 After all of that chocolate for Valentine's Day, I thought we'd shift gears a bit today. If you're deeply mired in winter weather like we are, I'm sure you'll welcome the brightness of lemon in a simple dessert.
Pudding cakes are a lovely combination of, you guessed it, pudding and cake. And, these beauties do all of that with a nice lemon flavor. When you dig your spoon into them past that sugary, brûlée-like top, you first get a light layer of cake. But, keep going and you'll find a lovely layer of pudding at the bottom.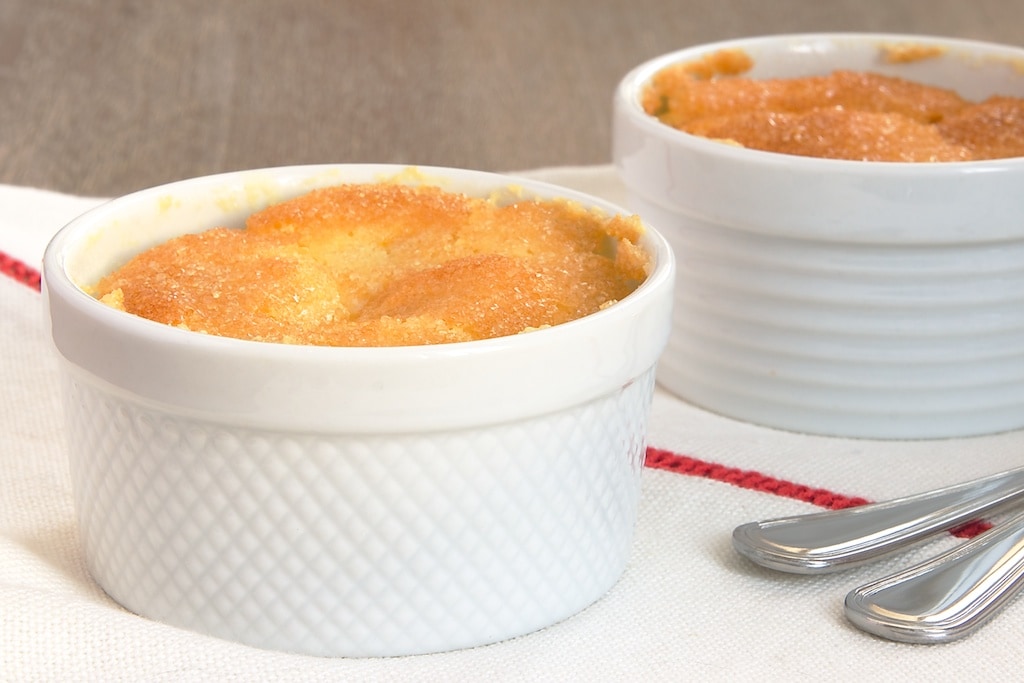 As you can imagine, this is not the kind of cake you can easily cut into slices and serve. It's more of a spoonable dessert. I really like to make these in individual-size ramekins to make them simpler to serve. Plus, I'm a bit of a sucker for individual desserts.
These cakes feature Meyer lemons, which are milder and sweeter than traditional lemons. You can, of course, use whichever type of lemon you'd like. I chose Meyer lemons for a lighter, subtler dessert flavor that's just perfect after a bit of chocolate overload.
Meyer Lemon Pudding Cakes
Yield: 6 servings
Prep Time:20 minutes
Cook Time:45 minutes
Meyer Lemon Pudding Cakes are sweet, tart, and utterly delicious!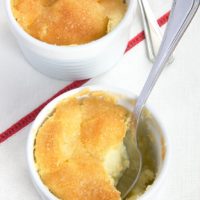 Ingredients:
3/4 cup granulated sugar
1/3 cup all-purpose flour
3 large egg yolks, separated
2 tablespoons unsalted butter, softened and cut into small pieces
1 cup milk
1 teaspoon Meyer lemon zest
1/3 cup Meyer lemon juice
1/2 teaspoon salt
1 tablespoon coarse sugar*
Directions:
Preheat oven to 350°F. Place 6 4-ounce ramekins** inside a large baking pan.
Whisk together the sugar and flour. Set aside.
In a separate bowl, combine the egg yolks and butter until well mixed. Whisk in the milk, zest, and juice.
Add the lemon mixture to the sugar mixture. Whisk until smooth.
Using an electric mixer on medium-high speed, beat the egg whites and salt until they form stiff peaks. Gently fold the egg whites into the lemon and sugar mixture.
Divide the mixture evenly among the ramekins. Sprinkle the top of each with coarse sugar.
Pour hot water into the large baking pan so that the water is about halfway up the sides of the ramekins.
Bake 40 to 45 minutes, or until the tops are golden brown.
Notes:
*I used turbinado sugar, which gave the tops of the cakes a nice color. You can also use standard white sanding sugar.
**You can also use a 2-quart baking dish instead of the individual ramekins. It will still need to be placed in a large baking pan and filled with water as described with the ramekins. Reduce the baking time to 30 to 35 minutes.
This post contains affiliate links.