Brown Butter Pecan Pie
It seems that every year around holiday time, I try to make some variation of pecan pie. It has long been one of my favorite desserts, and I enjoy finding ways to keep it new. The idea for this year's little twist just kinda hit me one day. Brown butter.
I'm no stranger to baking with pecans or brown butter. You'll find those two showing up quite a bit around here. But, I'm not sure they've shown up in the same recipe.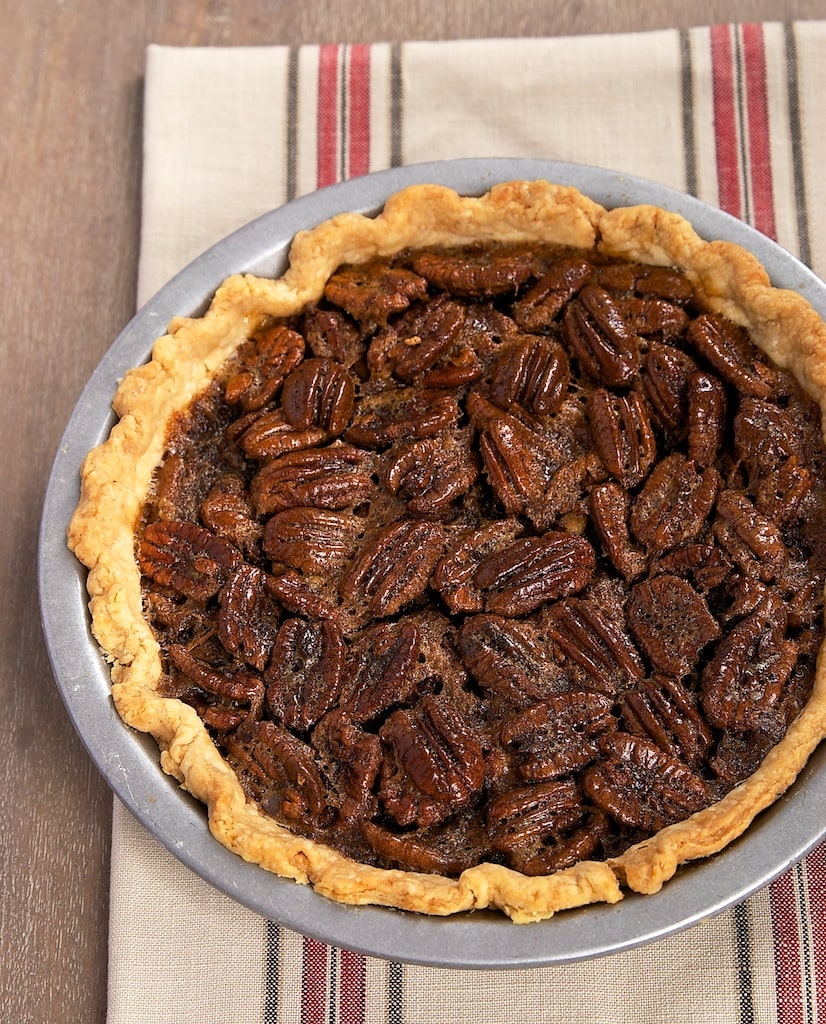 I took my family's traditional pecan pie recipe, made a couple of changes, browned some butter, and here we are with this pie. It's still pecan pie, but it's so much more. The flavors are more complex and, well, grown-up.
Granted, I may change my mind with whatever version of pecan pie I bake next, but I feel confident that this is my favorite pecan pie. Ever. Quinn agrees, too. In fact, he has requested that we have this pie again for Christmas. I agreed rather quickly. It's a little ridiculous how much I'm looking forward to enjoying a slice of this pie again.
Brown Butter Pecan Pie
Yield: 8 to 10 servings
Prep Time:25 minutes
Cook Time:1 hour 5 minutes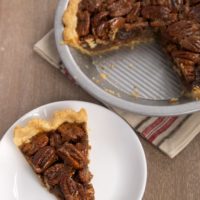 Ingredients:
For the crust:*
1 & 1/4 cups all-purpose flour
1 teaspoon granulated sugar
1/2 teaspoon salt
1/2 cup cold unsalted butter, cut into 1/2-inch cubes
2 to 4 tablespoons cold water
For the filling:
5 tablespoons unsalted butter
3 large eggs
1/2 cup granulated sugar
1/4 cup packed light brown sugar
1 cup light corn syrup
1 teaspoon vanilla extract
1/2 teaspoon salt
1 & 1/2 cups pecan halves
Directions:
To make the crust:
Whisk together flour, sugar, and salt in a large bowl. Add butter and mix with a pastry blender or fork until the mixture resembles coarse meal and the butter is the size of small peas.
Add 1 tablespoon of water and continue mixing. Add more water as needed, 1 tablespoon at a time, until a dough forms.
Wrap the dough tightly in plastic wrap. Refrigerate for at least 2 hours.
Remove dough from refrigerator. If necessary, let it sit at room temperature for 10 to 15 minutes until slightly softened but still cold.
Lightly flour work surface. Roll out dough into a circle about 1/8-inch thick.
Transfer the dough to a lightly greased 9-inch pie plate. Trim any excess dough from the edges.
For a simple fluted edge, press the knuckle of one finger into the rim of the crust while holding two fingers about a half inch apart on either side of your knuckle. Repeat around the entire edge of the crust.
To make the filling:
Preheat oven to 350°F.
Place butter in a small saucepan. Cook over medium heat until butter melts and begins to foam.
Continue cooking, stirring occasionally, until brown specks begin to form at the bottom of the pan and the butter has a nutty aroma. Remove pan from heat and allow to cool slightly. If desired, strain the butter to remove the browned bits.**
Place eggs in a large mixing bowl and beat lightly. Add brown butter, sugar, brown sugar, corn syrup, vanilla, and salt. Whisk to combine. Stir in pecans.
Pour filling into prepared crust. To prevent any potential mess from spills, place the pie on a rimmed baking sheet.
Bake 50 to 60 minutes, or until the center is set and the crust is browned. Cool in pan before serving.
Notes:
*Feel free to use your favorite pie crust or a pre-made crust.
**I very rarely strain brown butter, but it's just a preference thing.
This recipe was originally developed for Go Bold with Butter, where I am a paid contributor.