Thanksgiving has long been my favorite holiday. I love all the traditions and, of course, the food. As we approach Thanksgiving this year, I'll have some great dessert options coming your way. But, to get you started on your planning, I'm sharing some of my favorite desserts that make great additions to your Thanksgiving dessert table.
I usually try to limit the number of recipes I share in these posts, but there are some exceptions. For Thanksgiving, I'm sharing more than usual. I hope you'll find some baking inspiration for your holiday here.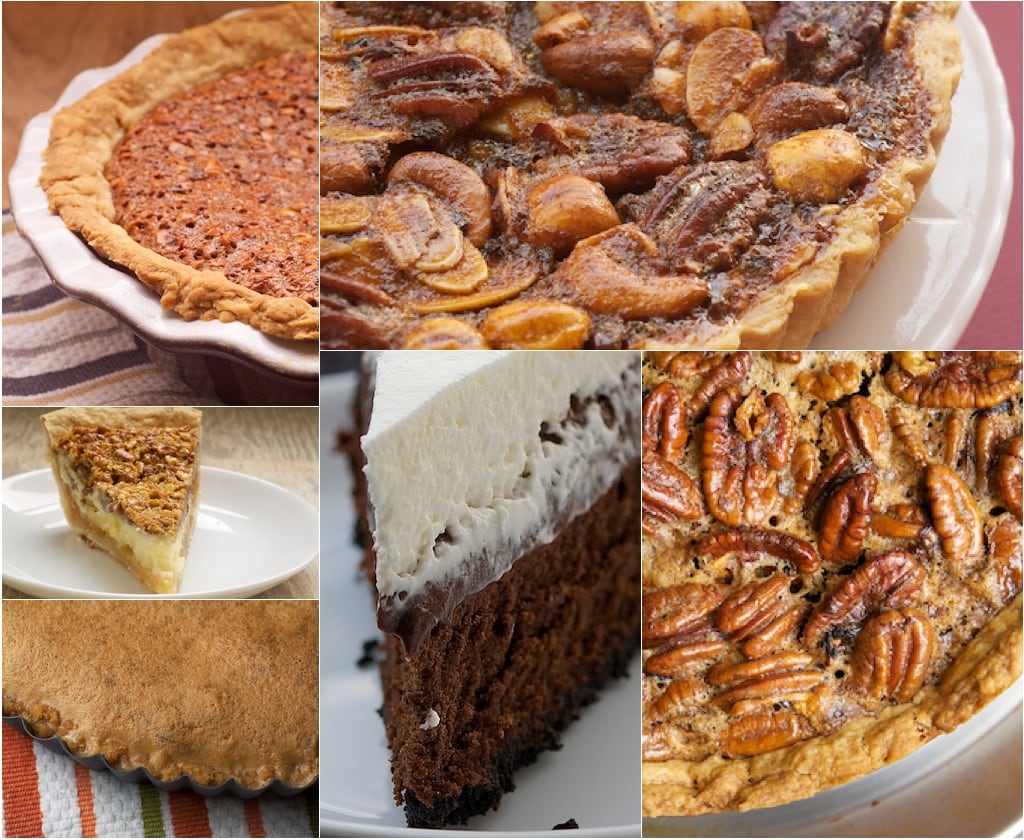 Pies
We'll start with pie because, to me, Thanksgiving is absolutely a pie holiday. First up is Chocolate Hazelnut Pie, a delicious twist on traditional pecan pie. I love all things chocolate and hazelnut, which makes this pie a definite favorite.
One of my favorite pies ever is Mixed Nut Tart. I took a family Pecan Pie recipe, changed it up a bit with some brown sugar and a variety of nuts to make this gorgeous tart. You can use any combination of nuts you like to make this to suit your tastes.
If you're looking for a beautiful dessert that will really stand out on your dessert table, I highly recommend Deep-Dish Pecan Pie. There's so much gooey filling and pecans in this big, tall beauty. Plus, there's cream cheese in the crust. Oh, yeah.
Okay, so Mississippi Mud Pie isn't exactly a traditional Thanksgiving dessert, but it's so lovely and delectable that I just have to include it. There's a lot of chocolate going on here – chocolate crust, chocolate cake, and chocolate pudding. Plus, a thick layer of sweetened whipped cream. It's. So. Good.
One of my favorite desserts I remember from childhood is chess pie. It's an impressive combination of just a handful of basic ingredients. That always surprises me. Chewy Chess Tart is a wonderful version of that childhood favorite with a bit of a twist. It uses a vanilla wafer cookie crust instead of a traditional pie crust.
Let's do one more take on pecan pie. Pecan Cheesecake Pie is a lovely combination of traditional pecan pie and cheesecake. I'm not sure I have to try to sell you on that one. It's pecan pie and cheesecake.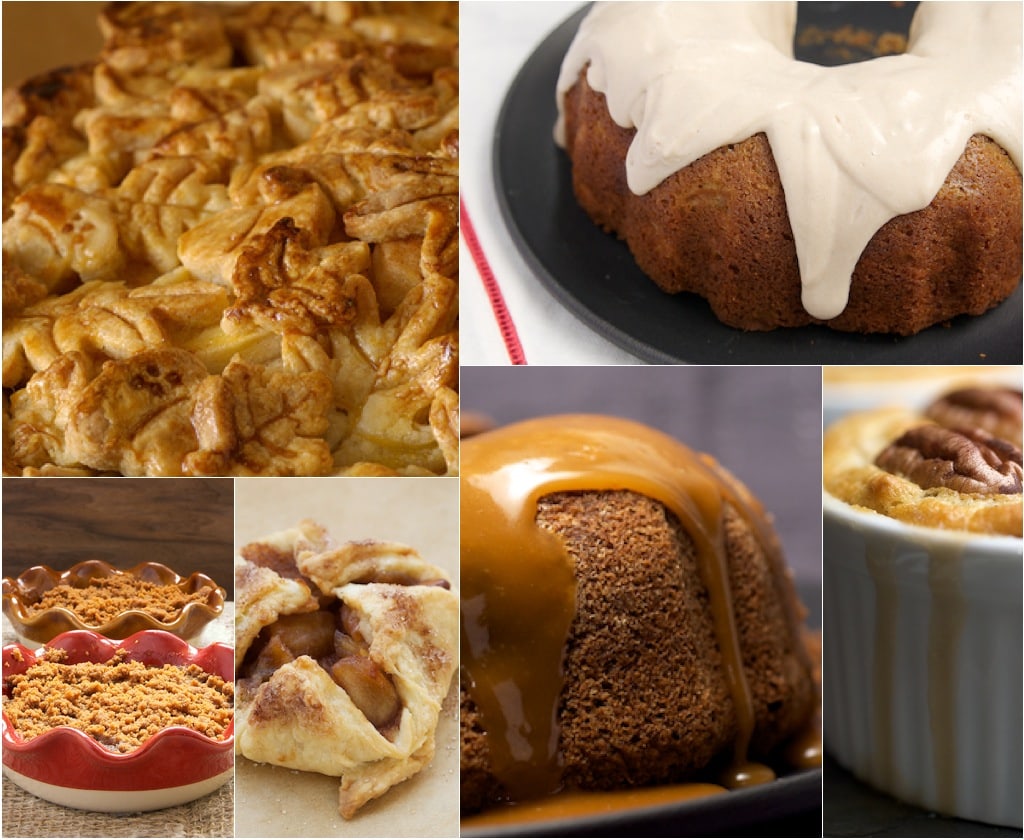 Apples and Pears
For most of us, Thanksgiving falls nicely in line with apple and pear season. That works for me because those just happen to be some of my favorite baking fruits. I think part of my affection for them has to do with how they're usually baked. There's often plenty of cinnamon or caramel or something else equally delicious. Plus, most of them are served warm, which is just perfect for this time of year.
Classic Apple Pie starts us off. I suppose I could have included this one with the pies, but it's more about apples than pie. It doesn't get more traditional than this. Quinn actually baked this one a few years ago when I was still terrified of pie crusts. You can tell by the decoration on the pie that he has far more patience than I. In any case, it's hard to go wrong when choosing apple pie as your Thanksgiving dessert.
If I have to choose just one, I will almost always go with pears. I just love their flavor and enjoy baking with them. Spiced Pear Cake is brimming with all of those lovely fall spices that we adore. I topped it with a cinnamon and cream cheese glaze, but feel free to use a simpler glaze or leave it unadorned.
As warm desserts go, I love cobblers and crisps and crumbles and all of their cousins. Caramel Apple Pear Cobbler is a wonderfully warm combination of apples, pears, spices, pecans, and caramel. You can make this one in a large pan if you're feeding a crowd or opt for individual ramekins for smaller gatherings.
In case you haven't noticed, fall spices are a recurring theme here. Apple Spice Cake combines apples and cinnamon with a caramel glaze. It's both delicious and beautiful!
Apple Pie Bundles may not be the most practical dessert if you have a big crowd for Thanksgiving. But, for more intimate dinners, these little beauties are a great variation of traditional apple pie.
Let Biscoff cookies supply the spices with Apple-Pear Biscoff Crisp. I love that this recipe is so simple to scale from two people to however many servings you need. And just five ingredients!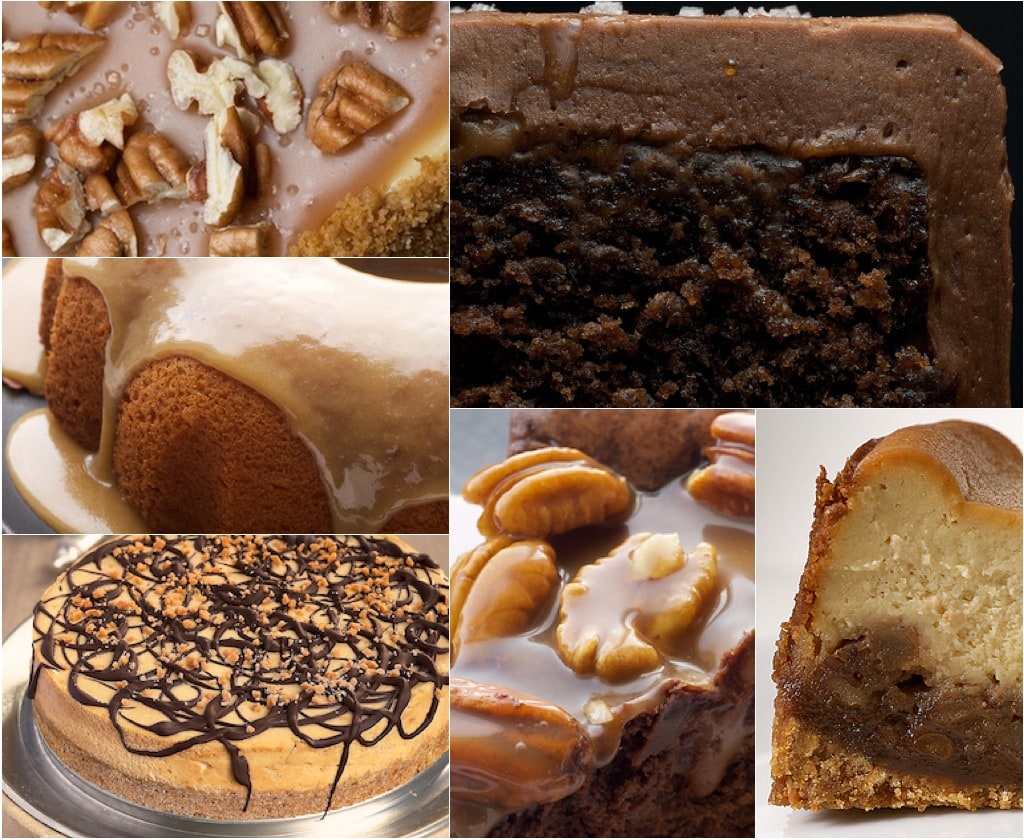 Everything Else
With pies and fruit covered, we now get to everything else. These are some big, bold desserts to go with your big Thanksgiving meal. There is plenty of flavor here, from caramel to chocolate to nuts to some combinations of those.
I don't know how long salted caramel has been all the rage, but I hope it never goes away. Pecan and Salted Caramel Cheesecake is a prime example of the wonders of salted caramel. If you're not a fan of pecans (and, what's that about?), leave them off or use another nut. Just don't expect any leftovers.
Speaking of adding a little salty to your sweet, let me present to you my favorite cake. Sweet and Salty Cake is made up of chocolate cake, salted caramel, chocolate ganache, and a sprinkling of salt. I always recommend this cake for a special occasion. It takes a bit more effort than I usually like, but it's worth every minute.
I've made Pecan Pie Cheesecake so many times that I've lost track. Let's just say it's a lot. And, for good reason. Imagine all the good gooey parts of pecan pie layered into a cheesecake. It's every bit as good as you think it is.
Chocolate Caramel Pecan Souffle Cake is every bit as beautiful as it is delicious. And, it's very rich and decadent. It may be a single layer, but there's so much flavor that you can easily slice this one up into small servings.
I just recently made Peanut Butter Cheesecake with Pretzel Crust. It's got the whole sweet and salty thing going for it. Plus, the chocolate drizzle and toffee bits on top really make this one a gorgeous option for the centerpiece of your dessert table.
I've always been a bit intimidated by traditional caramel cake. But, Caramel Bundt Cake is a wonderful simplified option. You get all the great flavors with a lot less effort.
I hope you all have an absolutely wonderful Thanksgiving! What's on your menu this year?