This week, I was a very lucky girl indeed. I was one of thirteen food bloggers invited to King Arthur Flour's Blog & Bake™ in Norwich, Vermont. For three days, we baked and baked and then baked some more. We also visited farms and ate some amazingly delicious food. And, all the while, I got to know a very talented and generally awesome group of people.
I took literally hundreds of photos, but I will try not to overwhelm you with them. But, I do so want to share as much as I can about such an incredible experience. If you would like to see more photos, see my Facebook page or click here to got to my Flickr set.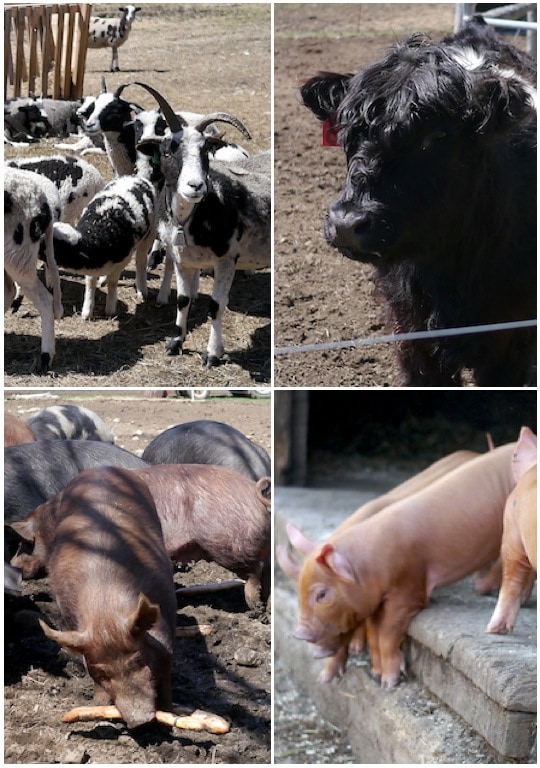 The first thing on the schedule was a tour of two farms in the area. First was Hogwash Farm, a family farm that focuses on heritage breed animals. We saw Jacob sheep, Belted Galloway cows, and Tamworth, Large Black, and Gloucestershire Old Spot pigs. (Notice that those pigs are eating King Arthur Flour bread!) Of course, we all loved the baby pigs!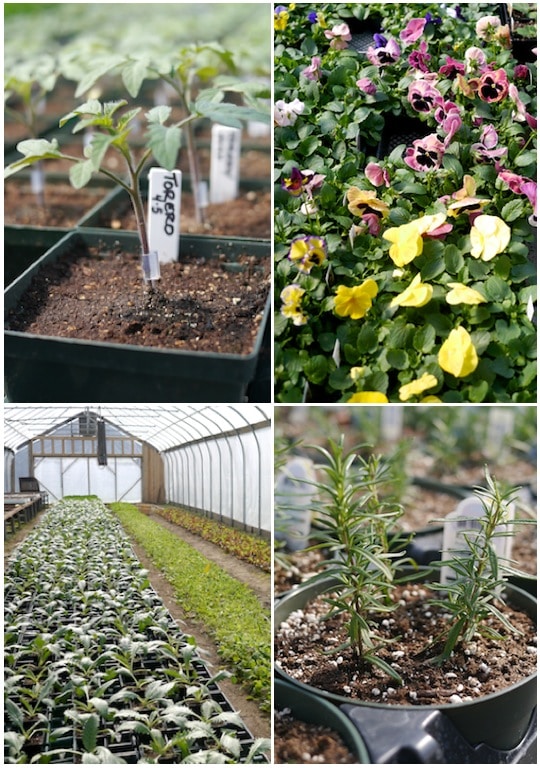 Next, we visited Killdeer Farm, which specializes in organic vegetables and flowers. Rows of greenhouses are filled with all of those plants in various stages of growth. We got a great look inside all of those greenhouses to see how they nurture and grow tomatoes, artichokes, potatoes, herbs, beautiful flowers, and more.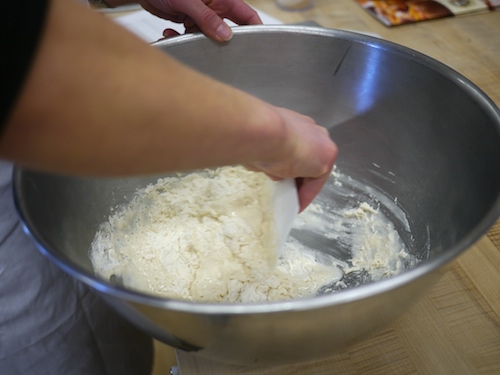 Then, we got busy baking. We started by making a preferment of pizza dough. Quinn has always handled the pizza dough making around here, so this was relatively new territory for me. We worked in two teams to make plenty of pizza dough for all of us.
That evening, we were treated to a demonstration and dinner by Cabot. We heard from one of their farmers from Liberty Hill Farm. That place sounds like an experience, and I must visit someday! Chef Jimmy Kennedy, who is from my home state of Mississippi, demonstrated some great cooking, which we gladly sampled. We also got an entertaining and delicious lesson in cheese grading from Craig. All of that was followed by dinner and drinks, courtesy of Cabot and Harpoon Brewery.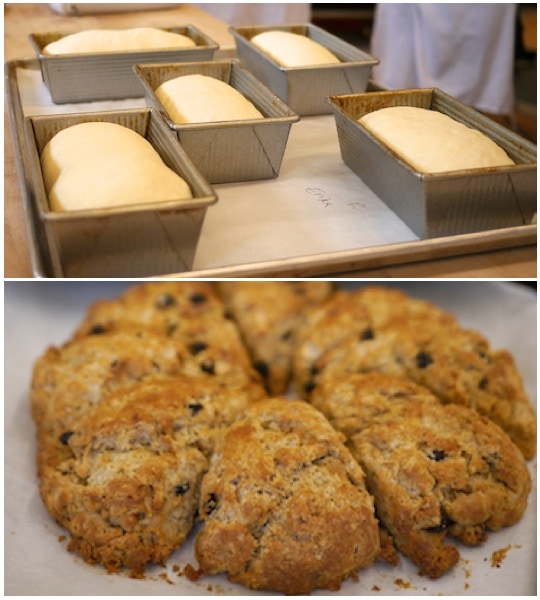 Day 2 started off with breakfast at King Arthur. Let's all just think about that for a minute. Breakfast. King Arthur Flour. Yeah, it was just as good as you might imagine. Then, we dove into baking bread and whole-grain scones.
If you are a frequent reader of this blog, you know that I'm not much of a bread baker. I learned a lot, but I still need practice. The scones, on the other hand, were right up my baking alley. They were quick to make and so delectable.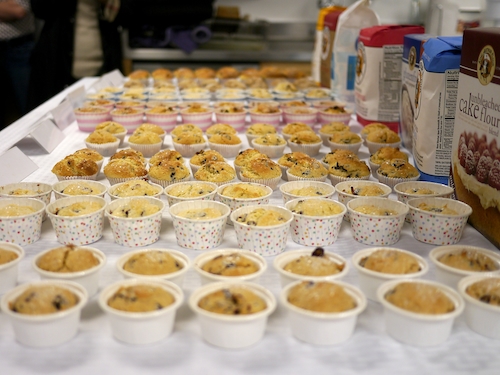 We then visited the amazing Susan Reid at the KAF test kitchens. If you're a subscriber to The Baking Sheet, then you are familiar with Susan and her recipes. We talked a lot about differences in flours among KAF brands as well as other brands. As a very telling demonstration, we sampled muffins made from the same recipe using different flours. It was so interesting to see and taste the differences.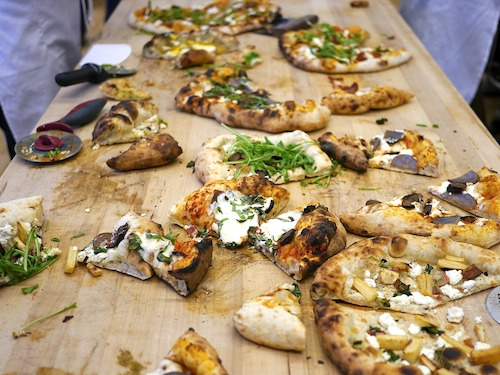 That evening we finished our pizza crusts, topped them with fresh local ingredients, and baked them in KAF's wood-fired oven. As you can see, we made more than enough and sampled as much as possible.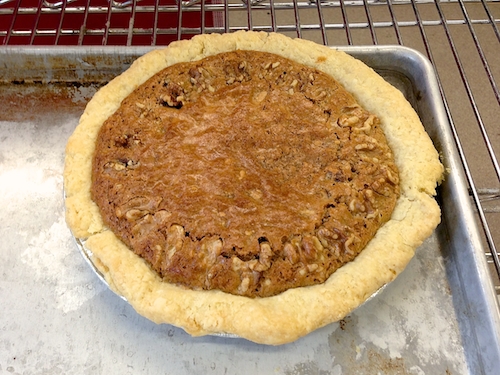 On our last day, we had a little fun with a pie competition. After getting some valuable pie crust tips, we divided into three teams and were given a bowl of ingredients. Within an hour, we had to make a pie using all of the ingredients in the bowl and write our recipe. Then, we moved to another team's station and made their pie using their written recipe. Pictured above is my team's second pie. Not bad for an hour, huh?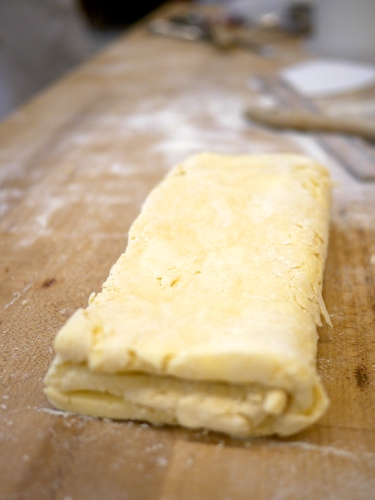 We also learned to make Blitz Puff Pastry, which is an amazingly easy and versatile recipe. Much like puff pastry and croissants, it's made up of layers and layers of dough and butter. Using that dough, we made both savory and sweet baked goods. I was amazed at how quick and easy this recipe is. I have plans to make it this weekend and try some variations.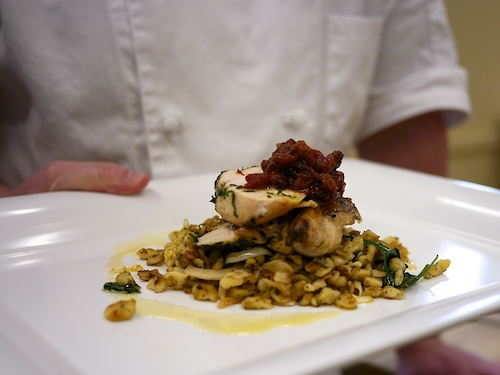 With all our baking done, we were treated to a demonstration by Chef Jerod Rockwell from Simon Pearce Restaurant. After learning about spaetzle, chutney, gnocchi, and more, we were treated to all of those dishes and more at Simon Pearce. Plus, we watched wide-eyed and amazed as their glass blowers made their beautiful glass products.
The next day, we all left Vermont in our different directions. I could have stayed and baked a few more days! I wish I could adequately express how much I enjoyed my visit to King Arthur Flour. Now that I'm home, I am inspired to bake and can't wait to use some of the valuable things I learned at KAF.
And, of course, I'm so happy to have met such fabulous people. Everyone at King Arthur flour was so hospitable and helpful. Plus, I had the pleasure of getting to know my fellow bakers. If you don't know them already, you should.
Audra – The Baker Chick
Brandy – Nutmeg Nanny
Carole – Heirloom Meals
David – Spiced
Erika – In Erika's Kitchen
Eva – Adventures in Cooking
Jen – Tiny Urban Kitchen
Kate – Food Babbles
Katie – Healthy Seasonal Recipes
Marnely – Cooking with Books
Rebecca – Foodie with Family
Tara – Food & Entertaining Director at Ladies' Home Journal
Many thanks to King Arthur Flour for such an amazing few days of baking, food, inspiration, and new friends!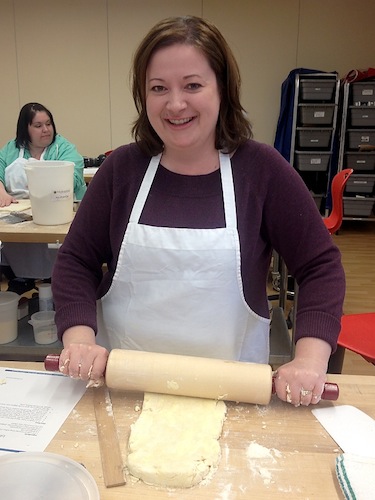 Disclosure: I was chosen by King Arthur Flour to participate in Blog & Bake™ and was provided with this trip by them. All opinions are my own.