Those of you even vaguely familiar with this blog know that I'm not much for big pretty cakes. I love them, of course, but my frosting skills are not the best. Nor is my patience level.
I'll keep working on it, but in the meantime I'm sharing some of my favorite one-layer cakes. Some are frosted, and some don't need anything but the cake. These beauties are just lovely in their one-layer awesomeness.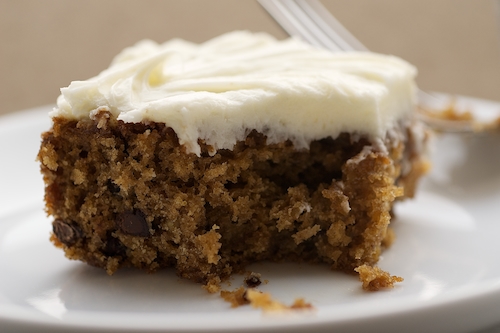 We'll start with the cakes pictured at the top of the page. First up is this amazing Oatmeal Chocolate Chip Cake. This cake comes to us from one of my favorite New York bakeries, Baked. The beauty of this cake is that you can probably talk yourself into justifying having a slice for breakfast. That, my friends, is winning.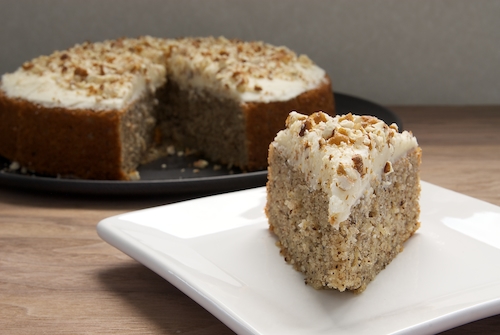 Next is a cake that I just shared with you earlier this week, but it definitely bears repeating. This Pecan Cake with Rum Frosting is a perfect balance of nutty cake and sweet frosting.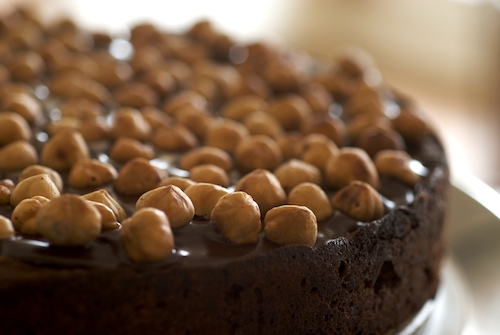 I made this Chocolate Hazelnut Cake a few years ago for Quinn's birthday. It's really amazingly delicious. Perhaps best of all, it's one of those magical cakes that's simple but looks quite impressive. If that doesn't sell you on it, then surely all that Nutella will.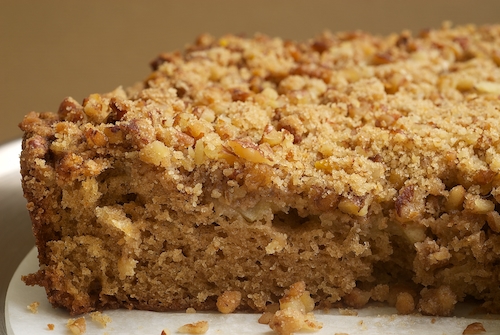 This Sour Cream Pear Cake with Pecan Streusel combines a few of my favorite things into one fantastic cake. Pears, pecans, cinnamon…. Oh, yeah.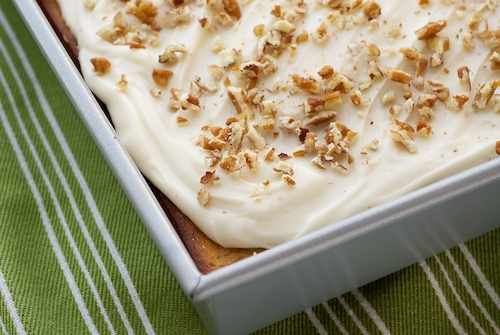 Over a year ago, I made this super quick, super easy Banana Cake with Cream Cheese Frosting. Thanks to Pinterest, it has taken on a life of its own. It continues to be a very popular recipe, although some of you wish it were more cake-like than banana-bread-like. As I mentioned when I made this cake, it is, without a doubt, a dense cake. It is absolutely delicious. And cream cheese frosting? I hardly ever pass up that stuff.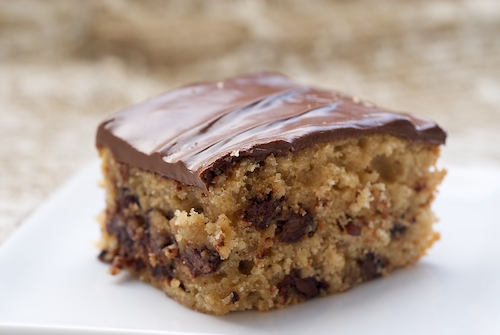 One of the simplest, quickest cakes on BoB is this Chocolate Chip Snack Cake. We all know how I love chocolate and pecans. With this cake, you can have all of that and more with ingredients you're likely to have on-hand.
For more great one-layer cakes, be sure to follow my One-Layer Cakes Pinterest board.