This has been a trying week in NYC. As surely everyone knows, Sandy paid an unwelcome visit earlier in the week and caused unbelievable damage to the area.
Thank you to everyone who inquired about us during and after the storm. We are incredibly fortunate to have come through unscathed. Our building was not damaged, and we never lost power. Others were not as fortunate.

We've only been able to see our own neighborhood first-hand, but the images of other areas are heartbreaking. If you don't live in the area and want to help, please donate, whether it's Red Cross or some other means.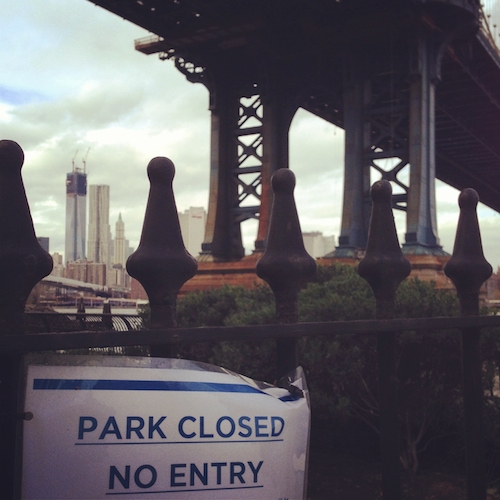 Our neighborhood fared well in some parts, and not as much in others. Some residents are still without power, and some buildings are continuing to have water pumped out of their basements. Several small businesses have suffered great losses as well.
A few of our favorite spots, like One Girl Cookies and powerHouse Arena, have started cleanup and preparations to re-open. If you want to help those businesses, you can donate here. And, once they re-open, go there and buy lots of things. I think everyone we know will be getting books and whoopie pies for Christmas.
We waited out Sandy at home. We were stocked up on food, water, flashlights, and anything else we thought we might need. Luckily, we just needed the food. I expended some nervous energy baking up a batch of cookie bars. These have many names, like Magic Bars and Hello Dollys (Hello Sandys?). For this batch, I made them using chocolate chips, toffee chips, and cashews. Quinn says they're his favorite version yet.
I'll get back to my normal Friday posts next week. Please continue to remember those affected by Sandy. If you can help by volunteering or donating, please do. Here is a list of ways to help. Thoughts, prayers, and general good vibes are appreciated, too.