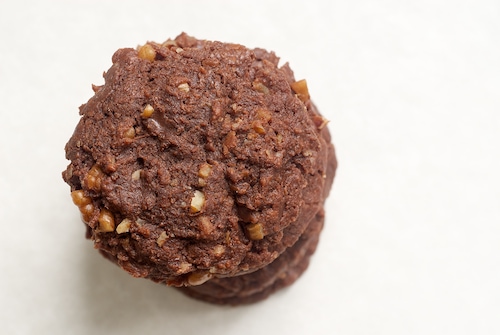 Earlier this month, one of my favorite food bloggers, Anna from Cookie Madness, had her first cookbook published. It's called The Daily Cookie and has a recipe for every day of the year.
There's a holiday or recognition day or an anniversary of some big thing every single day. Some have more than one. Anna took a fun approach in her book by finding appropriate cookies for days like National Cookie Day (December 4th) and the anniversary of the founding of ASPCA (April 10th).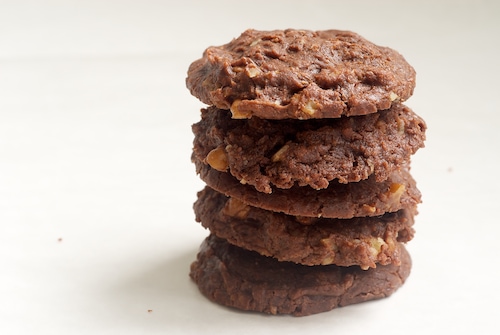 These cookies are for International Left Handers Day (August 13th, if you're keeping track). I am not left-handed, or I might have previously known that this day exists. In her book, Anna calls these Left-Handed Chocolate Cookies because they are so simple that you could make them using your opposite hand. She also mentions other aliases for these, and I picked my favorite (and Anna's) – Dulces.
The beauty of these cookies is that they can be made using only a saucepan and a spoon. The dough is combined on the stovetop and then scooped and baked in the oven. Cooking the condensed milk and brown sugar gives the cookies just a hint of caramel flavor combined with all of that chocolate and toasted pecans.
If you're a big chocolate fan, these are for you. They are over-the-top chocolate, and that's just fine with me any day.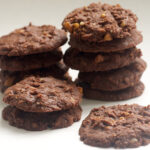 Ingredients
1/2 cup unsalted butter
2 cups (12 ounces) semisweet chocolate chips
1/4 cup firmly packed light brown sugar
14 ounces sweetened condensed milk
1 & 1/4 teaspoons vanilla extract
1 cup all-purpose flour
1/4 teaspoon salt*
1 cup toasted pecans, coarsely chopped
Instructions
Preheat oven to 350°. Line baking sheets with parchment paper or silicone liners.
Place butter in a 3-quart saucepan. Melt over medium heat. Reduce heat to low and add chocolate chips and brown sugar. Cook, stirring constantly, over medium-low heat until mixture is smooth. Stir in condensed milk until blended.
Remove from heat. Stir in vanilla, flour, and salt just until combined. Stir in pecans. Let sit for about 5 minutes, or until mixture is thick enough to scoop.
Drop dough by rounded teaspoonfuls and place about 2 inches apart on prepared baking sheets. Bake, one sheet at a time, for 10 minutes. The centers should still be slightly soft. Do not overbake.
Cool on baking sheets for 3 minutes. Then, transfer to wire racks to cool completely.
Notes
https://bakeorbreak.com/2012/11/dulces/
Copyright 2016 Bake or Break