Earlier this month, one of my favorite food bloggers, Anna from Cookie Madness, had her first cookbook published. It's called The Daily Cookie and has a recipe for every day of the year.
There's a holiday or recognition day or an anniversary of some big thing every single day. Some have more than one. Anna took a fun approach in her book by finding appropriate cookies for days like National Cookie Day (December 4th) and the anniversary of the founding of ASPCA (April 10th).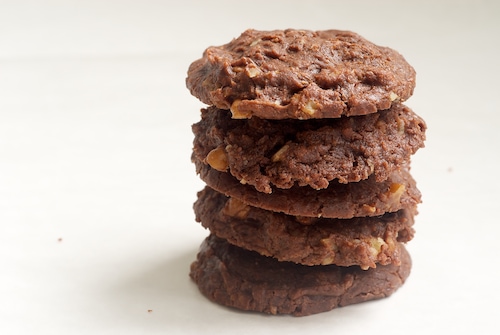 These cookies are for International Left Handers Day (August 13th, if you're keeping track). I am not left-handed, or I might have previously known that this day exists. In her book, Anna calls these Left-Handed Chocolate Cookies because they are so simple that you could make them using your opposite hand. She also mentions other aliases for these, and I picked my favorite (and Anna's) – Dulces.
The beauty of these cookies is that they can be made using only a saucepan and a spoon. The dough is combined on the stovetop and then scooped and baked in the oven. Cooking the condensed milk and brown sugar gives the cookies just a hint of caramel flavor combined with all of that chocolate and toasted pecans.
If you're a big chocolate fan, these are for you. They are over-the-top chocolate, and that's just fine with me any day.