October 31, 2012
German Chocolate Pecan Pie Bars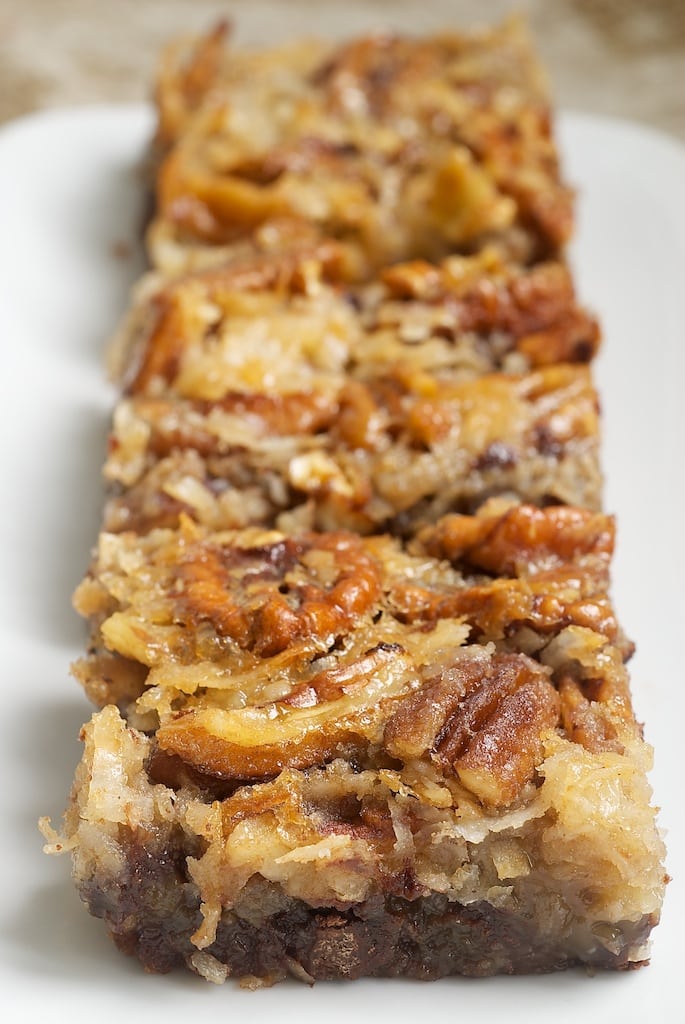 German chocolate cake is one of my childhood loves. My mother used to make it from a cake mix with store-bought frosting. And that was just fine with me.
Having an anti-coconut husband has limited my baking with coconuts over the last several years. In the spirit of "absence makes the heart grow fonder," I think I enjoy all that German chocolate-y goodness even more because I don't have it very often.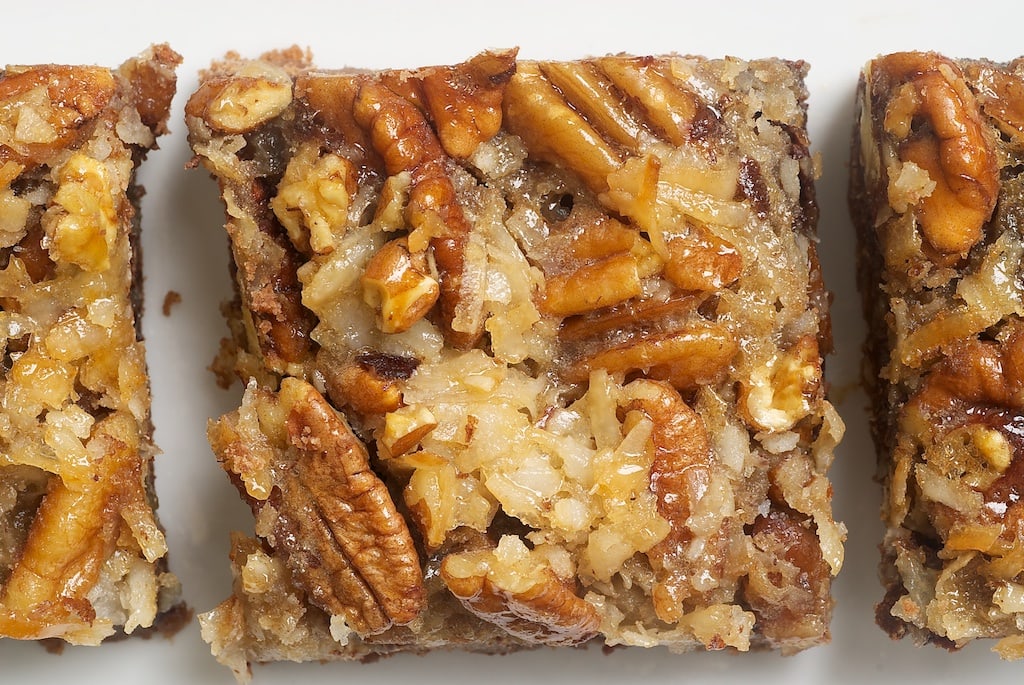 In this case, those nostalgic flavors are baked into pecan pie bars. If you've never made pecan pie bars, imagine those gooey filling and toasty pecans of pie fame filling a simple crust and baked in a big pan instead of a pie plate. Add to that a little cocoa in the crust, some melty chocolate on top of the crust, and stir in some coconut with the pecans. Now, we're talking!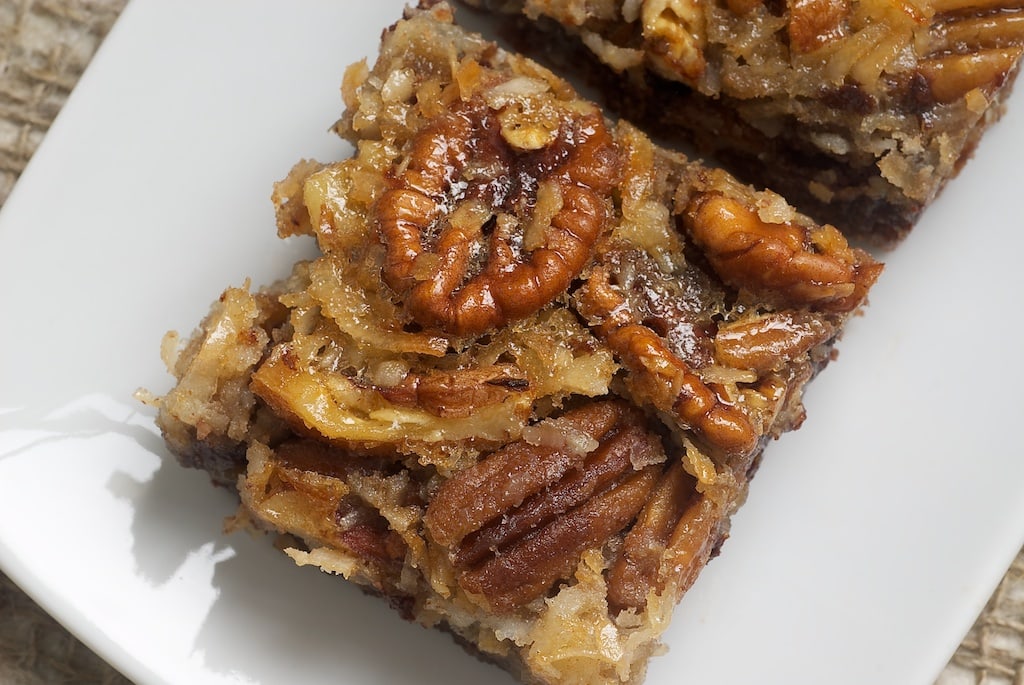 These are, without a doubt, the best pecan pie bars I've ever made. I am usually reluctant to throw out such accolades, but it is completely appropriate in this case. If you are a fan of German chocolate cake, then I think you'll love them, too. If you don't like coconut, you can just leave that out and add more pecans or maybe some chocolate chips.
Love pecans? See all of my pecan recipes by clicking here.
We are a participant in the Amazon Services LLC Associates Program, an affiliate advertising program designed to provide a means for us to earn fees by linking to Amazon.com and affiliated sites.
Recommended Equipment:
German Chocolate Pecan Pie Bars
Yield: 24 2-inch bars
Prep Time: 25 minutes
Cook Time: 59 minutes
German Chocolate Pecan Pie Bars are a wonderfully delicious combination of chocolate crust, more chocolate, coconut, and pecans. A great crowd pleaser!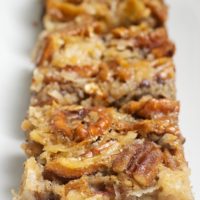 Ingredients:
3 cups pecan halves
1 & 3/4 cups all-purpose flour
3/4 cup confectioners' sugar
3/4 cup cold butter, cubed
1/4 cup unsweetened cocoa powder
1 & 1/2 cups semisweet chocolate chips
3 large eggs
3/4 cup firmly packed light brown sugar
3/4 cup light corn syrup
1/4 cup unsalted butter, melted
1 cup sweetened flaked coconut
Directions:
Preheat oven to 350°F.
Arrange pecans in a single layer of a shallow baking pan. Bake 8-10 minutes or until lightly toasted. Stir halfway through baking.
Line the bottom and sides of a 9″x 13″x 2″ baking pan with aluminum foil, leaving an overhang on two short sides. Grease foil.
Whisk together the flour, confectioners' sugar, and cocoa. Add the cold butter, and combine with a pastry blender* until the mixture resembles coarse meal. Press the mixture into the bottom and about 3/4-inch up sides of prepared pan.**
Bake the crust for 15 minutes. Remove from oven and immediately sprinkle chocolate chips evenly over crust. Allow to cool on a wire rack at least 30 minutes.
Place the eggs in a large mixing bowl, and beat lightly. Add the brown sugar, corn syrup, and melted butter. Whisk together until smooth. Stir in the coconut and pecans. Pour evenly over the partially baked crust.
Bake 28-34 minutes, or until the edges are golden and the filling has set. Cool completely on a wire rack. Then, refrigerate for an hour.
Using foil overhang, lift the bars from the pan and place on a cutting board. Use a sharp knife to cut into bars.
Notes:
*You can also mix crust ingredients in a food processor, but I prefer mixing this way.
**Shortbread crusts like this one can be a bit tricky. The mixture will not hold together on its own, but it should hold together when pinched. Be sure your ingredient measurements are accurate, and press the crust firmly into the bottom of the pan.