Cherry-Vanilla Yogurt Cake
I became very excited when cherries started appearing at our local markets a few weeks ago. It's exciting because, well, they're cherries! Also, the arrival of stone fruits mean that summer has peaked. (Come on, fall!) Anyway, I recently spotted some beautiful ones and snatched them up to bake as many things as I could imagine while I can.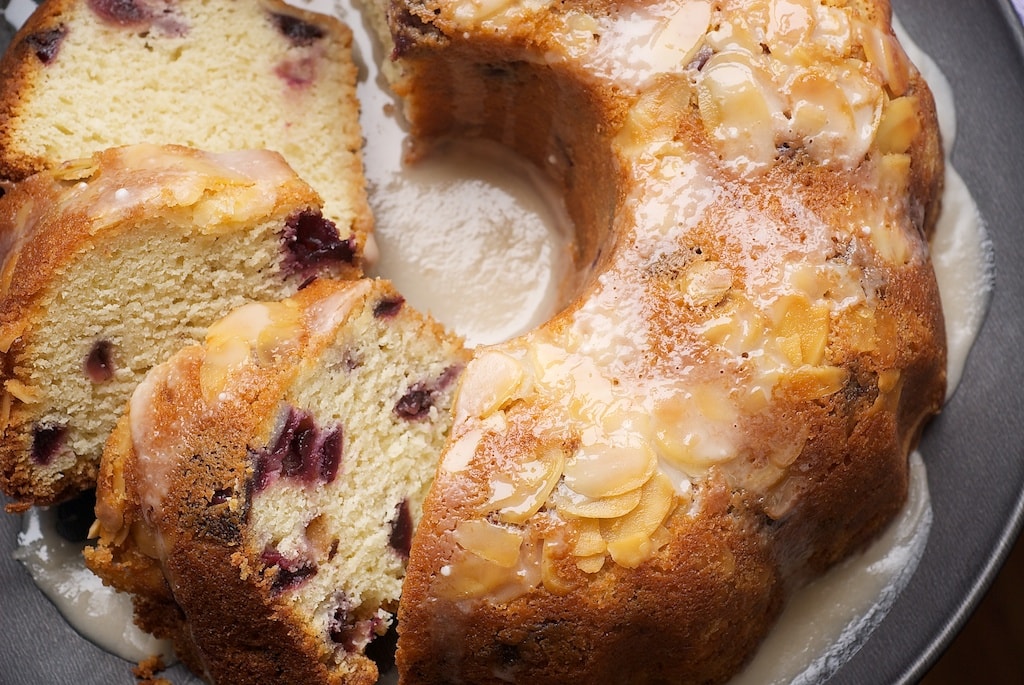 In late spring, a very dear friend of mine who had been busy using up a huge batch of strawberries sent me this recipe. I held onto it, thinking I would make it this summer. But, when I was debating how best to enjoy my recent cherries acquisition (and my new cherry pitter!), I thought of this recipe and decided to adapt it to make the most of those fresh cherries.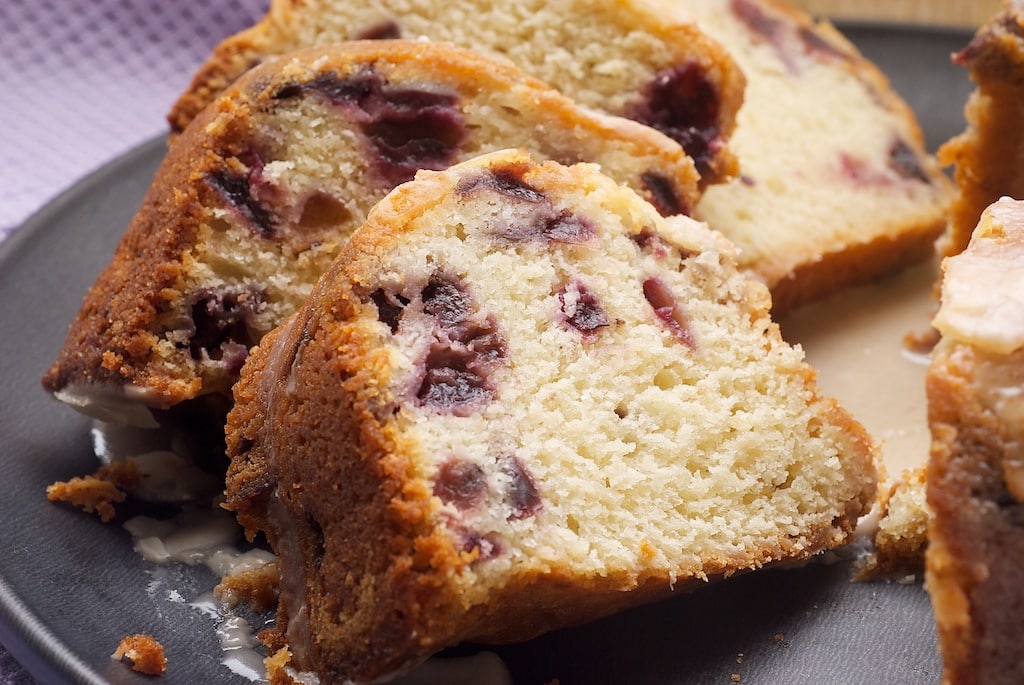 My first thought was to ply this cake with serious quantities of vanilla. Cherries and vanilla are just lovely together, aren't they? For a little more interest, I decided to add a sweet almond topping as well.
The result is a beautifully moist, flavorful cake that is one of my favorite new recipes of the summer. Just remember that cherry season won't last long. Make it while you can!
Cherry-Vanilla Yogurt Cake
Yield: 12-16 servings
Prep Time:25 minutes
Cook Time:60 minutes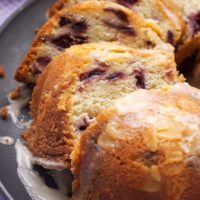 Ingredients:
For the cake:
2 & 1/2 cups all-purpose flour, divided
1/2 teaspoon baking soda
1/2 teaspoon salt
1 cup unsalted butter, softened
2 cups granulated sugar
3 large eggs
1 tablespoon vanilla extract
8 ounces plain or vanilla Greek yogurt
10-12 ounces cherries, pitted and diced
For the topping:
1/2 cup slivered or sliced almonds
2 teaspoons granulated sugar
1 tablespoon unsalted butter, melted
For the glaze:
1 cup confectioners' sugar
1/2 teaspoon vanilla extract
2 tablespoons milk
Directions:
Preheat oven to 325°. Generously grease a 10-12 cup Bundt pan.
Whisk together 2 & 1/4 cups flour, baking soda, and salt. Set aside.
Using an electric mixer on medium speed, beat butter and sugar until light and fluffy. Add eggs, one at a time, mixing well after each addition. Mix in vanilla.
Gradually add flour mixture, alternating with yogurt. Mix just until blended.
Toss cherries with remaining 1/4 cup flour. Stir cherries gently into batter.
In a small bowl, stir together topping ingredients. Scatter mixture evenly into bottom of prepared pan.
Pour cake batter into prepared pan, spreading evenly. Bake 60 minutes, or until a pick inserted into the center of cake comes out clean.
Cool cake in pan for 15-20 minutes. Then, transfer cake to wire rack to cool completely.
Mix together glaze ingredients, stirring until smooth. Drizzle glaze over top of cooled cake.