Pecan Upside-Down Cake
As soon as I saw this recipe in Taste of the South, I knew that it would make an appearance on this year's Thanksgiving table. It has two big things going for it – pecans and simplicity.

Don't let this one catch you off guard. This little cake packs a lot of punch. The caramel topping really takes this simple cake and turns it into something fantastically delicious. It somehow manages to be simple and complex at the same time. I really liked this cake so much more than I had anticipated. And, trust me, I was pretty sure it was going to be good.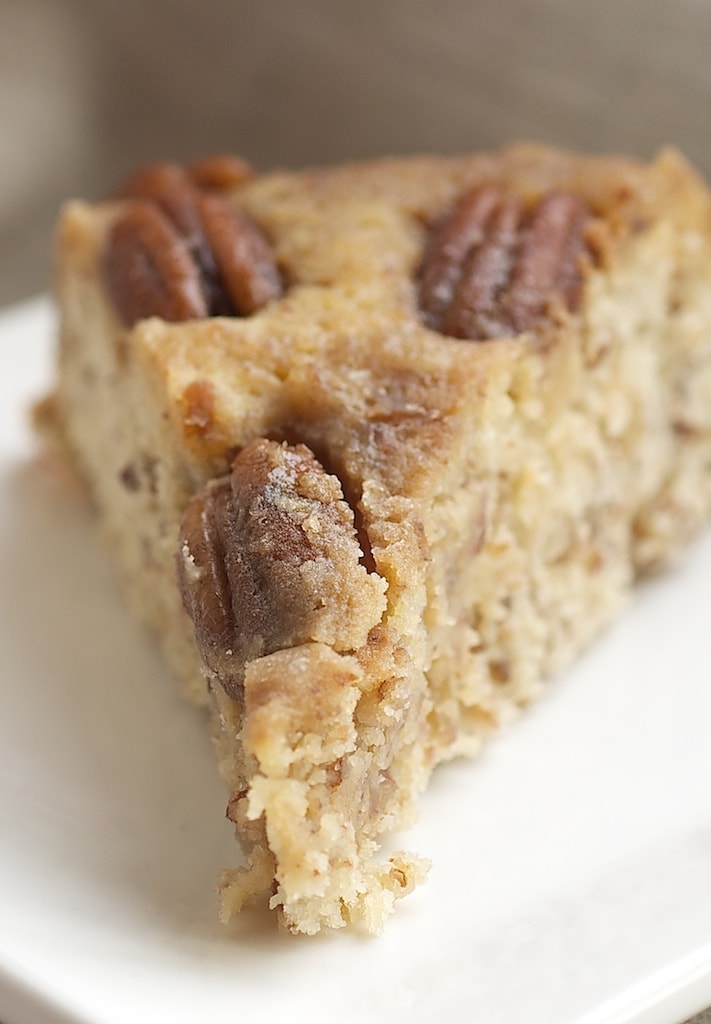 I confess that the original recipe also had a recipe for a brown sugar brandy sauce to serve with the cake. I did make it and included it in the cake recipe here. But, I like the cake better without the sauce. It has plenty of pecan and caramel goodness on its own.
Pecan Upside-Down Cake
Prep Time:30 minutes
Cook Time:48 minutes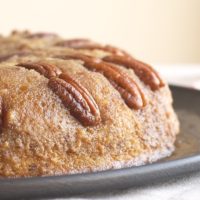 Ingredients:
For the cake:
1/2 cup unsalted butter, softened
1 cup granulated sugar
3 large eggs
1/2 teaspoon vanilla extract
1 & 1/2 cups cake flour
1 teaspoon baking powder
1/4 teaspoon salt
1/2 cup + 2 tablespoons buttermilk
1 cup chopped pecans
1/4 cup unsalted butter, melted
1 cup firmly packed light brown sugar
1/4 cup heavy whipping cream
1 cup pecan halves
For the Brown Sugar Brandy Sauce:
3 tablespoons unsalted butter
2 cups firmly packed light brown sugar
1/4 cup brandy
1/4 cup heavy whipping cream
Directions:
To make the cake:
Preheat oven to 350°.
Beat softened butter at medium speed with an electric mixer until creamy. Gradually add sugar and beat until fluffy. Add eggs, one at a time, and beat well after each. Mix in vanilla.
In a separate bowl, combine flour, baking powder, and salt. Sift mixture twice.
Add flour mixture to butter mixture, alternating with buttermilk. Begin and end with flour mixture. Fold in chopped pecans.
Combine melted butter and brown sugar. Add cream and stir until smooth.
Pour butter/brown sugar mixture into bottom of 9-inch round cake pan. Arrange pecan halves in butter/brown sugar mixture. Spoon cake batter over pecan halves.
Bake 40-45 minutes, or until a wooden pick inserted in the center comes out clean. Run a knife around the edges of the pan to loosed cake. Turn cake onto serving dish immediately. Serve with Brown Sugar Brandy Sauce, if desired.
To make the sauce:
Melt butter over medium heat in a saucepan. Add brown sugar and whisk to combine. Add brandy and whisk to combine. Add cream and whisk until smooth.
Cook, whisking frequently, 2-3 minutes or until sauce is heated through.
Sauce can be made ahead and refrigerated. Reheat in the microwave for serving.