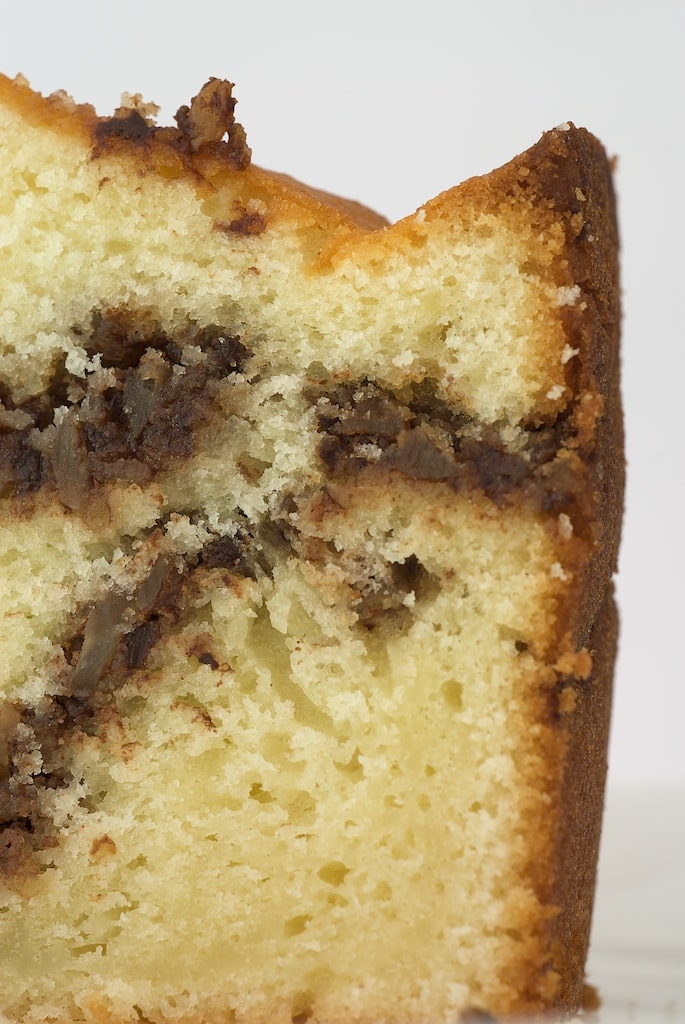 Now, that is a title. In this case, I really think you need every bit of it to convey all of the delicious components. It's not just a coffee cake. Not even close.

I gravitate toward the simpler recipes. As much as I love to bake, I don't really want to spend hours on end doing it. My first reaction after reading through this recipe was that it sounded like it was far too involved for a coffee cake. You'll use many, many bowls and measuring cups, not to mention using just about every electric appliance in your kitchen. Rest assured that it is not difficult to make. It is a bit more time-consuming, but I do believe it is worth every minute.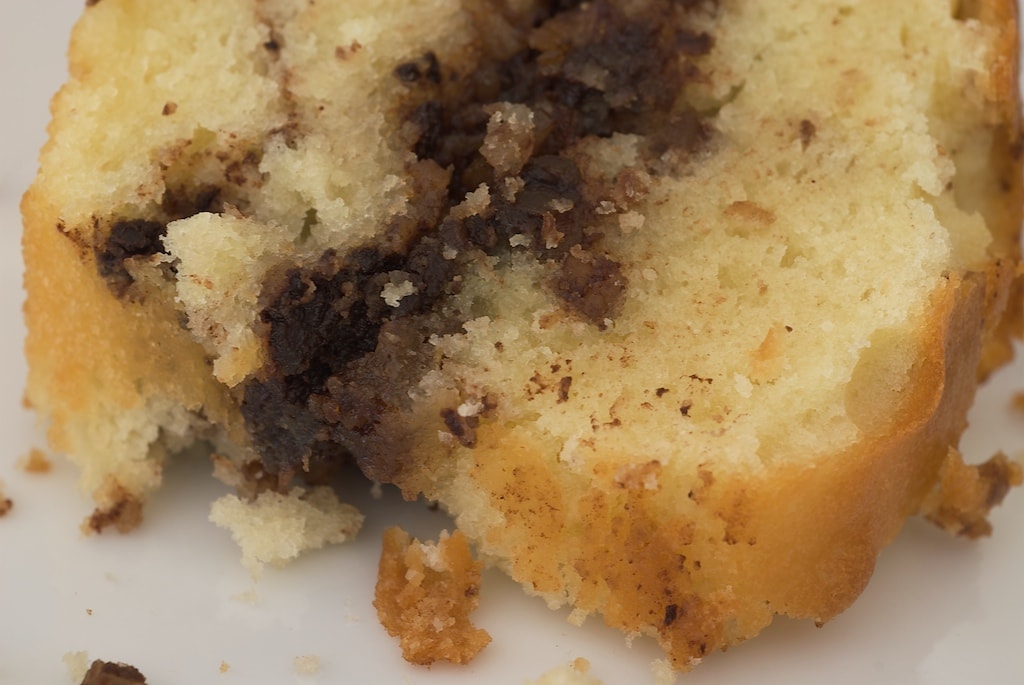 This recipe is from Carole Walter's Great Coffee Cakes, Sticky Buns, Muffins & More. For those of you who like these kinds of baked goods, I think this cookbook is a must have. This is my first recipe to try from this book, and, judging by all the tabs sticking out of it, I am sure it will not be my last.
This is one of the very best coffee cakes I've ever had. Of course, I'm a huge fan of chocolate and pecans. Plus, it doesn't hurt to add in some cinnamon, too. Combine a few of my favorite things, incorporate them into a wonderfully delicious cake, and I couldn't be happier.
Yield: 16 servings
Prep Time: 25 minutes
Cook Time: 1 hour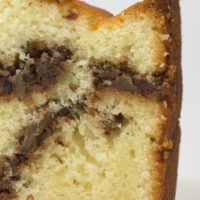 For the chocolate mixture:
2 ounces bittersweet chocolate
1 cup pecans
1/4 cup granulated sugar
3 tablespoons light brown sugar
1 teaspoon ground cinnamon
For the cake:
1 & 1/4 cups sour cream
1/2 teaspoon baking soda
2 & 1/2 cups sifted all-purpose flour
1 & 1/2 teaspoons baking powder
1/2 teaspoon salt
3/4 cup unsalted butter, slightly firm
1 & 1/4 cups superfine sugar, divided into 1 cup and 1/4 cup
4 large eggs, separated
1 & 1/2 teaspoons vanilla extract
1/4 cup milk
Directions:
To make the chocolate mixture:
Break chocolate into 1-inch pieces. Place in the bowl of a food processor, and pulse until chocolate is finely chopped.
Add nuts, sugars, and cinnamon. Pulse until nuts are finely chopped.
To make the cake:
Preheat oven to 350°. Butter a 10-inch Bundt pan and dust with flour, shaking out the excess.
Stir together sour cream and baking soda in a small bowl. Set aside.
Whisk together flour, baking powder, and salt in a large bowl. Set aside.
Cut butter into 1-inch pieces. Mix on medium speed with an electric mixer for about 2 minutes. Add 1 cup of sugar, 1-2 tablespoons at a time, taking 4-6 minutes. Add egg yolks, two at a time, and beat for 30 seconds after each addition. Mix in vanilla.
Stir the milk into the sour cream mixture. Reduce mixer speed to low. Alternate adding the flour mixture (in 3 parts) and the sour cream mixture (in 2 parts), mixing just until blended after each addition.
In another bowl, beat egg whites on medium speed until frothy. Increase mixer speed to medium-high, and whip until soft peaks form. Add remaining 1/4 cup sugar, a tablespoon at a time, taking about 15 seconds. Beat for another 15 seconds.
Fold one-third of the egg whites into the batter, taking about 20 turns. Then, fold in remaining whites, taking about 40 more turns.
Spoon about one-third of batter into prepared pan. Sprinkle about one-third of the chocolate mixture evenly over the batter. Cover with half of remaining batter, and smooth evenly without disturbing the chocolate layer. Sprinkle with remaining chocolate mixture. Cover with remaining batter. Marbleize batter using a table knife cutting almost to the bottom of the pan.
Bake for 50-60 minutes, until top is golden brown and springy to the touch. A toothpick inserted in the center should come out clean. Cool on a wire rack for 20 minutes. Cover with a wire rack, invert the cake, and lift off the pan.
Store in an airtight container for 5 days. May be frozen.