March 30, 2008
Chocolate-Glazed Hazelnut Mousse Cake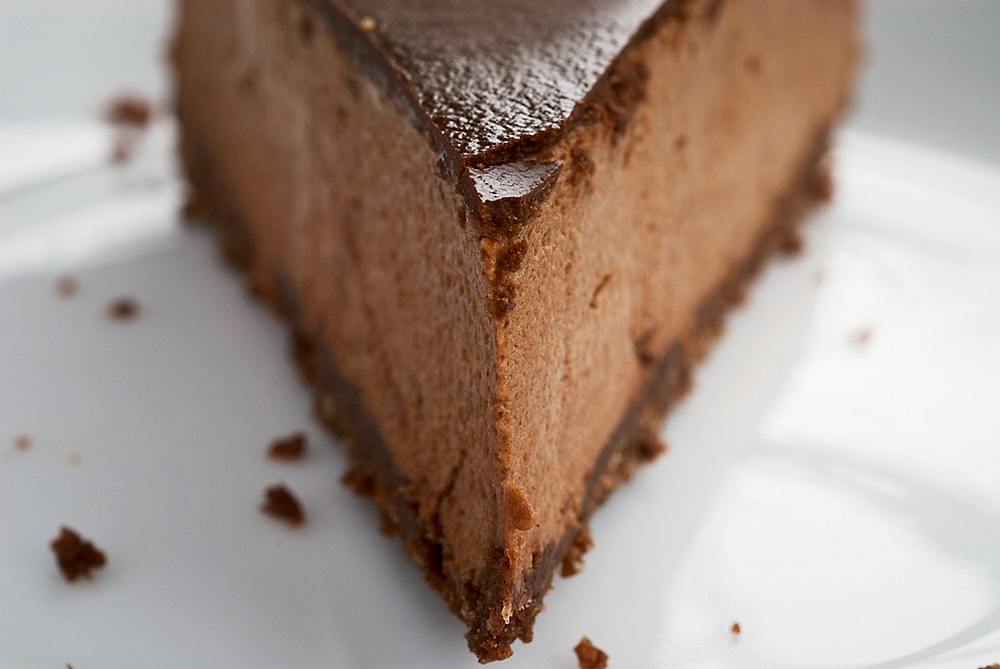 Quinn's birthday has lasted all month. Seriously. It started at the first of the month when, after months of waiting out the high-def war, he got a Blu-ray player. Then, we spent a week in New York. Granted, he was there for a conference, but it's New York. And, he got to pick out a new laptop bag at Jack Spade. We got back home the night before his birthday. The next night, we went to one of our favorite semi-local restaurants, and he got another present. Then, this weekend we had the family over for dinner and more presents.
And this cake. I let him pick out his birthday dessert every year. Last year's tiramisu cake was delicious, but sort of a pain to make (and keep together). This year, he picked a dessert featuring one of my favorite combinations – chocolate and hazelnuts.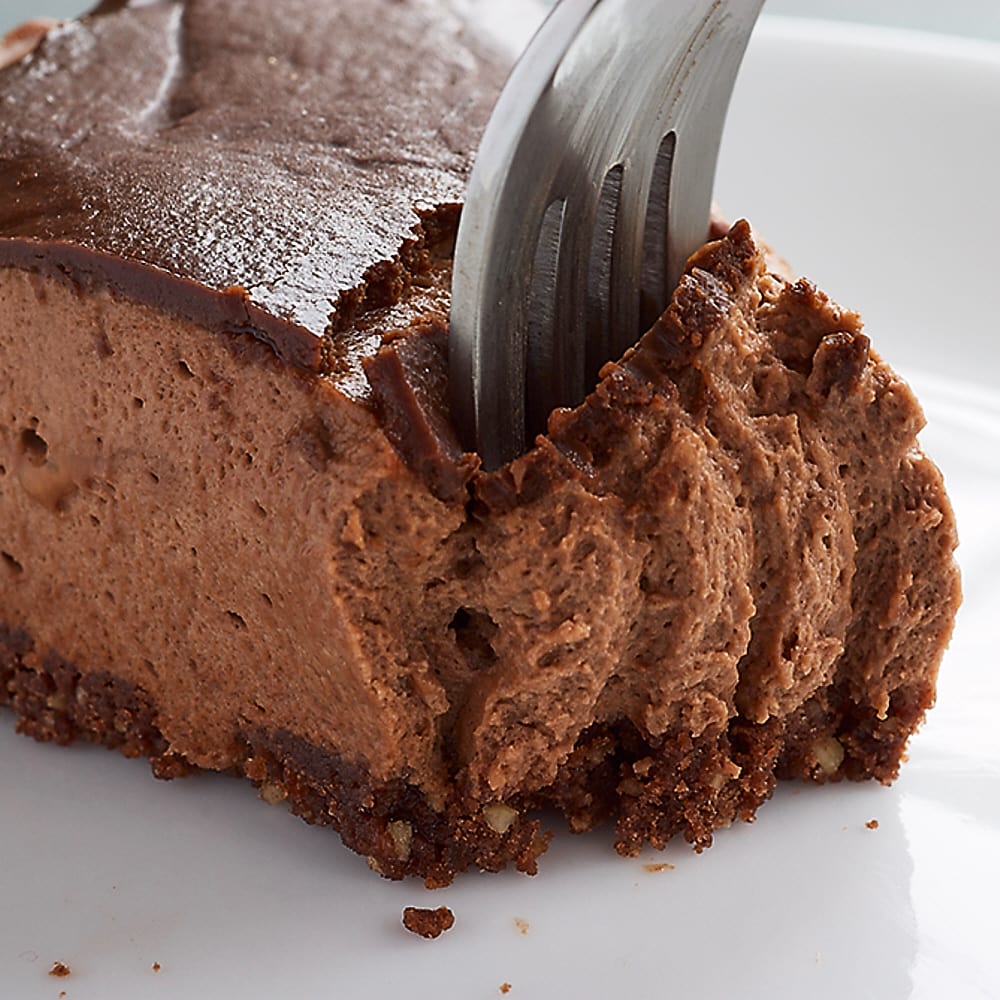 The only baking involved is with the crust. It is a simple yet delicious chocolate hazelnut shortbread. I think we could have just served the crust and been happy. But, I kept going with the rest of the recipe. I made everything but the ganache the night before and kept the cake in the refrigerator. The glaze was quick and easy, which was great considering everything else I was cooking for our meal.
There really aren't adequate words for how much we liked this cake. I've already said how delicious the crust is. The chocolate mousse component was rich and creamy. The Nutella added just enough of a twist to the chocolate to give it a little extra interest. The ganache was just rich enough to perfectly complement the other chocolates.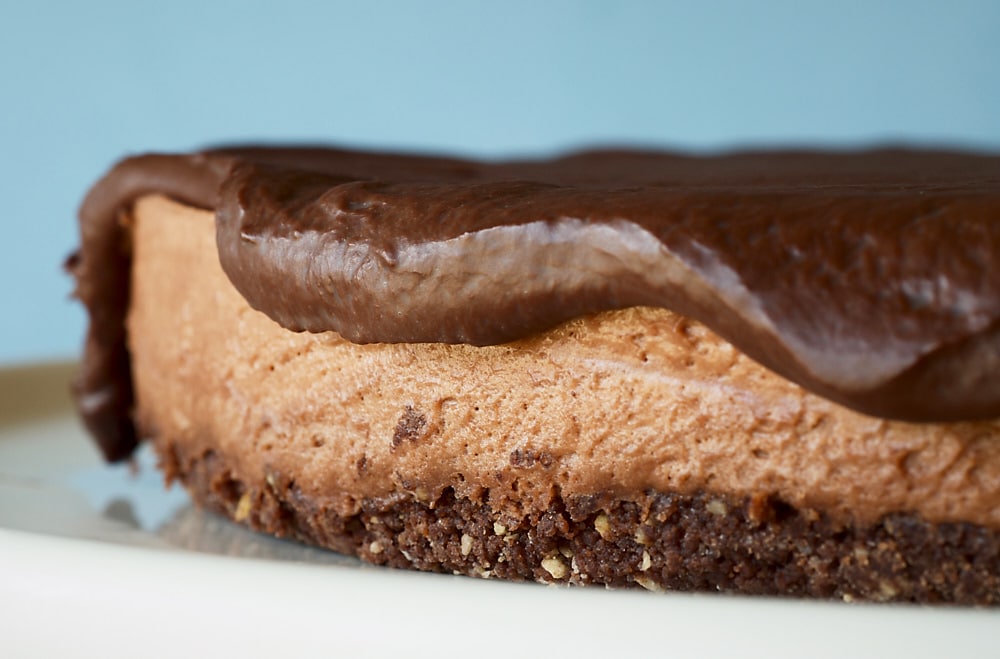 Everyone loved this cake. There was hardly any left over. In fact, we had to put a few pieces away quickly – for photography purposes only, of course. After the photo shoot, well, we couldn't let it go to waste, now could we?
Chocolate-Glazed Hazelnut Mousse Cake
Yield: 8-10 servings
Prep Time: 45 minutes
Cook Time: 30 minutes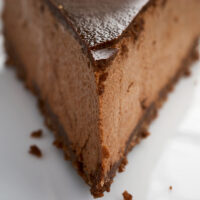 Ingredients:
For the crust:
2 tablespoons hazelnuts, toasted and skins rubbed off
3 tablespoons granulated sugar
1/2 cup all-purpose flour
1/4 cup unsalted butter, softened
2 tablespoons unsweetened Dutch-process cocoa powder
1/8 teaspoon salt
For the mousse:
3 tablespoons cold water
1 teaspoon unflavored gelatin (from a 1/4-oz envelope)
1/2 cup (5 oz) Nutella
1/2 cup mascarpone
1 & 1/2 cups chilled heavy cream
2 tablespoons unsweetened Dutch-process cocoa powder
3 tablespoons granulated sugar
For the ganache:
1/4 cup plus 1 tablespoon heavy cream
3.5 oz fine-quality bittersweet chocolate, chopped
Directions:
To make the crust:
Preheat oven to 350°. Invert bottom portion of an 8-inch springform pan and line with parchment paper. Reattach sides of springform pan.
Process hazelnuts and sugar in food processor until finely chopped. Add flour, butter, cocoa powder, and salt. Pulse just until dough forms.
Press dough evenly into bottom of prepared pan. Using a fork, poke holes over surface of dough. Bake 18-20 minutes, or until dry to the touch (Careful! It will be hot!) Cool completely (about 30 minutes). Remove sides of pan and carefully slide parchment paper from underneath the crust. Reattach sides.
To make the mousse:
Place water in a 1 – 1 & 1/2 quart sauce pan. Sprinkle gelatin over water. Let stand about 5 minutes, or until softened.
Heat over low heat, stirring constantly, just until gelatin has dissolved (about 2 minutes). Whisk in Nutella until combined. Remove from heat.
In a large bowl, whisk mascarpone and Nutella mixture. In a separate bowl, beat cream, cocoa powder, and sugar with an electric mixer on low speed. Beat just until combined. Then, increase speed to high and beat until stiff peaks form.
Whisk 1/3 of whipped cream into mascarpone mixture to lighten. Then, gently fold in remaining whipped cream. Spoon filling evenly on top of crust, and smooth crust. Refrigerate at least 3 hours.
To make the ganache:
Place cream in a small heavy saucepan and bring to a simmer. Remove from heat. Add chocolate and let stand for 1 minute. Whisk gently until chocolate has melted and mixture is smooth. Transfer to a small bowl to cool. Stir occasionally, until slightly thickened but pourable (about 20 minutes).
Run a warm knife between the cake and pan. Remove sides of pan. Transfer cake to serving plate. pour ganache over cake. Spread, allowing excess to run over sides of cake.
Notes:
Unglazed cake can be covered and chilled up to 2 days. Cake can be glazed 6 hours ahead and chilled, uncovered.