January 7, 2008
Cinnamon-Apple Scones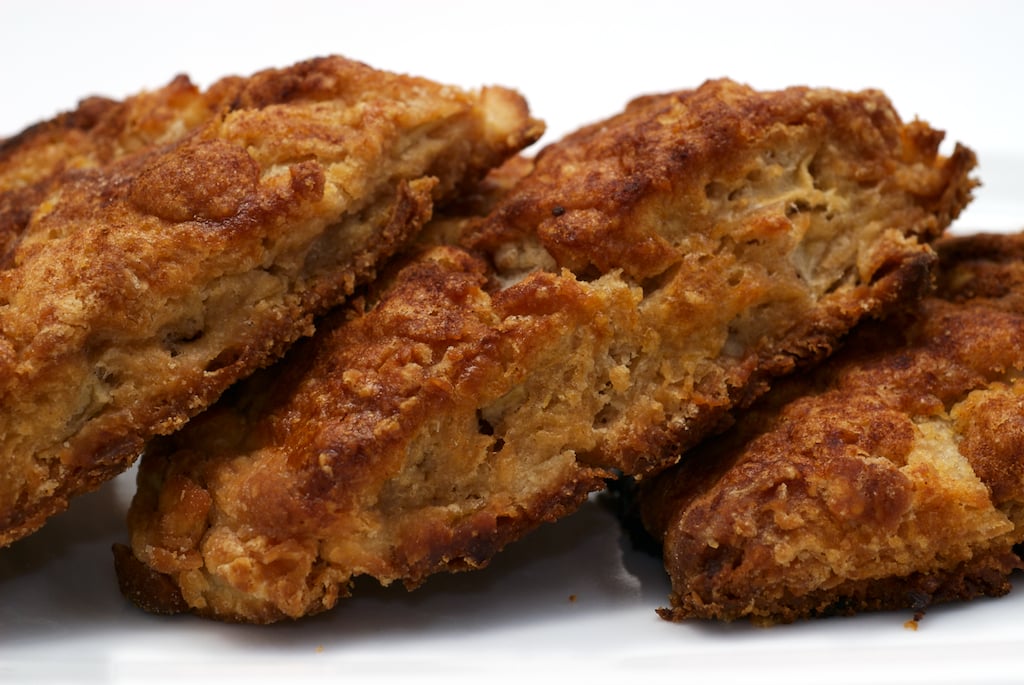 The last time we visited our friends in North Carolina, Tonya and I visited Foster's Market for lunch. Our lunch was fantastic, and the market offered so many delicious looking items that I wanted to take them all home and give them a try. While Tonya was here visiting family last week, she brought me a basket packed full of goodies from the market (as well as a few from another of my North Carolina favorites, A Southern Season) plus a copy of The Foster's Market Cookbook.

Considering how good everything looked in the market, figuring out what to make first was tough. I decided to make a little weekend breakfast treat for me and Quinn. Sara Foster's scones recipe suggests many variations, such as mixed berry, pear-almond, and pecan-praline. They all sounded delicious. I let Quinn pick, and he chose the cinnamon-apple variety.
These scones are a great way to start a lazy, weekend morning. They are warm, dense, and very delicious. And, of course, apples and cinnamon are always a winning combination for me. Next time, though, I'm thinking that I'll be forced to make the pecan-praline variety.
For those of you not in the Durham area, Foster's Market offers an online market, as well. I highly recommend the Seven Pepper Jelly.
Cinnamon-Apple Scones
Prep Time:25 minutes
Cook Time:30 minutes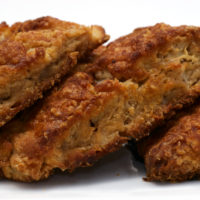 Ingredients:
4 & 1/2 cups all-purpose flour
1/2 cup granulated sugar
2 teaspoons baking powder
1/2 teaspoon baking soda
1/2 teaspoon salt
1 & 1/2 cups (3 sticks) cold unsalted butter, cut into 1/4-inch pieces
1 & 1/4 cups plus 2 tablespoons buttermilk
1 tablespoon ground cinnamon
2 cups peeled, chopped Granny Smith apples
1 large egg, beaten
2 tablespoons milk
cinnamon sugar (1/2 cup granulated sugar + 2 tablespoons ground cinnamon)
Directions:
Preheat oven to 400°. Line or lightly grease 2 baking sheets and set aside.
In a large bowl, combine flour, sugar, baking powder, baking soda, and salt. Cut in the butter with a pastry blender until the mixture resembles coarse meal. (Alternately, use a food processor with a metal blade to cut in the butter.) Stir in cinnamon and chopped apples. Do not overwork the dough.
Add 1 & 1/4 cups of buttermilk. Mix until combined and the dough begins to stick together. Add remaining buttermilk if dough is too dry.
Turn the dough out onto a lightly floured work surface. Roll or pat dough into two 6-inch rounds about 1 & 1/2 inches thick. Cut each round in half, then cut each half into 3 triangles. Place on baking sheets.
Mix together beaten egg and milk. Brush the tops of the triangles with egg wash. Then, sprinkle with cinnamon sugar. Bake 25 to 30 minutes, or until golden brown and firm to the touch. Serve immediately.