December 22, 2007
Chocolate-Pistachio Wreaths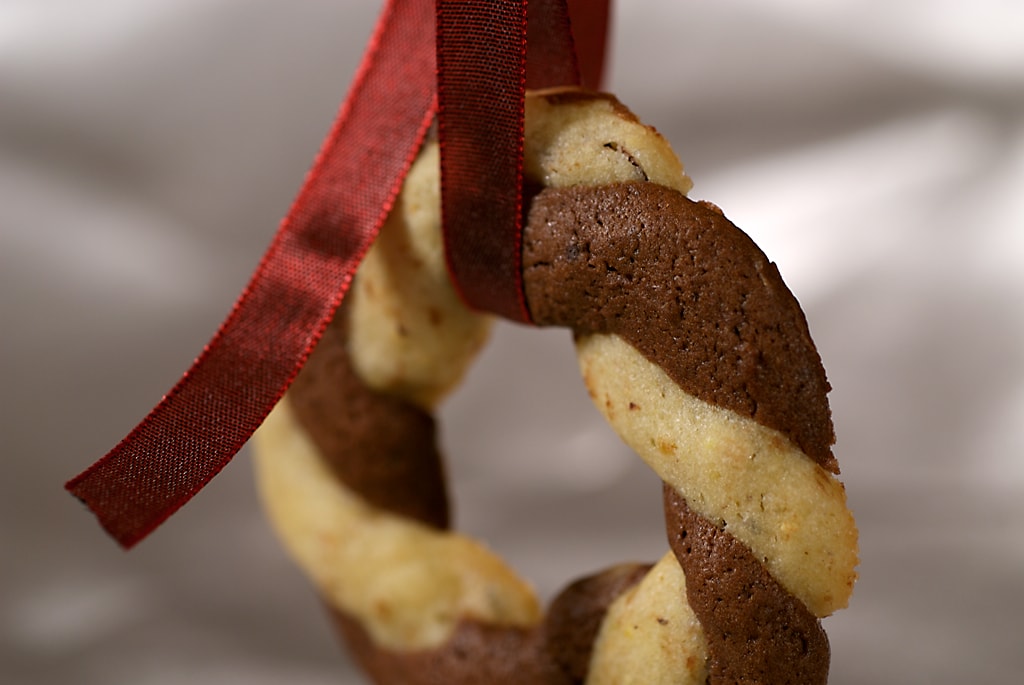 I made the mistake of showing Quinn this recipe that showed a beautiful finished photograph of black and white cookie wreaths garnished with piped red frosting berries. I've mentioned before that he is quite ambitious in my baking. After several days of pleading, I finally caved and made the cookies.

To say that the cookies didn't turn out as well as I'd hoped would be an understatement. The pistachio dough was fine, but the chocolate dough was not cooperative. It spent time in both the refrigerator and the freezer, but it just wasn't up to task. Quinn was victorious in getting a few wreaths made before he gave up.
The cookies themselves are actually pretty good. I decided to salvage what I could and bake them in non-wreath form. Of course, by this time I was so discouraged that there was no pleasing me.
I suppose there is something to be said for having my first baking-related failure of the holiday season not happen until three days before Christmas. I'll focus on that. Then, tomorrow, it's back to baking as I start preparing for Christmas Eve.
Chocolate-Pistachio Wreaths
Yield: 12 cookies
Prep Time:30 minutes
Cook Time:10 minutes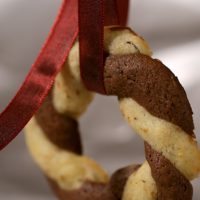 Ingredients:
3/4 cup unsalted butter, softened
3/4 cup granulated sugar
1/4 teaspoon baking powder
1 large egg
1 teaspoon vanilla extract
1 & 3/4 cup all-purpose flour
1/4 cup finely chopped pistachios
1/4 teaspoon almond extract
3 tablespoons unsweetened cocoa powder
2 tablespoons milk
Directions:
Using an electric mixer, beat butter on medium speed until creamy. Add sugar and baking powder, beating until smooth. Add egg and vanilla, and mix well.
Gradually add flour, and mix unitl smooth.
Divide dough in half. To half of the dough, add pistachios and almond extract. Mix well. To the other half of the dough, add cocoa powder and milk. Cover doughs and chill for at least 30 minutes.
Preheat oven to 375°.
Lightly flour work surface. Roll each dough into a 12-inch long log. Cut each log into 24 pieces, about 1/2-inch in size. Roll each piece into a 6-inch rope. Place a rope of each dough beside each other. Twist together 5-6 times. Shape twisted dough into a circle and gently pinch ends together.
Place cookies about 2 inches apart on an ungreased baking sheet. Bake for 8-10 minutes or until edges are light brown.
Cool on baking sheet for a minute. Then, transfer to wire racks to cool completely.
Notes:
For optional icing, mix 1/2 cup sifted confectioners' sugar and 1-2 teaspoons milk. Add red food coloring to desired shade. Pipe berry clusters on each cookie wreath.