October 21, 2007
Pecan Crusted Apple-Pear Crisp with Tuaca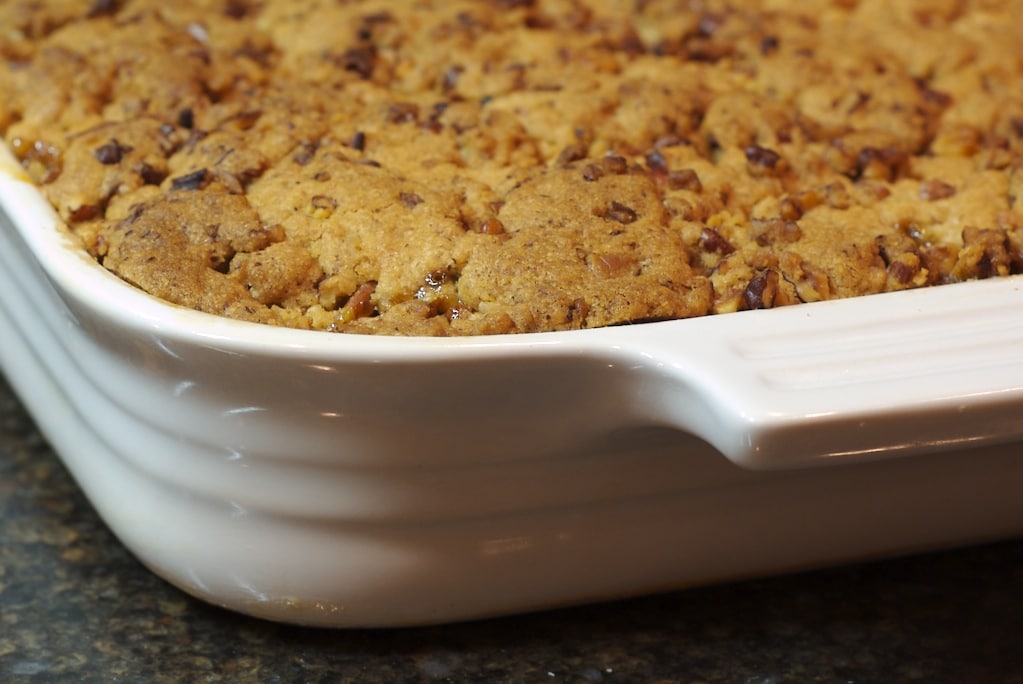 For the latest installment of Sugar High Friday, hosted this time around by Spittoon Extra the theme is Drunken Apples. I was intrigued by the possible combinations. My first thought was of Tuaca, a lovely citrus-vanilla liqueur, to which I was first introduced when Quinn & I had known each other about six weeks. Quinn brought a bottle to a New Years Eve party we were both attending.
So, back to baking. I went in search of a recipe combining apples and Tuaca and finally found this recipe at Epicurious. There is Tuaca, as well as white wine. Granted, there are pears as well as apples, but I actually used three apples and two pears. I must tell you that the crumb topping is so good that I could have just eaten it on its own, unbaked. Seriously, that good.
I will make one recommendation for baking this crisp. Place a baking sheet lined with parchment paper under your baking pan. I had a good bit of overflow during baking and was very glad I had taken the precaution.
As for the finished product, it is beyond good. The topping is a bit crunchy, almost like a cookie. The liqueur adds a lovely hint of citrus that compliments the vanilla and cinnamon very well. And, of course, my favorite – pecans – add a nice crunch. Quinn says he is now ruined for all other fruit crisps, and he has definitely made amends with Tuaca.
Pecan Crusted Apple-Pear Crisp with Tuaca
Prep Time:25 minutes
Cook Time:1 hour 5 minutes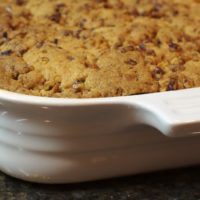 Ingredients:
For the filling:
2 tablespoons unsalted butter, cut into small pieces
3 medium sized firm, ripe pears, peeled, cored, cut into 1/2-inch pieces
3 medium sized apples, peeled, cored, cut into 1/2-inch pieces
1/4 cup packed light brown sugar
2 tablespoons granulated sugar
1/2 vanilla bean, split lengthwise in half
6 tablespoons Tuaca liqueur
1/4 c. dry white wine, such as sauvignon blanc
For the topping:
2 & 1/3 cups all-purpose flour
3/4 cup packed dark brown sugar
1/4 cup granulated sugar
1/4 teaspoon ground cinnamon
1/4 teaspoon salt
1 cup unsalted butter at room temperature, cut into pieces
1 & 1/3 cups pecans, chopped
Directions:
To make the filling:
Lightly butter a 9-inch square baking dish.
Mix butter, pears, and apples. Place in prepared pan.
Combine brown sugar, sugar, vanilla bean, Tuaca, and wine in a saucepan. Simmer mixture 5 minutes, or until it thickens. Pour over fruit mixture.
To make the topping:
Preheat oven to 375°.
Combine flour, brown sugar, sugar, cinnamon, and salt in a food processor. Add butter 1/4 cup at a time while pulsing mixture. Mix until large clumps form. Transfer to a mixing bowl. Stir in pecans.
Spread topping over fruit mixture. Bake for 1 hour, or until crust is golden brown. Cool slightly before serving.