October 17, 2007
Jalapeño Focaccia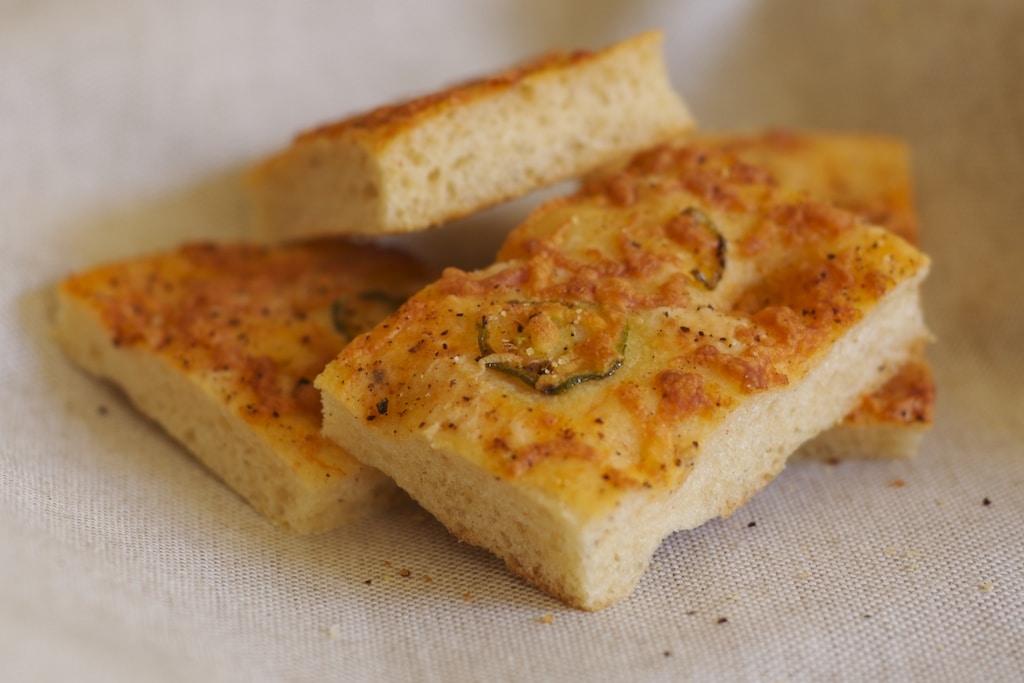 For years, I have been anti-bread-machine. From my knowledge of them, I thought they were a cop-out way of making bread. However, thanks to one of my culinary heroes, Alton Brown, I have come to realize that bread machines are quite handy for kneading and proofing dough. So, in light of my recent change of heart, I received a most beautiful bread machine for my birthday.
I'm still in the stage of only making the recipes included in the instruction manual. I will be brave and branch out soon, but I'm still trying to get my bread-legs steady. I can, however, augment those recipes, and that is how we ended up with this beautiful jalapeño focaccia to compliment our chili we made last weekend.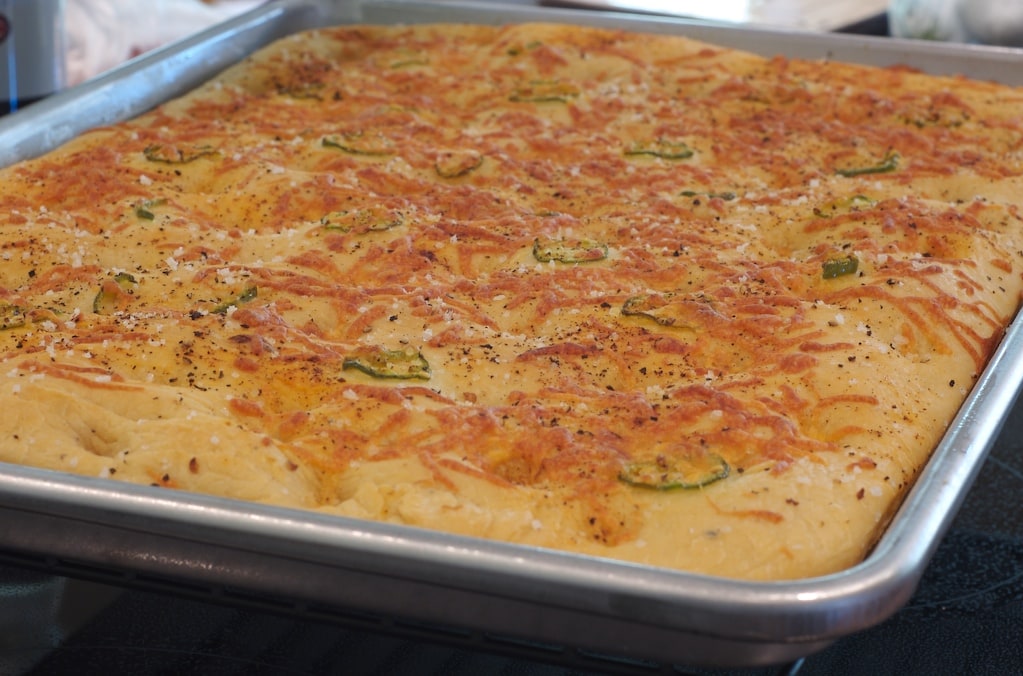 I must say that I may officially be spoiled to this little appliance. It does all the hard, temperamental parts of bread making for you. I've never been a big fan of those parts. For this bread, it combines the ingredients and kneads them into a lovely dough. Then, the proofing is done inside the machine at precisely the correct temperature. After that, all you need to do is roll it out and bake it.
We loved this spicy focaccia, and we plan on making it again and again with many variations. As for the bread machine, it definitely has my seal of approval.
Find more yeast bread recipes in the Recipe Index.
This post contains affiliate links. If you make a purchase through one of the links, I'll receive a
small commission at no additional cost to you.
Jalapeno Focaccia
Prep Time:15 minutes
Cook Time:15 minutes
This spicy, cheesy Jalapeño Focaccia is great with a meal or just for a savory snack.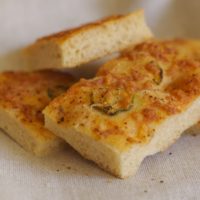 Ingredients:
For the bread:
1 & 1/8 cups water, 80-90 degrees
2 tablespoons + 1 teaspoon extra virgin olive oil
1/2 tablespoon chili powder
1/2 tablespoon ground black pepper
1 tablespoon red pepper flakes
1 & 1/2 teaspoons salt
3 cups + 3 tablespoons bread flour
1 & 1/2 teaspoons active dry yeast
For the topping:
extra virgin olive oil, for pan and for drizzling
cornmeal, for dusting
3/4 teaspoon coarse salt
chili powder, to taste
fresh ground pepper, to taste
1/4 – 1/2 cup (or to taste) shredded cheese (We used a Mexican blend)
1 jalapeno, sliced (& seeded, if you like)
Directions:
To make the bread:
Attach the kneading paddle to the bread pan. Place all ingredients, in order, in the bread pan, and place the pan in bread machine.
Select Dough/Pizza Dough. Select medium size. Press start to begin mixing, kneading, and rising.
When the cycle is finished, remove the dough from pan. Punch to deflate. Let rest 10 minutes.
To make the topping:
Brush a 12″ x 8″ pan with olive oil and sprinkle with cornmeal.
On a lightly floured suface, roll out the dough to the size of the pan. Place the dough on the pan and cover loosely with plastic wrap. Let the dough rise in a warm place about 40-50 minutes, or until it has doubled in size.
Preheat oven to 425°F.
Press fingertip indentations into the dough about an inch apart and a half inch deep. Drizzle the dough with olive oil. Sprinkle with salt, chili powder, ground pepper, and cheese. Place sliced jalapenos evenly on top.
Bake until golden and crispy, about 15 minutes.