October 20, 2007
Fudgy Layer Squares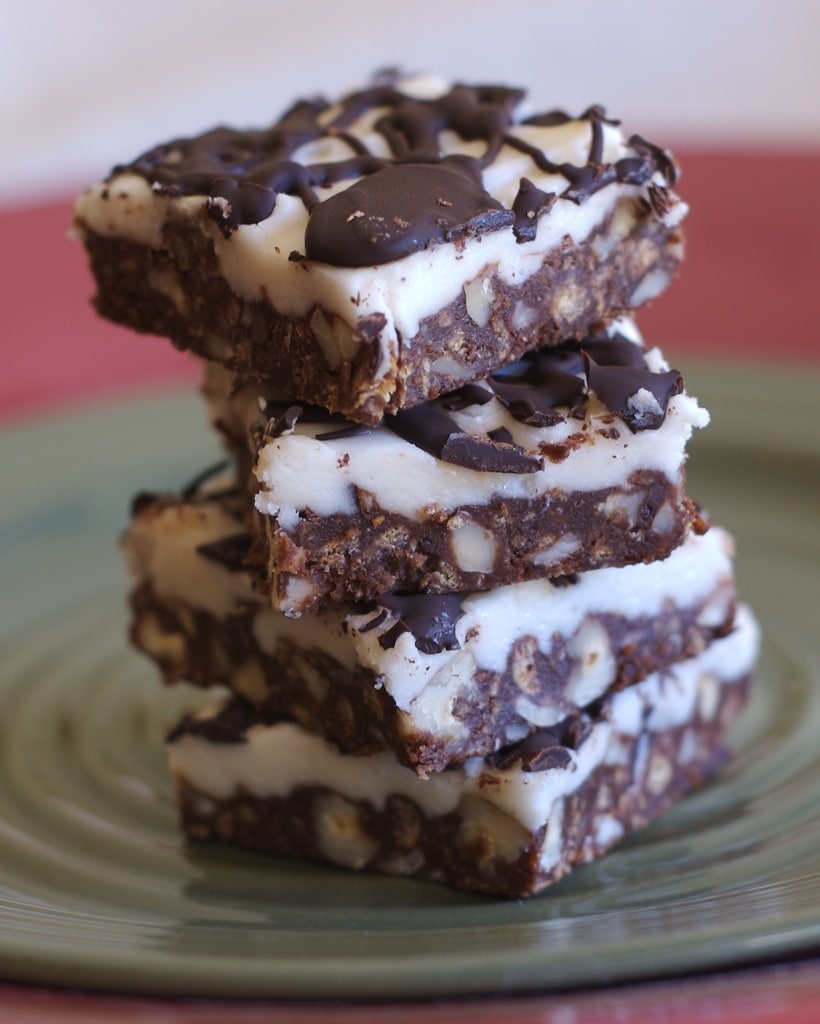 It seems that lately I've been inundating you lovely readers with an abundance of no-bake recipes. My only reasoning is that it has been yet another long, hot summer, and baking has not been high on my list of desired activities. I will get the oven turned on again soon, though. Fall may actually be on its way. In the meantime, here's another no-baker.

I was flipping through Betty Crocker's Cookie Book in an effort to find something quick to make for dessert when I happened upon this recipe. It did prove to be extremely easy. So much so, that I made it simultaneously with our dinner.
The bottom layer of this dessert is extremely good. In fact, I'm thinking that I may use it for something else in the future. A chocolate-nut crust would be a good foundation for many a good thing, but I'm thinking cheesecake.
Strangely enough, Quinn and I both had the thought that they taste like Christmas. Now, what that means exactly, I'm not sure. I'm just throwing that out there.
I would like to make them again with a bit less sugar or with something to tame the sugar a bit. Mixing some cream cheese into the filling would definitely be an idea worth trying. If you make them as written, cut them into very small bars. A little of these goes a long way.
Fudgy Layer Squares
Yield: 16 2-inch squares
Prep Time:20 minutes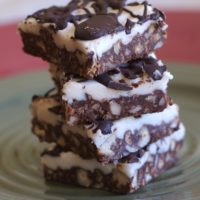 Ingredients:
For the crust:
1/2 cup unsalted butter
1 & 1/2 ounces unsweetened baking chocolate
1 & 3/4 cups graham cracker crumbs
1 cup chopped nuts (I used hazelnuts)
1/4 cup granulated sugar
2 tablespoons water
1 teaspoon vanilla extract
For the filling:
2 cups confectioners' sugar
1/4 cup unsalted butter, softened
2 tablespoons milk
1 teaspoon vanilla extract
1 & 1/2 ounces unsweetened baking chocolate
Directions:
To make the crust:
Line a 9″ x 9″ x 2″ pan with aluminum foil.
Melt butter and chocolate in a medium saucepan over low heat, stirring frequently. Remove from heat.
Stir in crumbs, nuts, sugar, water, and vanilla.
Press mixture into bottom of pan. Refrigerate.
To make the filling:
Mix confectioners' sugar, butter, milk, and vanilla until well-blended. Spread over crust. Refrigerate for 15 minutes.
Melt chocolate and drizzle over filling. Refrigerate for about 2 hours.
Remove from pan, using foil to lift. Cut into squares.
Store covered in the refrigerator.