June 6, 2007
Pecan Shortbreads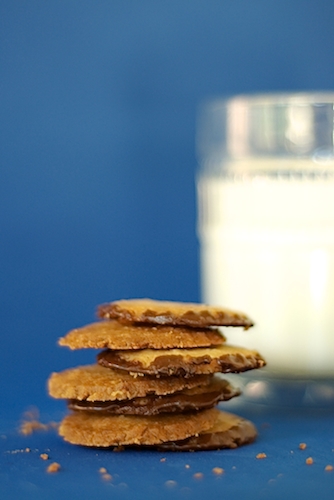 Recently, while visiting our friends in North Carolina, we were privileged to have dinner at Magnolia Grill, one of Gourmet magazine's top restaurants of 2006. After appetizers, entrees, and desserts, we can now all enthusiastically attest to its goodness. As an added bonus, I was treated by our friends to a signed copy of one of their cookbooks, Sweet Stuff, all wrapped up in that night's dessert menu. Karen Barker, the author of the book and co-owner of the restaurant, is a James Beard Award winning pastry chef, a well-deserving one in my opinion.
There are so many recipes in this book that I want to try that narrowing them down has been a lot of work. After much deliberation, my love of pecans prevailed, and I decided to make her Pecan Shortbreads.

One of my favorite things about Sweet Stuff is that with every recipe there are serving suggestions and variations. For these cookies, one of the options is to form the dough into a 1 & 1/2-inch diameter log for making slice-and-bake cookies. The suggestion I took was to garnish with melted semi-sweet chocolate. However, instead of dipping the cookies, I just rolled the outside edges in the chocolate.
I love these cookies. They are now on my short list of all-time favorite cookies. They are very delicate and almost wafer-like. I almost hesitate to say that they melt in your mouth because that has become such an over-used phrase. It is actually true, though, in this case.
As for the cookbook, I will certainly be revisiting it sooner rather than later. As for Magnolia Grill, I look forward to being back in the area to enjoy another fantastic dinner (but especially dessert).
Pecan Shortbreads
Prep Time:25 minutes
Cook Time:20 minutes
Ingredients:
1 cup unsalted butter, softened
1/2 cup brown sugar
1/2 teaspoon kosher salt
3/4 teaspoon vanilla extract
1 & 1/4 cup + 2 tablespoons all-purpose flour
2 tablespoons cornstarch
1/2 cup lightly toasted, finely ground pecans
2-3 ounces semisweet chocolate, melted (optional)
Directions:
Using an electric mixer on medium speed, beat together the butter and sugar until smooth. Add salt and vanilla and combine.
In a separate bowl, combine flour, cornstarch, and pecans. Add to the butter/sugar mixture in 3 additions, mixing just until combined.
Divide the dough in half, and flatten each half into a disc. Chill for an hour, or until firm. Dough can be refrigerated up to 2 days. Dough may also be frozen for several months, then defrosted overnight in the refrigerator.
Preheat oven to 350°. Remove dough from refrigerator and let sit at room temperature for a few minutes.
On a lightly floured surface, roll out the dough to 1/4-inch thickness. Cut out cookies and place on lined baking sheets. Bake for 15 to 20 minutes, reversing the sheet midway, until cookies are golden around the edges.
If desired, dip cooled cookies into melted chocolate or drizzle chocolate over cooled cookies.