Nutella Oatmeal No-Bake Cookies
When I first heard about World Nutella Day, I knew that my love of that wonderful chocolate-hazelnut spread required me to participate. That decision was the easy part. Knowing what to contribute was the hard part. Then, inspiration hit me as I drove home last night. In that moment, these cookies were born.

The basis of these cookies is a recipe that probably everyone reading this has made at some time. Taking that famous no-bake chocolate oatmeal cookie recipe and changing it up a bit seemed so obvious that I couldn't believe I'd never thought of it. The old recipe is a combination of chocolate, peanut butter, and oats. So, why not use Nutella instead of peanut butter? Then, even better, use Frangelico instead of vanilla extract.
The result? In all humility and seriousness, these are awesome. Be warned: they are very chocolate-y. They are not for the faint of chocolate. Rich doesn't even begin to describe them. I don't think I can ever make these the old-fashioned way again. These are definitely the new and improved version. Make them, and I think you'll agree. If not, then check out the other folks who love Nutella and see what they have to offer. And, if you're a stranger to Nutella, go out and buy some today. You can thank me later.
Nutella Oatmeal No-Bake Cookies
Prep Time:15 minutes
Cook Time:10 minutes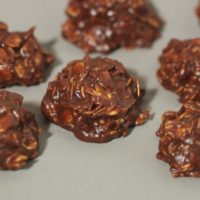 Ingredients:
1/2 cup unsalted butter
1/2 cup milk
1 & 3/4 cups granulated sugar
1/2 cup unsweetened cocoa powder
1 teaspoon Frangelico (hazelnut-flavored liqueur)
1/2 cup Nutella
3 cups rolled oats
Directions:
In a saucepan over medium-high heat, combine butter, milk, sugar, and cocoa. Bring to a boil, stirring constantly.
Reduce heat and continue to boil for 3 minutes, still stirring.
Remove from heat and add Frangelico. Add Nutella and mix well. Add oats and mix well.
Drop quickly onto parchment or waxed paper and allow cookies to set.