Yesterday, I gave away everything related to dessert that I had on hand. So, Quinn was quick to point out that I needed to bake something today. I looked through recipe after recipe and could find no inspiration. Finally, the hour was getting late and I decided that whatever I made had better be quick. That led me to this cake, which uses one of the best baking shortcuts around (cake mix) doctored up and swirled with cream cheese.
First, mix up a package of devil's food cake mix as directed on the package. Add 1 teaspoon of vanilla extract. Pour the batter into a greased/sprayed 12-cup Bundt pan.
In another bowl, beat together 8 ounces of cream cheese and 1/3 cup of sugar. When this is nice and fluffy, add a large egg and beat well. Stir in 1 cup of semi-sweet chocolate chips. Spoon this mixture into the center of the chocolate cake batter. Swirl with a knife.
Bake cake at 350 degrees for 40 to 45 minutes. Cool in the pan for 10 to 15 minutes, then remove from pan to finish cooling.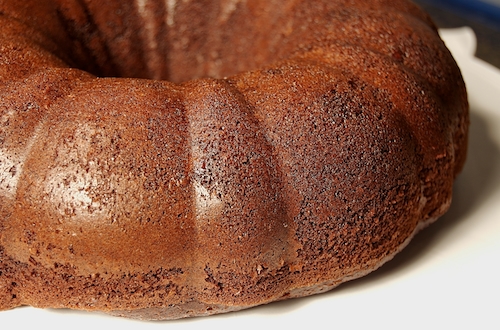 This is exceptionally good, especially considering how easy it was. It was mixed and in the oven in about 10 minutes. The cream cheese and dark chocolate go together very well. Of course, I have made it no secret that chocolate and cream cheese are two of my favorite things. The chocolate chips don't melt completely, so they add a bit of gooeyness. I highly recommend that you serve this warm. Quinn recommends ice cream, too.