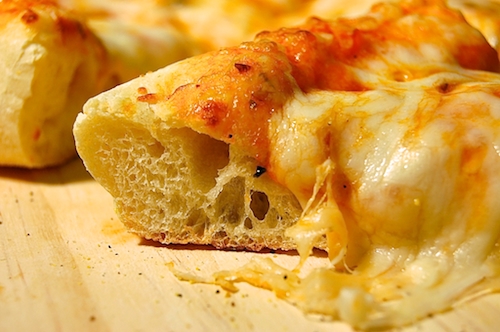 In honor and anticipation of this weekend's cooking seminar in Nashville, I made Alton Brown's pizza dough as seen in the classic episode Flat is Beautiful and in his most recent book, I'm Just Here for More Food. In fact, I'm sitting in the passenger seat as Jennifer drives us on the first leg of our trip to Nashville. We're both excited to see Alton in action. I can safely say that AB has made me understand more about cooking than anyone else on any other subject.
Pizza may be my favorite food (desserts notwithstanding). Throughout college, whenever my vote for pizza dinners was questioned, I'd let it be known that pizza consists of all four food groups. I think it's the ultimate comfort food, warm and chewy. Maybe it just takes me back to fun nights in college chewing the.. crust. Oh, and when we go to New York City.. of course, there are so many delights in the big city, but seeking out new purveyors of pizza is one of my greatest.
Alton's pizza dough recipe is straight forward. The dough was prepared using the straight dough method (all ingredients combined at once, leavening time, then baking) using AP flour (454g), salt (11g), a bit of sugar (5g), and (next time as we didn't have any in the house) a children's chewable aspirin (for the vitamin C). Warm water (1 1/4 cups) was the only wet ingredient.
As suggested, I used instant yeast in the dough, about 2 1/4 tsp (the same as the little packets). I had to order some online as I couldn't find any locally. From AB's Flat is Beautiful episode (remember the yeast sock puppets?), instant yeast is preferable to active dry yeast because it can be added directly to the mixer without blooming it first in warm water. While they look similar (like little tubes), active dry yeast has less active yeast in the center of each tube than instant yeast. The instant yeast did its job admirably and made a wonderful smell as the dough proofed.
Once the dough was mixed, it rested in the mixer for 15 minutes. After about 8 minutes of kneading, the dough was well developed and made a window when stretched (maintained a membrane when stretched instead of tearing). The dough was removed from the mixer, formed into a ball, tossed with olive oil, and left alone for two hours at which time it had doubled in size. At this time, the dough was flattened, folded into thirds one way, then the other, and flattened again. In a plastic covered container, the dough spent the night in the fridge.
One thing that comes up time and again in Alton's cookbooks and Good Eats episodes is that patience is rewarded. In a world that emphasizes speed and compromises quality, it is reassuring to hear the voice of patience. For example, I had tried to make foccacia many times over the years with various recipes, all of them finished in at most a few hours. Then I found a recipe (I'll make it again and blog about it soon) that used a biga and took the better part of a day to make. That patience was rewarded with foccacia that tasted like that in some of our favorite restaurants.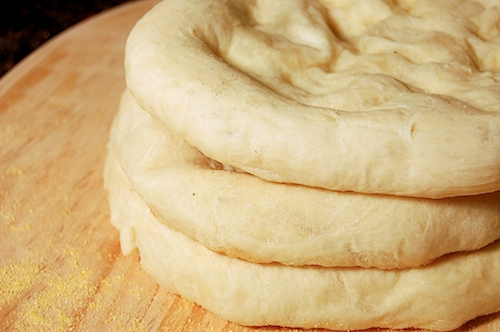 Late the next morning as lunchtime approached, I bench proofed the blobs for about an hour. I heated an oven and pizza stone to 500 degrees, the highest temperature, and set out to working the dough into pizza shapes. While not nearly as adept as the professionals, I do enjoy spinning dough into the air. As AB points out, this is not just for show but does help stretch out the dough and helps to make a nice, circular pizza.
The pizza dough recipe yielded enough to make four pizza crusts. I constructed one pizza for lunch and followed his recommendation to parbake the three remaining dough blobs into pizza crusts and stashed them in the freezer. I baked them for three minutes which gave them a little crust and made them easy to handle. He suggests letting them thaw to room temperature before topping and baking them through, probably just long enough to let the toppings reach the desired gooeyness.
In the end, the pizza I finished had a well constructed crust that was just crisp enough and nicely chewy. The webbing or yeast-belch pockets in the crust were not too big, not too small. I opted for a simple pizza starting with a brushing of olive oil topped with some fresh basil, a thin layer of the best store-bought jar of pizza sauce available locally, garlic (of course), and mozarella cheese.
I'll need to experiment and practice to get my pizzas to be comparable to a NY pizza, but this was a good start. Given my love of the pie, I will continue testing different recipes and will make this a series of posts.